A few months earlier, at the top of the World's Largest Smartphone Maker list, there was Samsung alone ruling at that place. But, time changes. In April, this year, the first position was occupied by Huawei. Yes, the blacklisted company by the US achieves that position and that holds in May too.
As per the statistics by Counterpoint Technology Market Research, the present leader holds a market share of 19.7 percent. Samsung, after losing its crown, stays at the second position with a market share of 19.6 percent. All these figures are on the basis of May's data.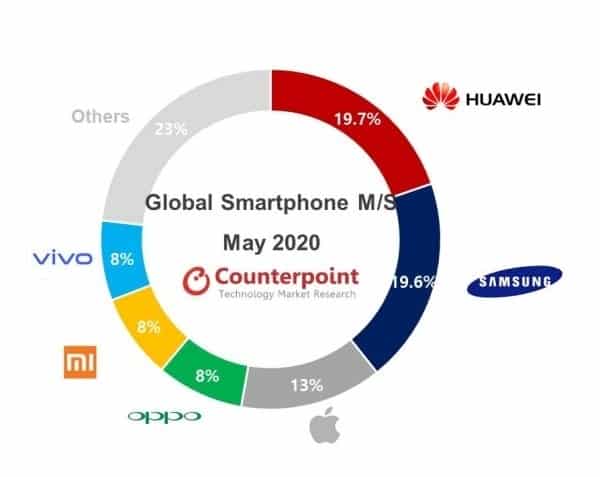 Samsung shipped around 81.97 million smartphones over May and that reduces the market share percentage gap to 0.1 percent. If you are wandering for the previous month's stat – in April, Huawei holds a 21.4 percent of the market share where Samsung holds a 19.2 percent.
Sources are expecting, Samsung will not get the first position for June too and Huawei will remain there as of April and May. The market share percentage gap in May reduces because of the increase in sales in the US market. Samsung Smartphones sold 56 percent more, there, over April. Only the US market share holds 33 percent of the total market share of Samsung.
Other than Huawei and Samsung, there is Apple in the third position with 13 percent of the market share. Behind it, there is Oppo, Vivo, and Mi with 8 percent of market share each.
Do Check Out 👇🏼