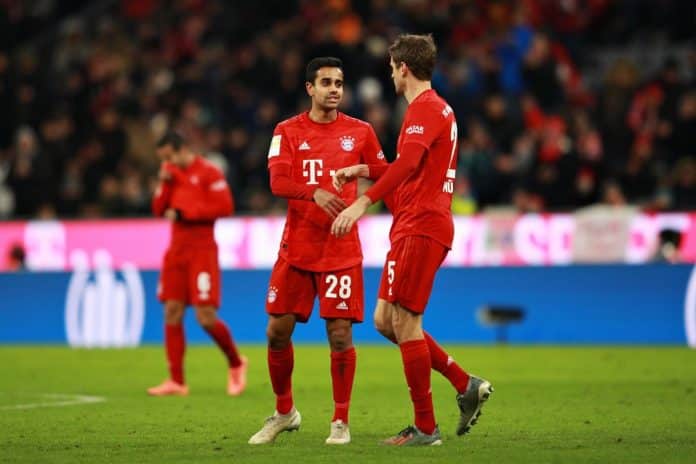 Bayern Munich has comfortably won the 2019-20 Bundesliga. This is their 8th straight Bundesliga title. It's like a routine for them each year. Play, win, sleep, repeat!
Robert Lewandowski once again has been instrumental for Bayern to win the league. The Poland international was in top form which earned him the Bundesliga player of the season award. Now he can have some rest before the Champions League resumes in August.
Another Bayern Munich player who has created history is Sarpreet Singh. The New Zealand footballer is an India-origin player and this is the first time an Indian-origin player has won the Bundesliga title.
Sarpreet had made a positive impact with the Bayern Munich B team, which earned him few games in Bundesliga for the first team. The 21-year-old joined the Bavarians in 2019 and this Bundesliga win is a dream come true for him.
The Indian-Origin player said: "It's a dream come true for me to be able to win my first Bundesliga title. It's a huge moment for me and a dream come true. I grew up in New Zealand and growing up, I always looked up into Europe. I wanted to play at the highest level in Europe."
"I'm very fortunate and blessed to be in this position, having been given this opportunity where I'm in an environment at a top team where I'm always learning and always growing. I hope this is the first of many titles but I know at the same time there's a lot more hard work to do in order to reach that. But yeah this is an amazing feeling."
Sarpreet is proud of his Indian parents and thanked them. He said: "My family are obviously very proud of me and what I've achieved so far. Without them, it's not possible. They are part of this and part of everything that has happened to me. I owe them a lot, to be honest. They made many sacrifices in order for me to be where I'm today. I hope that one day I can give that back to them."
His only goal now is to have a long term career in Europe. He wants to become a regular for the Bayern Munich first team. He said: "My biggest goal is to play as many games as possible at the highest level. I'm fortunate to be at Bayern and under the guidance of such great coaches and background staff. The players here have been here for many years and they've experienced many wins and success. I'm in a perfect environment where I can learn off them. I want to continue to learn and improve myself."
He scored seven goals and provided seven assists in 22 appearances for the Bayern Munich B team. He has very much impressed with his form. This impressive form could help him in getting more first-team matches in the next season. Bayern Munich coach Hansi Flick likes to promote youth into his team. So Sarpreet can benefit hugely under Flick and turn out to be a world-class footballer.
Do check out:
All the latest 2019-20 kits of football teams from all over the world are now available on Tech2Sports. Superior quality kits at the lowest price guaranteed. Show your support for your favourite club and country by wearing their colours.
If you're a Bayern Munich fan, check this out:
1. Home Kit
2. Home Kit (Full Sleeve)
3. Away Kit
4. Mobile Cover