After a prolonged series of leaks and rumours, AMD finally launched the Matisse refresh Ryzen 3000XT CPUs on June 16th with an availability date on July 7th. These CPUs offer a minor increase in clock speeds to result in better gaming performance and having spotted them in various benchmarks, finally, we get a glimpse of its Geekbench scores thanks to @TUM_APISAK.
There are three processors in the lineup: the Ryzen 5 3600XT, Ryzen 7 3800XT and Ryzen 9 3900XT. The processors offer a 100-200 MHz higher boost clocks than the predecessors. So, on paper, this should not bring huge improvements when compared to predecessors but can help in gaming at the same MSRP at which their predecessors were launched.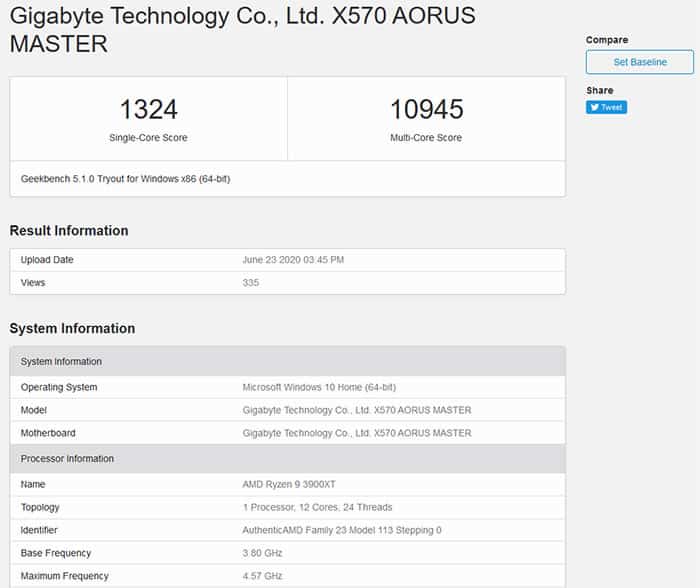 So, in the leaked Geekbench benchmark we see AMD Ryzen 9 3900XT used in a Gigabyte Aorus X570 Master motherboard along with 16GB of 3200MHz DDR4 dual-channel RAM. The new CPU scored 1324 point in the single-core test and 10945 points in the multi-core test. The new 12-core CPU was spotted operating at 3.80 GHz base clock speed and 4.57 GHz boost clock speeds.
The scores were not that convincing until @TUM_APISAK shared the benchmark scores of the whole lineup:
All of the benchmarks were done using Gigabyte Aorus X570 Master motherboard but we see a handsome amount of improvement in single-core scores along with massive multi-core improvements as well. The Ryzen 7 3800XT has a great single-core score of 1408 points while the Ryzen 9 3900XT scored 12970 points in multi-core, ripping the competition off.
If this Geekbench score is taken into consideration, the top-of-the-line Core i9-10900K manages to offer 1400 points in single-core test while 11063 points in multi-core benchmark, which clearly makes the Ryzen CPU winner. While for the Core i7-10700K, manages to score just 9467 points in multi-core benchmarks while Ryzen 7 3800XT scores 9795 points already and a 1408 point score in single-core, making Ryzen CPUs edging past Intel at lower prices.
With few tweaks, AMD has made these Ryzen 3000XT very eligible to compete with these latest 10th Gen Intel desktop CPUs and challenge its single-core frequency dominance to some extent while destroying them in multi-core scores.
Do check out:
😎TechnoSports-stay UPDATED😎