As the 2019-20 LaLiga season resumed on 11th June, it looked like we are going to have a very competitive title race. LaLiga giants Barcelona and Real Madrid haven't disappointed us. What a title race it is turning out to be!
Barcelona was leading the title race by 2 points with 11 matchdays remaining. 3 matchdays after the season resumption, Real Madrid has gone on top of the LaLiga table.
Barcelona dropped 2 points as they drew 0-0 against Sevilla. Meanwhile, Real Madrid managed to win by a slender margin of 2-1 against Real Sociedad. This win has taken Real Madrid level on points with Barcelona. As Real Madrid drew one and won one El Clasico, on the virtue of their better head-to-head record, they are now on top of the LaLiga table.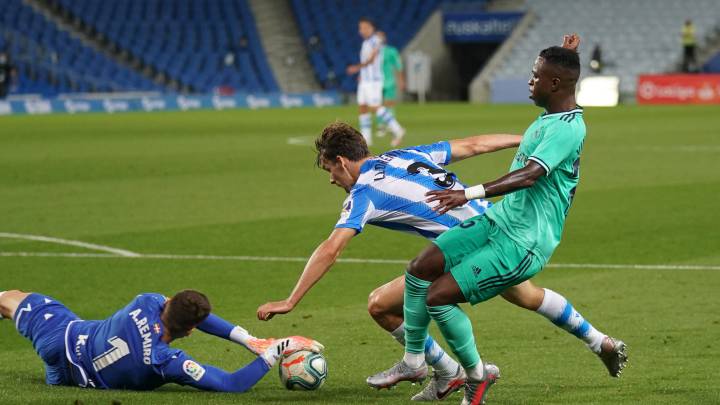 The match between Real Madrid and Real Sociedad was full of controversy. Marcelo was fouled inside the penalty box in the first half but Real was denied the penalty. In the 50th minute, Vinicius was fouled and Ramos coolly slotted the ball home from the penalty spot.
Real Sociedad thought they had levelled the game courtesy Januzaj's blistering strike. But the referee cancelled the goal as Merino was judged to be blocking Thibaut Courtois' line of sight while standing offside. Shortly after that, Benzema controlled the ball with his shoulder and scored another only for Merino to cut Real's lead into half, minutes before the game ended. But it was enough for Madrid, to take them on top.
Merino told Movistar Plus post-match: "I'm far from him [Courtois], practically five metres, he has plenty of time to see the ball."
"The thing is that [the assistant referee] did not hesitate for even a second in raising the flag and I don't know if in the other area he would have hesitated the same way. In the end, he raised it and it hurt us."
Courtois replied to this: "When he shot there were three people in my line, Merino, another from Real and one of us who was covering the shot. I didn't see anything and in the end if you don't see the ball and it goes by so fast it won't give you time to react. It is an offside position."
"It may be right or not, but it prevents seeing it. That is what the VAR is for and I think the decisions have been clear."
Zinedine Zidane said Real Madrid deserved the victory. He told, via AS: "What bothers me is that in the end we only talk about the referees, it seems that we have not done anything on the field. But we are not going to control the controversy. We won on the field and I think the victory is deserved."
"There is a penalty and I think that for the goal, Karim touches it with his shoulder. These are things of the referee and as always I do not get involved, he does his job and nothing else. I have to respect these things and think only about what we did."
"It is a deserved victory, which is the most important thing for us."
There are 8 matches remaining for both Barcelona and Real Madrid. It would be a sprint to the finish line. On paper, Barcelona has tougher opponents than Real Madrid. This title race is heating up!
Do check out:
All the latest 2019-20 kits of football teams from all over the world are now available on Tech2Sports. Superior quality kits at the lowest price guaranteed. Show your support for your favourite club and country by wearing their colours.
If you're a Real Madrid fan, then check this out:
1. Home kit
2. Home Kit (Full Sleeve)
3. Away kit
4. 3rd kit
5. Mobile Cover