The Red team recently launched a new powerful mobile GPU called Radeon Pro 5600M based on its RDNA architecture. It is a Navi 12 GPU that is a successor to the Radeon Pro Vega 20 and Vega 16 GPUs mostly used in Apple's MacBooks, designed for professional workloads.
So, the new Radeon Pro 5600M GPU will make its way on the 16-inch MacBook Pro announced last year by Apple. It is based on 7nm architecture featuring 40 Compute Units along with a total of 2560 Stream Processors. With such a massive amount of CUs on mobile GPU, the new Radeon Pro 5600M matches AMD's current best desktop GPU – the Navi 10-based Radeon 5700XT.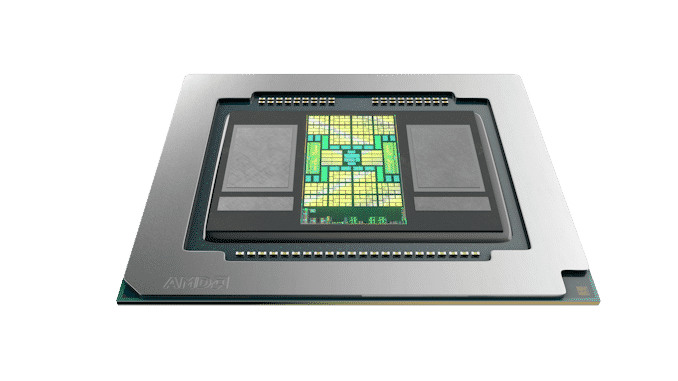 Only the difference is that the mobile GPU clocks up to a maximum of 1035MHz, resulting in a maximum throughput of 5.3TFLOPs against the desktop GPU with 9.75TFLOPs. But among all its mobile GPUs, the new Radeon Pro 5600M Navi 12 GPU has the highest FP32 performance.
It features 8GB of HBM2 memory across 2048-bit memory bus width running at 1.54Gbps. This results in a memory bandwidth of 394 GB/s which in turn makes the effective clock speed of 1540 MHz. This memory bandwidth is very near to the Radeon 5700XT with 448GB/s memory bandwidth.
Also, the GPU has the same Total Graphics Power (TGP) as the other Navi GPUs like Radeon Pro 5500M or the Radeon Pro 5300M, which is 50W. The new AMD Radeon Pro 5600M graphics is available new MacBook Pro 16-inch and can be configured manually for $700 more than the default Radeon Pro 5500M GPU offered.
Do check out:
😎TechnoSports-stay UPDATED😎