Last night, Barcelona played against Mallorca for the first game after the prolonged lockdown period as LaLiga made its return this week. Barcelona travelled away from home at Son Moix to face Mallorca and they won by 4 goals, keeping a clean sheet to their name.
Obviously, in a crowd-less stadium, it's hard to play but there's no option as of now, but LaLiga already plans to allow 30% of the audience from July onwards. Last night's show-stopper was none other than Lionel Messi, looking like a fresh teenager making a fresh return after a long time and he was looking fresh energetic.
The starting XI for both the teams:
Mallorca: Reina; Pozo, Valjent, Raíllo, Sastre (Gámez 45'); Kubo, Pedraza (Baba 56'), Salva S. (Salibur 83'), Rodríguez; Hernández (Lago Junior 45'), Budimir (Abdón 83')
Barcelona: Ter Stegen; Roberto (Semedo 70'), Piqué, Araujo, Alba; Vidal (Rakitic 45'), Busquets (Arthur 70'), De Jong (Firpo 83'); Messi, Griezmann (Suárez 56'), Braithwaite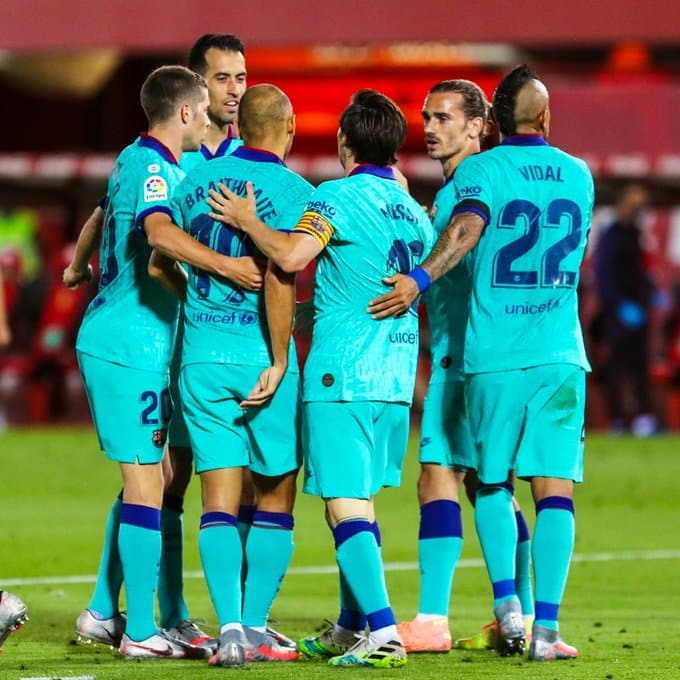 The game began with an early by Arturo Vidal with a brilliant cross from Jordi Alba who again got the ball from a great tackle by De Jong. Within 1 minute, Barcelona were 1-0 ahead of Mallorca, which put a lot of pressure on them, however, Take Kubo (the "Japanese Messi") played very well, even forcing ter Stegan to make two great saves.
After the water break, the Barca settled things down to their favour with their possession game, then, just before the half-time mark, a strong link-up in the penalty box along with an assist through a header by Messi helped Martin Braithwaite to score the first goal for the team.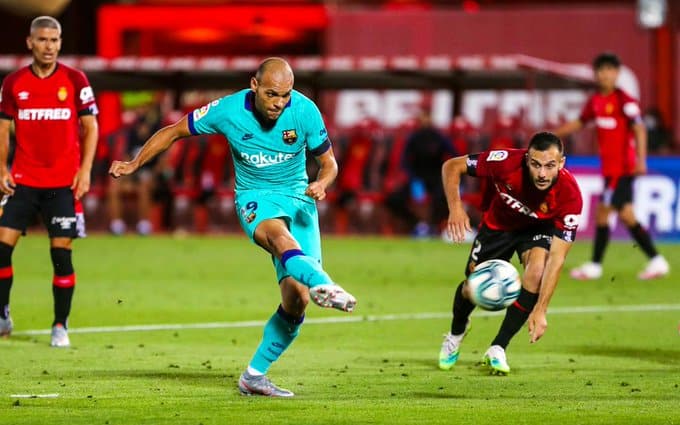 Leading by 2 goals Barcelona looked positive with Messi looking more dangerous than ever before, making runs, dribbling players, dropping deep, delivering crosses, a totally different Leo we saw last night.
So, after halftime, Mallorca made some defensive changes and Barcelona calling Rakitic off the bench who really played well yesterday. Rakitic marked his 300th appearance for Barcelona last night.
Barcelona continues their possession game with some shortcomings in terms of finishing from Braithwaite, Ronald Araujo and Messi. Luis Saurez replaced a not-so-looking-good Griezmann after he got injured back in January, also Saurez looked good pairing with Messi, still, some work to do with Braithwaite.
The third goal came with another beautiful cross from Messi to Jordi Alba, who did not miss the opportunity to score in front of goal. Messi already made two assists and we thought he would not score for the night until the until stoppage time when he casually slung the ball into the top corner, registering is 20th goal of the season.
Messi made a new record last night with the last goal, scoring 20 goals for the 12th consecutive season in LaLiga, which is incredible and achievable from a player of his calibre only.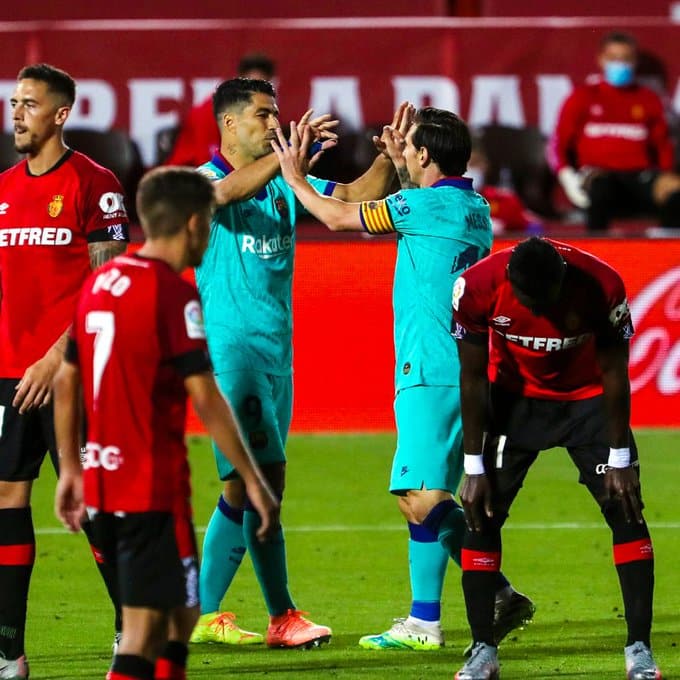 Apart from Messi, being the centre of attraction last night, Jordi Alba played a big role, even though bagging a yellow card last night, so he won't be able to play at Camp Nou on Tuesday.
Braithwaite played really well, showing a great sense of understanding with Messi and showing his attacking capabilities with quick runs and a strong physicality by helping the midfield and defence. Ronald Araujo was fantastic last night at the heart of the defence and kept Mallorca players away from the goal.
With the prolific win last night, Barcelona are now five points clear at the top of the table putting pressure back to Real Madrid as they face Eibar today.
Do check out:
😎TechnoSports-stay UPDATED😎