Yesterday Sony announced the launch of its new wireless sports earphone WI-SP510 in India. In Sony India's official website, they displayed four color options i.e. Black, Blue, White, and Orange. Though, in the same place and on other e-commerce sites, only the Black and Blue variant is available to purchase. Now, let me take you to the specs.
Design –
The Sony WI-SP510 is designed in such a manner that you can feel comfortable even after hanging it all-day on your neck. This is very much lightweight. For the comfortable fit in your ear, there are soft-cushioned arc supporter and three-dimensional curved design. To make it tangle-free while carrying, on each earbud, there are built-in magnets.
Battery Life –
The company ensures for a single charge, this product can serve you for 15 hours long. If you need to take lots of calls in your office, you can be tension free about charging. For charging a USB Type-C port is there. It comes with a quick charging feature so that you can charge it in lesser time.
Connectivity –
As other wireless neckbands, you also get Bluetooth connectivity feature to connect with your device. This is the most handiest way still now, afterall.
Water Resistant –
I mentioned earlier, the Sony WI-SP510 is a sports wireless earphone. So, its common you use this while working out. To save the earphone from sweat, it gets IPX5 rating. Sony says, you even can wash this after a heavy training season.
Hands-free Activities –
The buttons dedicated to the earphone are to operate currently playing song, to adjust the volume, and for taking or to reject calls for a hands-free experience. Besides, you can also wake up your voice assistant to give commands.
Rather than all the above, you will also get an extra bass to 'boost your beats'.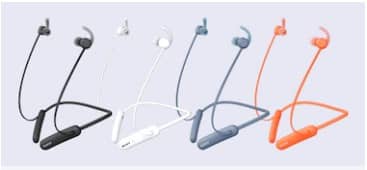 At Sony's official website this product is available at ₹6,990. But in the e-commerce platforms like Amazon, the price become ₹4,990. In both cases, two colour variants, Black and Blue, are available. If you have an interest in it, you can get one from the links given below.
Links:
Sony WI-SP510 Black 👉🏼 https://amzn.to/2YyrJML
Sony WI-SP510 Blue 👉🏼 https://amzn.to/30DGh0f
You May Like 👇🏼