In the technological trending list, smartwatches ranked a good position along with TWS earbuds and some more gadgets. If we focus only on the shipments of smartwatch, Huawei goes up to the second position, beating Samsung.
Apple sticks to the top again. These facts are coming out from the Worldwide Quarterly Wearable Device Tracker report published by International Data Corporation (IDC).
As per the report, 16.9 million units of smartwatches shipped in the Q1 of 2020. The year-on-year growth calculation says it is 7.1% less. Anyway, among the total unit, Huawei shipped 2.6 million units that are 15.2% of the smartwatch market share.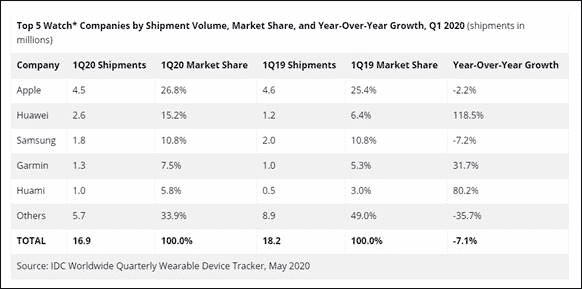 Besides, Huawei is the only brand that gains more than 100% year-on-year growth. To be exact, the number is 118.5%. This is the reason for its second position.
Huawei is developing its products more optimized and better one after another. That's the main reason it shipped that much units and come to the second position.
Just one step ahead of Huawei, there is Apple in the first position. It shipped 4.5 million units in total that own a 26.8% of smartwatch market share. As per the year-on-year growth, it's 2.2% less.
The third position is secured by Samsung for shipping 1.8 million units of smartwatches. It collects 10.8% of the market share with 7.2% less year-on-year growth.
Do Check Out 👇🏼