With days, Xiaomi is keeping everyone posted with new updates regarding its upcoming laptop to be called the Mi Notebook. Interestingly, what we previously thought it to be a RedmiBook 13 refresh will actually be a original notebook that will make global debut via India launch.
Mi India has been teasing a lot of hints regarding its notebooks, which I will use here to uncover some of the details that the company is trying to reveal:
Here Mi India focusses first on the display of the laptop and its touted to have a high screen-to-body ratio seen on any notebook, quite bold challenge to be honest. Also, there's a mention of "Horizon Display" which raises the speculation of the Mi Notebook 14 Horizon Edition.
This tweet focussed more on the battery life of the laptop, which actually Xiaomi is supposed to make even better, as promised. Using the tag #Epic Battery life seems quite relatable to their marketing team.
This tweet is quite important as it focusses on the fact that the upcoming Mi Notebook to be powered by the 10th Gen Intel CPUs, now whether it's Ice Lake or Comet Lake it's pretty unclear. Also, Xiaomi will offer up to 10th Core i7 on its latest notebook for greater performance.
But if my guesswork is right it will be the Comet Lake, as the former is a bit costlier, and also Xiaomi has not used Ice Lake CPUs in China as well so, most likely it will be the Comet Lake CPUs.
Now, that's a riddle that Xiaomi promises to solve with some video, raising the hype, a bit more. Using the #DeMistify tag to raise more anticipation among users, a typical marketing strategy again by Xiaomi.
This is, by far, the most important tweet that totally gives the design and looks of the laptop, shows a sleek looking laptop with narrow bezels, giving a premium feel to it.
Another tweet that actually gives a close glimpse of the keyboard of the laptop and it looks premium, but looks quite alike to Apple's MacBook design. Now, it will be interesting to see how good actually this keyboard can be, the placement of the keys on the top seems really good.
Today's tweet actually focusses on the fact that the Mi Notebook will be a light laptop as well, again showing that the laptop will be a sleek one, and if its so, easier will it be to carry.
Leaked Specs
If the latest report from 247techie is to be believed, then this will be the Mi Notebook 14 powered by 10th-gen Intel Core CPUs, most likely by the Comet Lake-U processors. The base edition will be Mi Notebook 14 powered by the 10th gen Intel Core i5 processor paired with integrated Intel graphics or a dedicated NVIDIA GeForce MX250 graphics.
The other variant will be the premium Mi Notebook 14 Horizon Edition featuring the 10th gen Intel Core i7 processor, paired with the dedicated NVIDIA GeForce MX350 graphics.
Being named as the Mi Notebook 14, it will feature a 14-inch display with FHD resolution, while the Horizon Edition is suppose to have an edge to edge 14-inch FHD display with a whopping 91% screen-to-body ratio. This actually makes sense to have two different laptops for budget as well as premium notebook seekers.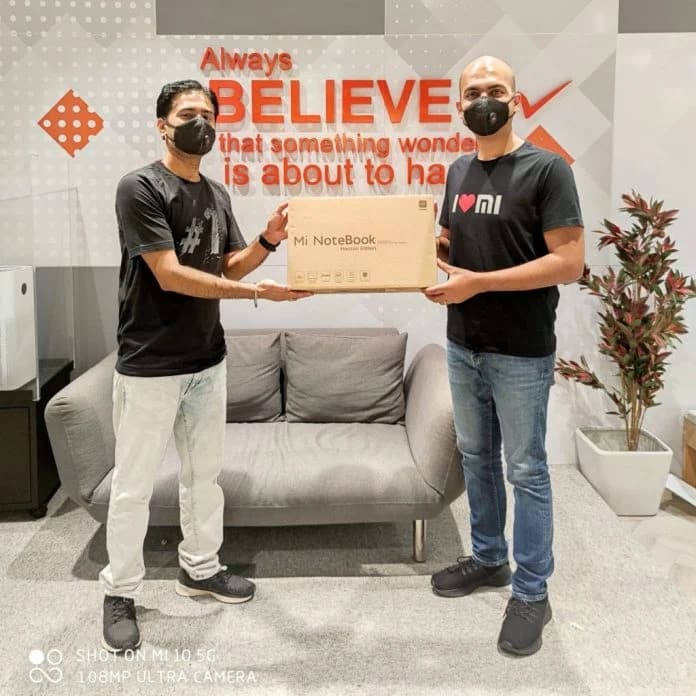 247techie also mentioned that the standard edition will be featuring 256GB of SSD storage, most likely NVMe M.2 SSD, while there will be 512GB SSD storage options as well. They claim that all of the models will sport 8GB of RAM on board, which is strange, there should be 16GB variant as well.
Also, many have claimed that the RAM will be soldered and cannot be expanded. The site even claims that new Mi Notebook 14 will deliver up to 10 hours of battery life and there will be some kind of fast charging support as well. As for pricing, the Mi Notebook 14 base edition is speculated to have a starting price of Rs. 50,000.
Only three days left for launch, hopefully we will get a great laptop at affordable prices, that's what we expect from Xiaomi, if the price is around Rs.50k, then it will be a great option for a lot of enthusiasts out there.
Do check out:
😎TechnoSports-stay UPDATED😎