Stuck at your home? Need a good keyboard and mouse combo, that too a wireless one? Look no further, we bring you the top 5 budget choices in India 2020
These days, the need for a dedicated keyboard and mouse has increased and combos of them can help save your one of your USB port. Not every keyboard and mouse combos are great as they are quite expensive, but provided you go with the right brand you might get a good deal.
To cut short, a good Wireless Keyboard and Mouse combo can last longer if you used properly and be your travel mate for your laptop or a one to give an aesthetic look to your PC. The top 5 ones on our list are budget ones so better not to game on it heavily but for work and light gaming, these keyboards are perfect.
So, here are our top 5 budget Wireless Keyboard and Mouse combos:
iBall Magical Duo 2 Wireless Deskset
Price: ₹ 1,099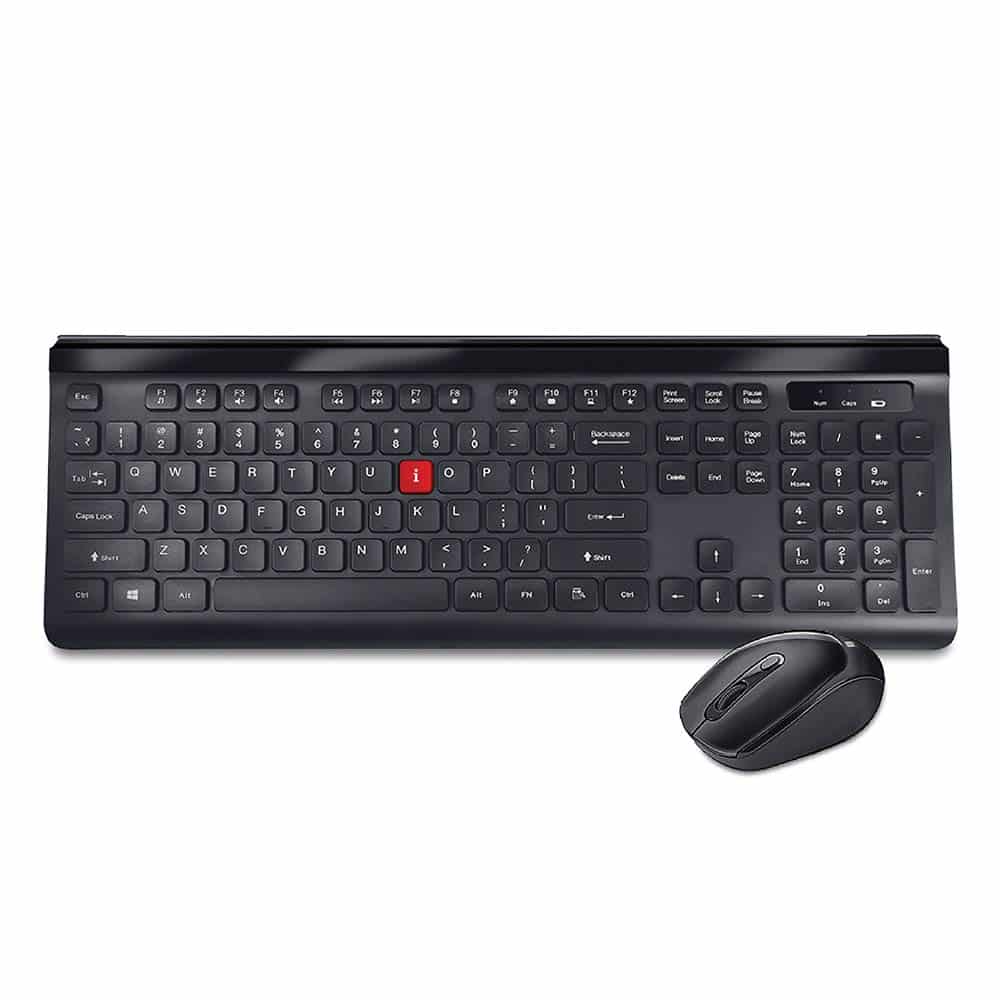 2.4GHz wireless deskset
Smart semi multimedia keyboard
A sturdy built with special chocolate keytops
High-speed optical mouse with a speed selection button
3 button hand-friendly mouse design
Smooth scroll wheel with 3 changeable speed
Storage space under the Keyboard and inside the mouse for the Nano USB receiver
Premium brand Alkaline battery
Can be a great choice if you are very short on a budget yet need a decent wireless mouse and keyboard combo for light to moderate use.
Buy from here: https://amzn.to/3eAMygM
Lenovo 100 GX30L66303 Wireless Keyboard & Mouse Combo
Price: ₹ 1,399
Stylish and compact design – best looking combo for home and office
Spill-resistant keys to ensure multi-tasking while you enjoy your drink as well
Ambidextrous mouse perfect for both your left and right hand
Wireless connection – connects with USB dongle
Black colour combo with 3 years warranty
Ultra-slim keyboard frame design
1000 DPI compact mouse
If you are looking for a bit durable option, then Lenovo's Wireless Keyboard and Mouse combo can really be a great choice as it is spill-resistant too.
Buy from here: https://amzn.to/2XMwdPp
Logitech MK215 Wireless Keyboard and Mouse Combo
Price: ₹ 1,395
Reliable Logitech Wireless Technology: 2.4Ghz wireless keyboard
Plug and play USB Connection Setup is simple—you just plug them into USB ports on your desktop, laptop, or netbook computer and start using it. Everything works right out of the box
Excellent Battery Life: 2 years battery life for the keyboard and 5 months battery life for mouse, with two AAA batteries
High Definition Optical mouse: You'll enjoy smooth, responsive cursor control with high-definition optical tracking. The sculpted, ambidextrous shape feels good in either hand
Media Hotkeys: The things you do most are right at your fingertips with one-touch controls for instant access to play/pause, volume, mute, and the Internet
System compatibility: Compatible with Windows XP, Windows Vista, Windows 7, Windows 8 and Windows RT
If you are a Logitech fan then this might really be a great choice, also this keyboard is very compact, making it easier to carry. This keyboard and mouse combo is has great battery life, better than any of the previous, so for productivity, this keyboard can be your next choice.
Buy from here: https://amzn.to/36PahY3
Logitech MK270r Wireless Keyboard and Mouse Combo
Price: ₹ 1,595
Fast, reliable connection up to 10-meters with virtually no delays or dropouts thanks to Logitech Advanced 2.4 wireless technology
Take this compact mouse anywhere your computer goes; System Requirements: Windows Vista, Windows XP, Windows 7, Windows 8, Windows 10; Note: The Product Comes with a Common USB Receiver for the Keyboard and Mouse
Long battery life
Wireless freedom
Logitech 2.4GHz provides stronger and reliable connection with no delays or dropouts
3 year limited hardware warranty
Another great Logitech budget wireless keyboard and mouse combo but the keyboard here is more robust and has got more keys, making it more complete. The mouse remains the same as the previous one, this can be an ideal combo for your desktop PC along with great battery life.
Logitech MK345 Wireless Combo
Price: ₹ 2,795
Skip a song, pause a video or mute audio instantly, Type on a full-size layout with 12 enhanced F-keys for media control
Enjoy an awesome 3-year keyboard and 18-month mouse battery life, provided by our energy-efficient engineering
The generous palm rest, the contoured right-handed mouse and the adjustable keyboard height give you more comfort.
Wireless system: Advanced 2.4 GHz wireless connectivity
Spill-proof design so you don't have to worry about accidental spills
The perfect combination of great comfort, modern design, powerful features and extra-long battery life
NOTE: The adapter of the mouse is located at the bottom of the panel, the USB port can be found by opening the battery cover at the back of the mouse
If you want "no-compromise" wireless keyboard and mouse combo then this is the one, it is the best budget combo you could buy for. Ideal for desktop PCs with full-size layout keyboard including a palm rest and a great mouse to add to it.
Buy from here: https://amzn.to/2AwSgkT
Another budget wireless keyboard and mouse combo if you are very very short on budget:
Zebronics Companion 102 Wireless Keyboard and Mouse Combo
Price: ₹ 799
Keyboard: Integrated multimedia keys
UV coated keys
Low battery LED indication
Mouse: Compact and ergonomic design, USB plugin drive is present inside the mouse, and can be accessed by removing the back panel
Solid structure
High precision
Button stokes life 80 million times
OS compatibility Windows XP/Vista/7/8/10
Mouse: Resolution 1200 DPI
If you just need a keyboard and mouse combo for you laptop or PC without much to spend then this one is an ideal solution.
Buy from here: https://amzn.to/36Q70HR
So here were our top picks, indeed, you can find your wireless keyboard and mouse combo in your budget with these options. Tell us which one you loved the most in the comments below…
Do check out:
😎TechnoSports-stay UPDATED😎