AMD is not only prepared to launch its Zen 3 based Ryzen 4000 processors but also its new Zen 2 based Ryzen 4000 desktop APUs with Radeon graphics. Now, confirmed with up to 8 cores, the Ryzen 7 4700G was already spotted days ago and now a leak by Biostar confirms almost 60% of the upcoming AMD Ryzen 4000G desktop APUs.
Spotted by @KOMACHI_ENSAKA and the leaked APUs on Biostar's RACING B550GTQ motherboard support page which was taken down soon confirms the OPN codes of the APUs leaked earlier by Igor'sLAB.
So as per the leaks, it is evident AMD is planning bug this time and will provide APUs with 35 W and 65 W TDP. The lineup will include various versions of Renoir APUs with "GE" and "G" suffix and also the "PRO" versions of the 65 W based G-series desktop APUs. As for now, these OPN codes are confirmed against these following APUs:
100-000000143 – Ryzen 5 4400G
100-000000145 – Ryzen 7 PRO 4700G
100-000000148 – Ryzen 3 PRO 4200G
100-000000149 – Ryzen 7 4700GE
100-000000150 – Ryzen 5 4400GE
100-000000151 – Ryzen 3 4200GE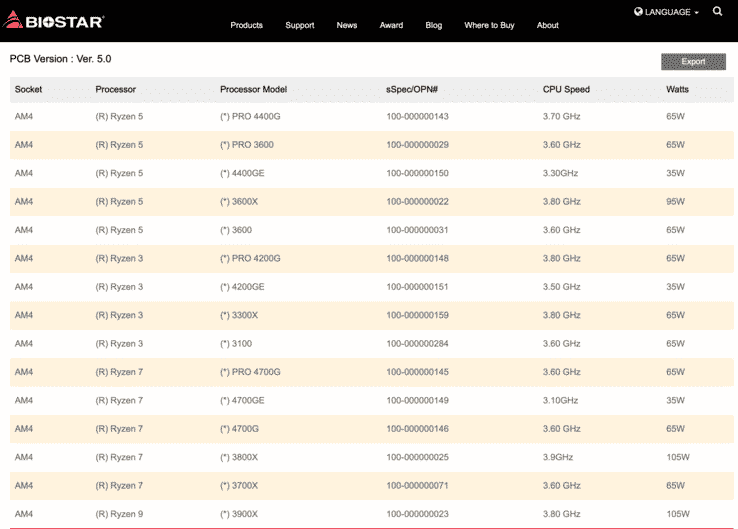 Now, rest of the OPN codes does include the existence of the Ryzen 3 4200G or the Ryzen 5 PRO 4400G. According to igor'sLAB, the Ryzen 3 4200G can be the "100-000000144" or "100-000000154" and the the Ryzen 5 PRO 4400G could be the "100-000000147" or "100-000000153".
However, one thing to note will be that the OPN codes from "100-000000143" to "100-000000154″ denotes the fact there will be four versions of three main APUs apart from the existing G", "PRO G" and "GE" variants. Also, the leak published by igor'sLAB, confirmed that there can be between 12 – 22 Ryzen 4000G APUs.
Soon, with more leaks this can be confirmed but even though it is confirmed that they will launch the Ryzen 4000 desktop processors in September most probably, but there' no solid evidence behind the launch date of these Ryzen 3, Ryzen 5 or Ryzen 7 4000G APUs.
Do check out:
😎TechnoSports-stay UPDATED😎