"Netflix and Chill" this line is very much famous among the Indian young-stars these days. It clearly indicates they all find Netflix the best option to spend time on, in this lockdown period. Though the effect of this mentally is not limited to only Netflix. It also affects the other online video streaming platforms like Amazon Prime Videos, Zee5, Disney+ Hotstar, etc too.
For the past few months, specifically during the past phases of lockdowns, Indians showed a lot more interest in all the streaming service community. And by number, this is over 200% for Zee5 and Netflix. Others are not behind.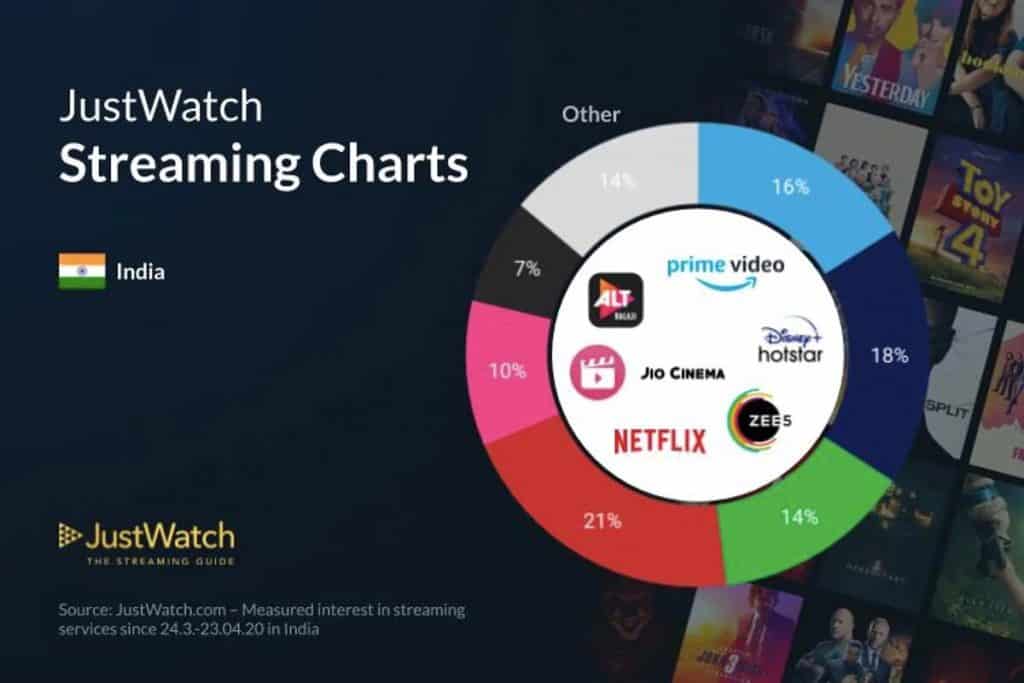 The report says as a gainer Zee5 is at the top with a 259 percent hike. Just next to it, on the list, is Netflix. It gets around 204 percent interest growth. These two are the only 200%+ interest gainers. The rest of the platforms like Amazon Prime Video get 189% of growth, AltBalaji gets 174%, JioCenema 161%, and the recently tied up Disney+ Hotstar gets 149% public interest growth in India.
The mentioned increase percentage of these platforms is with respect to itself. Considering the overall interest increase, Netflix gets 21% among it. Starting from the top, after Netflix, Disney+ Hotstar gets 18%, Prime Video gets 16%, Zee5 14%, JioCinema 10%, and AltBalaji 7% of the entire interest growth. The rest 14% is secured by other platforms together. All the stats are presented by JustWatch, based on the activities on its website and App.
Do Check Out 👇🏼