The Red team is enjoying a chunk of market share in the desktop processor market as well as in the server market. With its Ryzen 4000 APUs, it has stormed the world with its incredible performance with its efficient 7nm node.
So, AMD is again hitting hard against Intel with its price-to-performance ratio in the mobile processors as well. However, the supplies of the new Ryzen 4000 APUs are quite limited which is delaying laptops to hit the market at an extensive amount.
When all of the big laptop OEMs are planning to feature Ryzen 4000 APUs, Dell is thinking of the future. Dell has not announced any major laptops featuring these APUs but surely will soon.
On top of that Dell's heavy interest in AMD's tech has accidentally leaked out, Dell is planning to bring laptops featuring the processors beyond the current Renoir family.
DisEnchant and uzzi38, who are AnandTech Forum members, have reported the information regarding future Dell laptops powered by Cezanne APUs and Navi23 GPUs. DisEnchant has explained that Cezanne will indeed be Renoir APU's successor.
Even though it's being made out of a refined 7 nm FP6 version (pin-compatible with Renoir), it should still offer "significant uplift" in performance due to the newer Zen 3 cores. Uzzi38 has pointed out that Rembrandt was the one that was supposed to be released after Renoir. This suggests that Rembrandt may now be shifted to 5 nm process.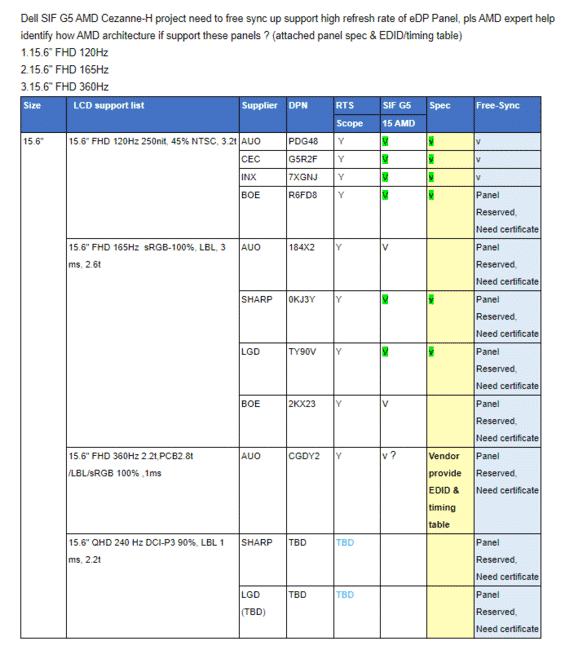 This member DisEnchant even commented that the Dell laptops could feature an all-in-one package combining the CPU and the iGPU together. According to the user, the Navi23 GPU, which was previously thought to be the big Navi desktop GPU, might receive a smaller laptop-only iGPU variant based on Navi2X with RDNA 2 architecture.
The user Uzzi38 did post a table which details the display information for the Cezanne-H powered 15.6-inch Dell laptops. The laptop's include 3 FHD displays and a QHD screen :
FHD 120 Hz, 250 nit, 45% NTSC
FHD 165 Hz, sRGB-100%, 3 ms
FHD 360 Hz, sRGB-100%, 1 ms
QHD 240 Hz, DCI-P3 90% (HDR), 1 ms
Apart from the first one, all the other displays look promising as till date all of the great laptop displays were reserved for Intel, it seems the time is about change. So, if the pandemic doesn't affect much then these Cezanne-H powered laptops by Dell will make its way in early Q2 2021.
Do check out:
😎TechnoSports-stay UPDATED😎