Recently, Counterpoint Research has published its report on the smartphone SoC market for 2019. Samsung Electronics and HiSilicon (Huawei) were the only two companies to increase their market share in 2019. Qualcomm has retained top spot whereas MediaTek is comfortable in the second place.
Even though facing a 1.6% decline through the year, Qualcomm still managed to grab one-third of smartphone AP shipments in 2019. The Taiwanese giant MediaTek has faced a 1.1% decline on year-on-year (YoY) basis accounting to 24.6% market share. 

Interestingly, Samsung has enjoyed a 14.1% of market share increasing its share by 2.2% on YoY basis, much due to the fact that Samsung is developing a lot of chips these days with the latest manufacturing process and is even supplying its chips to other vendors like Motorola, Google and lot more.
Samsung now enjoys 3rd spot while Apple dipped its market share by just 0.5% and still holding 13.1% in 2019. On the other hand, Huawei's HiSilicon was the mobile chip manufacturer to exhibit an increased share of +2.5% YoY of its market in 2019.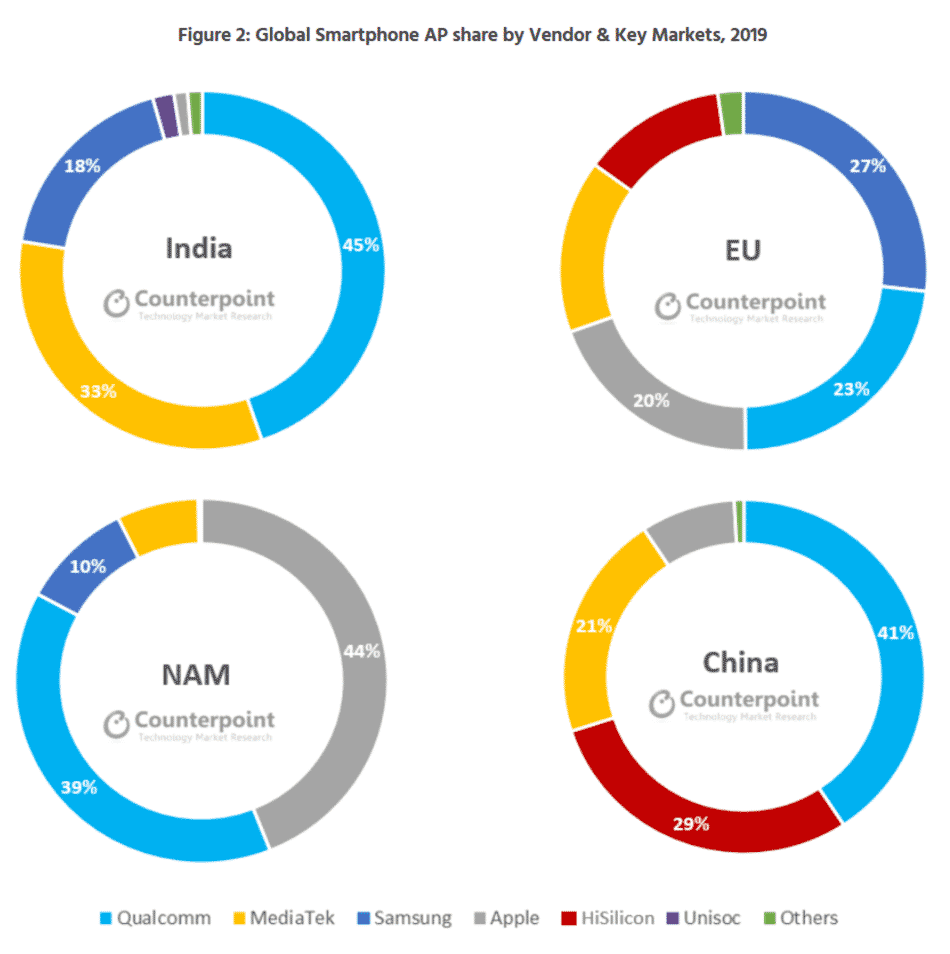 Counterpoint also reckons the fact that Huawei's trade war with US was one of the key factor to slower its growth or else we could've seen more market shares in America. As we see in the graph report, Huawei has enjoyed most of its share from China and Europe.
MediaTek has enjoyed a wide amount of global market with its strong market coming from India and China. While Samsung has made its presence felt in India, Europe and America. Apple is mostly dominant in America and Europe while Qualcomm enjoys a wide market share throughout the globe, dominating in most of them.
Do check out:
😎TechnoSports-stay UPDATED😎