Sadio Mane is one of the best footballers right now. He has won the Champions League last season and lost the Premier League to Manchester City by a mere 1 point. He also took his country Senegal to the AFCON finals last year. This season too he has been in tremendous form. Liverpool has a 25-point lead at the top of the Premier League table.
Mane currently has the world under his feet and he rightly deserves so. This documentary shows "the life of Sadio Mane – the incredible story of an underprivileged boy who started playing football in [Bambali] one of the most remote villages in Senegal to reach the top of the football world only a decade later".
Turning dreams to reality ❤️

Sadio Mané: Made in Senegal available on @rakutentv (Europe), @cplussportafr (Africa) and https://t.co/k1xLUBfKVY (ROW).

This is Sadio's story. pic.twitter.com/UqW7BOciCU

— Liverpool FC (at 🏠) (@LFC) April 9, 2020
Jermain Raffington, a former professional basketball player has co-directed this documentary. He has given an exclusive interview with Onefootball. In his interview, Raffington said: "There's so much more to his story than football. Obviously he's an extraordinary athlete and everybody knows about his athletic capabilities and he proves it every time he steps onto the pitch, but what fascinated us is that there's a whole other side to him, this philanthropic side."

"He's very young, only 28, but he has the mindset to care for the people around him who not only helped him but surrounded him while he was growing up. He even turned down his destiny. One of his uncles in the film talks about how they wanted him to work in the fields but he wanted to be a professional footballer."
"He proved them wrong and that's a really powerful bracket that we created in the film where you have the uncle, in the beginning, telling him 'Dude you have to work in the fields' and in the end, thanks to the grace of Sadio, that uncle hasn't had to work in the fields for six years."
"The complete package makes Sadio's story so unique and interesting because he utilises his football abilities and the financial gains that he makes to actually do good. He's a very humble person and that's not being said lightly."
Sadio Mane has spent £250,000 to build a school in his village of Bambali. Mane said about building the school: "I know you want many things. But education is the priority for our generation. School comes first."
He has also solely funded a hospital which is due to open in around six months time. He said: "You should be in good health before you go to work."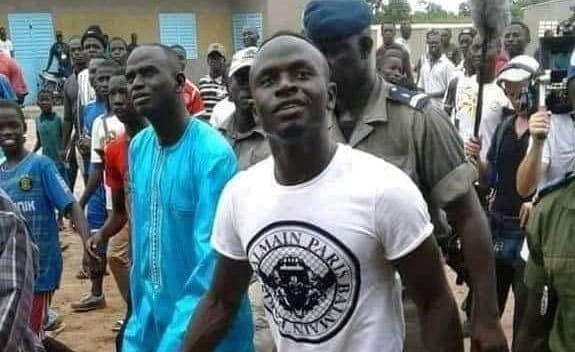 This documentary portrays the Liverpool forward's journey: from his secret trial trip to Dakar [capital of Senegal], through his stays at Metz and then joining RB Salzburg, and Southampton and later joining Liverpool to become one of the best. It also features exclusive interviews with Jurgen Klopp, Mohamed Salah, Virgil van Dijk and Naby Keita, as well as his family members and childhood friends.
"Sadio Mane: Made in Senegal" is a highly recommended documentary, which you should definitely have in your must-watch list. This documentary is not only for Liverpool and Senegal fans. If you're a sports fan or a person who loves giving back to the community or loves an amazing true-life story, then this documentary is perfect to watch.
You can watch this documentary on its official site, made-in-senegal.com. The money raised from its views will be given to charity.
You can also watch the documentary for free but with ads on Rakuten TV.
Do check out:
All the latest 2019-20 kits of football teams from all over the world are now available on Tech2Sports. Superior quality kits at the lowest price guaranteed. Show your support for your favourite club and country by wearing their colours.
If you're a Liverpool fan, then check this out:
1. Home Kit
2. Home Kit (Full Sleeve)
3. Away Kit
4. Mobile Cover