Intel's new Comet Lake-S desktop CPUs are around the corner and is scheduled to launch at the end of this month. The upcoming flagship Intel Core i9-10900K processor managed to outperform the AMD Ryzen 9 3900X in the latest Geekbench 5 single-core run discovered by @TUM_APISAK.
This time, the Comet Lake CPU was used with an MSI Z490-S01 motherboard, whereas in the last leak it was used on an ASRock Z490M Pro4 motherboard.
Obviously, Intel still leads on the single-core scores but the Ryzen 9 3900X does have a core-count advantage. AMD CPUs are known for performing at a higher level than Intel parts in multi-core benchmarks for having extra cores than the Blue team.
As we all know, the Intel Core i9-10900K is a 10-core, 20-thread processor whereas the Ryzen 9 3900X has 12 cores and 24 threads. But the Comet Lake desktop processor has a higher TDP as well as higher clock speeds and can boost to 4.8 GHz on all cores whereas the turbo clock for the AMD chip is 4.6 GHz.
| | Intel Core i9-10900K | AMD Ryzen 9 3900X |
| --- | --- | --- |
| Cores/threads/TDP | 10/20/125 W | 12/24/105 W |
| Single-core score | 1,408 points | 1,278 points |
| Multi-core score | 11,296 points | 12,113 points |
Geekbench 5 scores
In the multi-core benchmarks we see Intel scoring 11296 points whereas the AMD counterpart score 12113 points. Obviously, Intel will be marketing these CPUs on the single-core advantage attained by higher clock speeds with more TDP than AMD ones.
This time the Core i9-10900K scored 1408 points to AMD's 1278 points this is much due to the fact that the Intel CPU can boost up to 5 GHz. Intel's upcoming series of Comet Lake-S desktop processors will be exciting for gamers who need the high single-core clock speed advantage.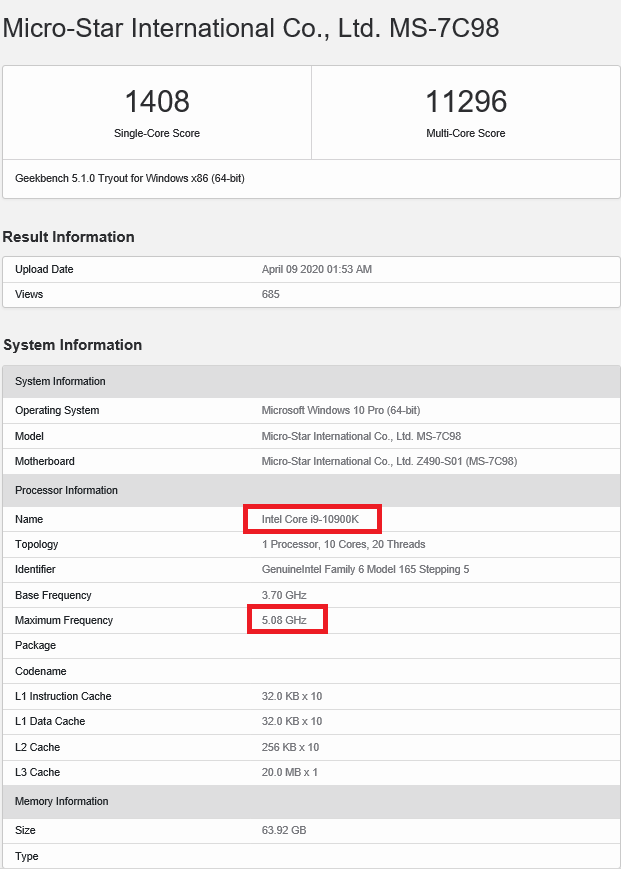 When it comes to pricing, the AMD CPUs have its own advantage and it's trustable AM4 socket platform is pushing more users to the Red team. Whereas again you have to buy a new motherboard for these 10th Gen Intel CPUs.
When the Ryzen 9 3900X is retailing for just $449.99, the Intel Core i9-10900K is supposed to be prived around $562, so obviously a $100 savings is a lot, in fact you can have a B450 motherboard in that price.
Even if Intel is planning to wrench AMD's absolute dominance in the desktop PC market, AMD's Zen 3 Vermeer processors are waiting in the month of September to spoil the end of year party for Team Blue.
Do check out:
😎TechnoSports-stay UPDATED😎