A leaked promo material of the new 10th Gen Comet lake Desktop CPUs has been published by VideoCardz. This info includes specs of the 3 upcoming unlocked Intel processors including the top-of-the-line Intel Core i9-10900K, Core i7-10700K, and Core i5-10600K.
The marketing info confirms the fact that the unlocked Core i9-10900K will be able to boost to a clock rate of 5.3 GHz by utilizing Thermal Velocity Boost. As per previous leaks, this high-end chip will feature 10 cores and 20 threads along with a high 125 W TDP and has the ability to produce a regular all-core turbo boost of 4.8 GHz (single-core: 5.1 GHz).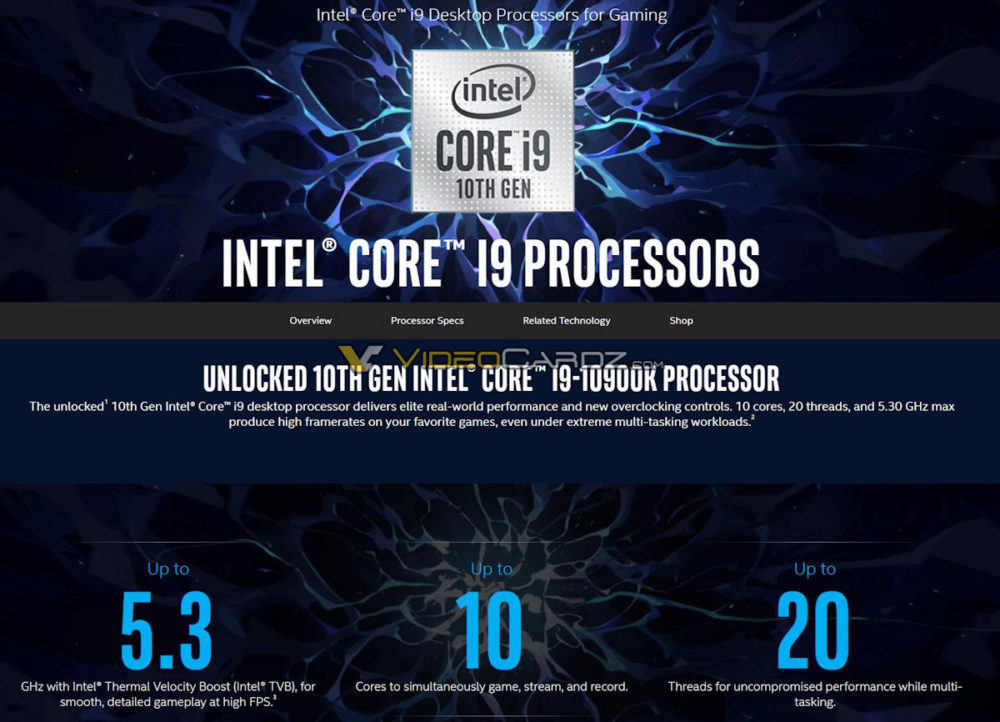 The Intel Core i7-10700K is another important Comet Lake CPU offering 8 cores and 16 threads and surprisingly it can also reach a boost clock rate of over 5 GHz. This Intel CPU can actually manage up to 5.1 GHz using the max turbo 3.0.
The Core i5-10600K could end up being the most attractive option out of the three as this will the be first unlocked Core i5 CPU utilizing 125 W TDP and can deliver an impressive clock speed up to 4.8 GHz (single-core). This Core i5 chip features 6 cores and 12 threads, can be quite competitive to the best selling Ryzen 5 3600/ 3600X if Intel prices it correct.
On the other hand, it is sure that if you want to use the new 10th Gen Intel desktop CPUs then you'll be requiring the new LGA 1200 socket motherboard. This will again increase prices if you want to upgrade but first-time buyers can at least manage but the prices of this board will be the key factor for the sales of these new Comet Lake-S desktop CPUs.
If invested heavily on cooling, these unlocked CPUs can give high performance especially in gaming because of the high single-core frequency. The Intel Core i9-10900K, Core i7-10700K, and Core i5-10600K are speculated to be launching this month on the April 30th.
Do check out:
😎TechnoSports-stay UPDATED😎