- Advertisement -
The German retailer's latest sales data has been spotted online, and it seems to be a great week for AMD. Already the Red team has been dominating Intel since last year in terms of desktop CPU sales and now the latest sales figures make the thing much more humiliating for Intel.
The budget-end Ryzen 5 3600 has always been the best seller for AMD and the latest Mindfactory CPU sales show 2,030 units were sold in comparison the top seller for Intel was the Core i7-9700K with just 130 sales. Both the Ryzen 5 3600 and the Ryzen 7 3700X has topped the charts for AMD.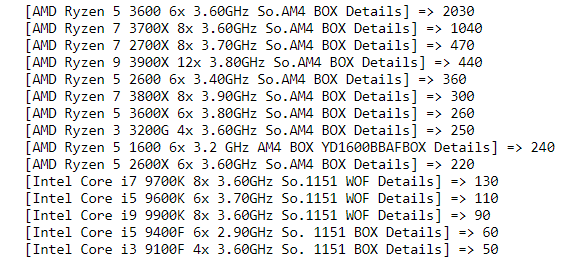 - Advertisement -
Team Blue got only 740 units sold for the week, whereas the Ryzen 5 3600 only managed 2,030 units and the Ryzen 7 3700X with 1,040 units. A total of 5,890 AMD CPUs were sold, equivalent to 88.84% of the share of the total sales and this is just amazing for team Red, totally shutting Intel out of the competition and now humiliating as well.
In the top 10 places of the sales data, AMD's six Ryzen 3000 series chips occupying the top spots and all the 10 places are occupied by AMD.
- Advertisement -
The Mindfactory sales information is indicative of the fact that the CPU market as a whole is totally shifting to AMD, and even though Intel thinks to regain its spot with 10th gen Comet Lake desktop CPUs, AMD is on track with the Ryzen 4000 desktop CPUs based on Zen 3 architecture.
Do check out:
😎TechnoSports-stay UPDATED😎