HUAWEI surely planed something cool. That's why they joined with Devialet, renowned for Phantom speakers and Expert amplifiers, and worked together. As a result, HUAWEI announced its Sound X Speaker recently. Let's highlight the features which make it noticeable and separate from other available speakers:
Small in Size, Effective in Audio Play
Some definitely can overlook it for its size. It will be a big loss for them. It has the power to generate massive vibrations. Because of the use of dual subwoofers crafted from magnetic rare earth materials.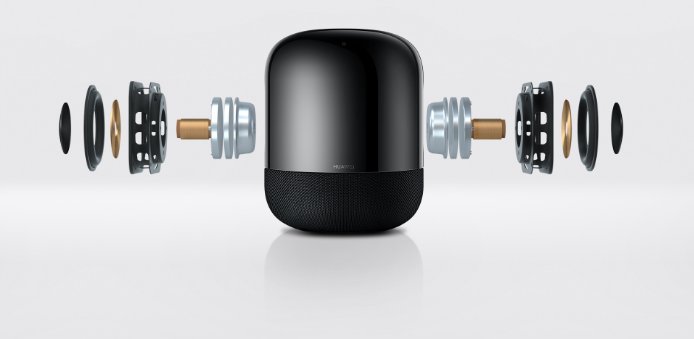 The same audio quality even in High Volume

Maximum of speakers are unable to hold the original audion quality at high volume. But, you guess it right, it doesn't happen in case of Sound X. Due to Devialet's Push-Push Acoustic design, the dual subwoofers surprisingly cancelled out each other's vibration at any volume.
The OneHop Audio Sharing
The listener will always be just one tap away to share the favourite audio. There is Huawei Share built-in so you can share your feelings easily.
360 Degree Sound
The six powerful tweeters, fitted in the speaker, utilize the Huawei Sound algorithm to provide you with a 360 degree sound experience. These six tweeters together can push the speaker's frequency up to 40KHz.
Hi-Res Audio Certification
This speaker delivers genuine lossless audios. Otherwise, it can't be certified as Hi-Res.
Feel every Vibration
The bass hits are as low as 40hz along with amplitude maximum up to 20mm. Thanks to Devialet's Speaker Active Matching Technology.
Rather than the mentioned, overall, glazed surface, small in size design, sensitive colourful lighted buttons make this product much more attractive. The company keeps the pricing and launch date as suspense still now. Hoping they are excited too to make it available in the market for us.
You may like 👇🏼
TechnoSports 👈🏼👉🏼 Stay Updated