The Red team's new mobile APUs will be very powerful and we all have seen the demos but how exactly they will perform against the desktop CPUs? The benchmarks of the custom AMD Ryzen 9 4900HS APU made for Asus has popped up on UserBenchmark.
The Ryzen 9 4900HS is an absolute monster with a bit lower TDP (35W) and features the same 8-core and 16-threaded configuration like the Ryzen 7 APUs but with higher clock speeds. We've already seen the AMD Ryzen 7 4800HS in Asus ROG Zephyrus G14 edge past the Intel Core i9-9880H so the 4900HS will have even better performance.
Thanks to @TUM_APISAK who has discovered the 35W Ryzen 9 4900HS and has compared it with a Matisse processor named Ryzen 7 3700X with 65W TDP. The Ryzen 4000 chip featuring in an Asus ROG Zephyrus G14 achieved an average bench of 96.7% and surprisingly offered very high single-core and multi-core results.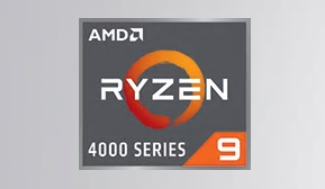 On the other hand, the Ryzen 7 3700X achieved an average bench of 91.7%, while its single-core score was 134 points, 2-core was 266, 4-core was 513, and 8-core was 929 points. The Ryzen 9 4900HS scored 140 points in single-core, 276 points in 2-core, 546 points in 4-core, and 1081 points in 8-core.
You'll be surprised to see the Ryzen 9 4900HS UserBenchmark scores beat the mighty 16-core Ryzen 9 3950X that has a whopping TDP of 105W. The 3950X managed to gather 137 points in single-core, 272 points in 2-core, 528 points in 4-core, and 1053 points in 8-core which is lesser than the alleged Ryzen 9 4900HS.
| UserBenchmark | Ryzen 9 4900HS | Ryzen 7 37000X | Ryzen 9 3950X |
| --- | --- | --- | --- |
| Cores/threads/TDP | 8/16/35 W | 8/16/65 W | 16/32/105 W |
| Average bench | 96.7% | 91.7% | 94.1% |
| 1-core score | 140 points | 134 points | 137 points |
| 2-core score | 276 points | 266 points | 272 points |
| 4-core score | 546 points | 513 points | 528 points |
| 8-core score | 1,081 points | 929 points | 1,053 points |
It's interesting to see a mobile processor defeating a desktop CPU with such less TDP and this is really great news for all performance seekers who can now enjoy a desktop-level performance on laptops with Ryzen 4000 chips.
AMD has outdone its own desktops CPUs and if leaks go well then Intel should now really be wary of the Red team in the laptop processor segment as well. Its the first time that the new Ryzen 9 mobile APUs seems promising, and if AMD makes it cheaper than Intel ones then the Blue team will have a hard time with its messy CPU lineup.
Do check out:
😎TechnoSports-stay UPDATED😎