Last year, Intel did launch its entire 10nm based Ice Lake lineup for laptops and we do have a number of laptops in the market with the SoC. Intel did tease the Core i7-1068G7 last year as the crown jewel of the Ice Lake series but it did never appear on any laptop or mini PCs.
The Intel Ice Lake family consists of at least 5 different Y-series CPUs and 6 different U-series CPUs. We see the highest-end variant of the U-series is the Intel Core i7-1068G7 operating at 28W TDP followed by the most commonly seen Core i7-1065G7 operating at 15W to 25W TDP.
The Core i7-1065G7 is mostly seen in ultrabooks including the Razer Blade Stealth, HP Spectre x360, and the Dell XPS 13 while the Core i7-1068G7 is seen nowhere being used. Already AMD has launched the revolutionary Ryzen 4000 series mobile processors and Intel is wary of the fact.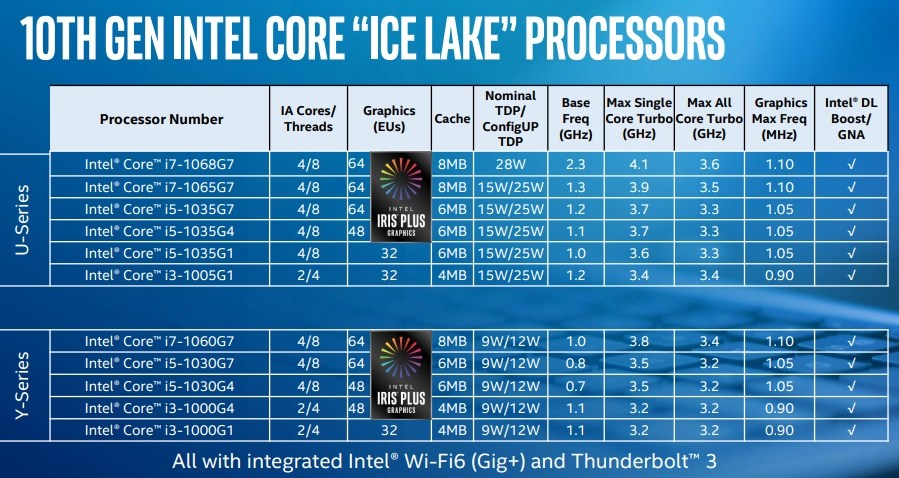 The Intel Core i7-1068G7 is a quad-core CPU like its brothers and has a base clock speed of 2.3GHz and a boost of up to 4.1GHz and features the same Intel Iris Plus graphics with 1.1GHz graphics frequency.
Intel is expected to make the CPU available to OEMs before the end of Q1 2020 for a launch in Q2 to give competition to the Ryzen 4000 APU laptops. Both the Ryzen 7 4700U & 4800U can be a tough competitor to Intel as the 7nm architecture plays a key role in AMD's performance and efficiency to that to Intel 14nm process.
It is also worth noting that 28 W Core i7-1068G7 will draw more power than a Ryzen 7 4700U/ 4800U which have 15W TDP.
Obviously, Intel had no answer but cracking up the TDP to maximize the performance from the chip as they have to worthy competitor to the Ryzen 4000U mobile APUs currently until they launch their Tige Lake-U series whose availability seems questionable till now.
Do check out:
😎TechnoSports-stay UPDATED😎