- Advertisement -
Huawei did not make any major announcement of its smartphones amid the Coronavirus situation. But soon it seems they will virtually be launching a lot of stuff soon.
The alleged Huawei P40 series will be making its debut soon and in the mid of this it's another brand Honor will be launching a smartphone on March 30th. Honor is set to launch the Honor 30S which will be the successor to the 20S featuring the new Kirin 820 SoC.
- Advertisement -
This new device should be 5G ready and so should be it's SoC, so being a mid-range chip, the Kirin 820 SoC will be the only one to come integrated with 5G.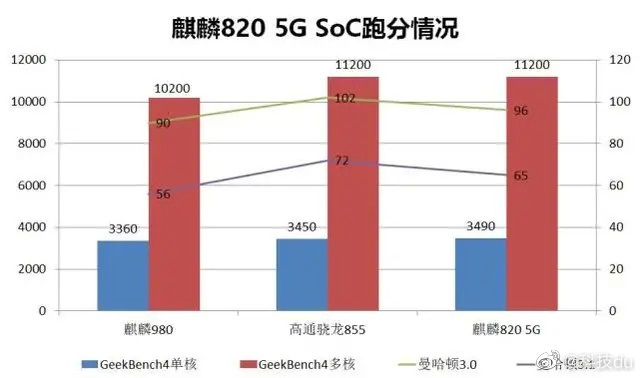 According to ITHome, a Weibo tech blogger has got hold of this new chipset's Geekbench 4 benchmarks. The user has even drawn up a graph comparing it against the 2 much better-known chipsets: the Kirin 980 and Snapdragon 855.
- Advertisement -
The graph shows the Kirin 820 capable of beating the 2-year-old flagship chipset from its own maker while giving a comparable performance to last year's flagship Snapdragon 855 which seems promising from a mid-range SoC.
Getting such a powerful SoC on a mid-range device which is even 5G ready, it makes things great for users who both need performance and 5G at a significantly lower price point. It is rumoured that the Kirin 820 SoC consists of 8 ARM Cortex-A76 cores and an improved Mali-G67 GPU with 10 cores.
It seems the Kirin 820 will be the direct competitor to the Snapdragon 765 series which are also feature 5G connectivity. However, if leaks are true this Huawei's chip would even more powerful than Snapdragon chips only the launch Honor 30S can actually depict the power of this SoC.
Do check out:
😎TechnoSports-stay UPDATED😎