The world's best goalkeeper shows his class again, earning high praise from his manager
Atletico's last match against Liverpool has stunned everyone across the globe as they defeat the reigning champions and its all due to the brilliant saves by the Slovenian keeper Jan Oblak who totally kept Liverpool silent conceding only two goals out of the 11 shots on goal.
Diego Simeone has compared Jan Oblak to Barcelona's superstar Lionel Messi after the goalkeeper's extraordinary performance that helped Atletico Madrid eliminate Champions League holders Liverpool.
Oblak was named the man of the match with his incredible performance and a number of important saves that helped Atletico to change the game after Llorente netted two goals in the first half of the extra time.
It was due to him Atletico was able to take the match longer and take advantage of the tiredness of their opponent, in this case, the sloppy performance from Liverpool's second-choice goalkeeper Adrain.
Liverpool was dominating the game both in terms of possessions and shots on goal but throughout the 90 minutes, Oblak kept his composure and justified why he is named the best in the world.
Even though he had nothing to do with Firmino's goal but his subordinate Marcos Llorente who became yesterday's super-sub sealed the game alongside Morate, paying off Oblak's incredible goalkeeping in the entire match. Oblak did earn high praise from Atletico head coach Simeone post-match.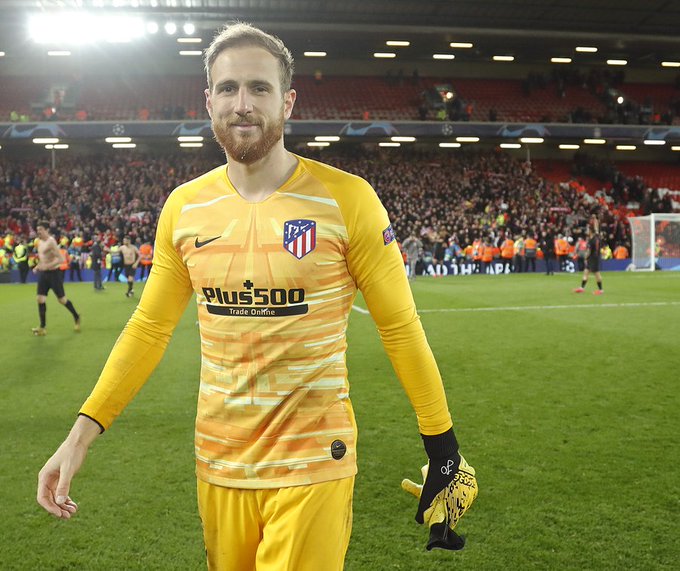 "We have a goalkeeper who is the best in the world, no doubt," Simeone said. "I have been saying that for some time.
"It's like Barcelona who has Messi. He decides games with his attacking play; Oblak resolves them with his saves."
Llorente replaced a frustrated Diego Costa and Simeone added: "Llorente revolutionised the team.
"I'm very happy for the team and the club. It was a historic match against an extraordinary opponent with great intensity and a beautiful stadium.
"They pushed and held, without us ever moving away from our plan and with everyone's effort, we succeeded.
"It gives me enormous joy because, although it seems simple, it's not simple to win."
Atletico Madrid was supposed to play against Athletic Club on Sunday but due to the Coronavirus effect, LaLiga games haven halted for a while.
Do check out:
😎TechnoSports-stay UPDATED😎