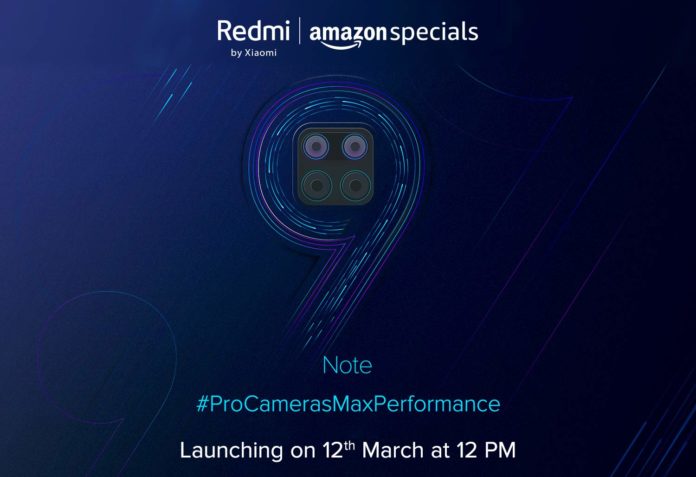 Redmi is launching yet another smartphone of the Note series on 12th March in a new avatar. This time the Redmi Note 9 series is getting a new look. Following the trend of clustering rear cameras, Redmi is finally going to apply this design in its next Note series. The Note 9 series will be available on Amazon and Mi.com.
What do we know so far?
Xiaomi recently promised that it will launch a smartphone powered by the Qualcomm Snapdragon 720G processor. Given the positioning of Snapdragon 720G in Qualcomm's portfolio, the Redmi Note 9 Pro is the most likely candidate to pack this particular SoC. If that materializes, the Redmi Note 9 Pro will also offer support for the NaVIC satellite positioning system that was developed by the Indian Space Research Organisation (ISRO). As for the standard Redmi Note 9, there is no word whether Xiaomi will stick with Qualcomm or if the phone will come equipped with a MediaTek chip.
Another detail revealed by the Redmi Note 9 series' Amazon microsite is a curved glass rear panel. In another tweet, Jain gave us an early look at a Redmi Note 9 series phone in a photo. The phone appears to have a sky blue paint job with a curved glass rear panel. At the base, one can see the speaker grille, USB Type-C port, and a 3.5mm headphone jack. We'll get to know more about the Realme Note 9 series via official teasers as the launch inches closer.
These are the news reports from different agencies and from the brands as well. Tell us how much you liked this information in the comments section below. For the latest Tech & Sports Updates hit the bell icon and Subscribe to our website TechnoSports. For more information visit our website, TechnoSports. And download our app from the Google Play Store for more real-time updates. To download our TechnoSports app click here.
For the latest tech news and reviews, follow TechnoSports on Facebook, Twitter, Instagram. We are also available now on YouTube, Subscribe and press the bell icon in our channel for more Tech and Sports updates.
TechnoSports – Stay UPDATED