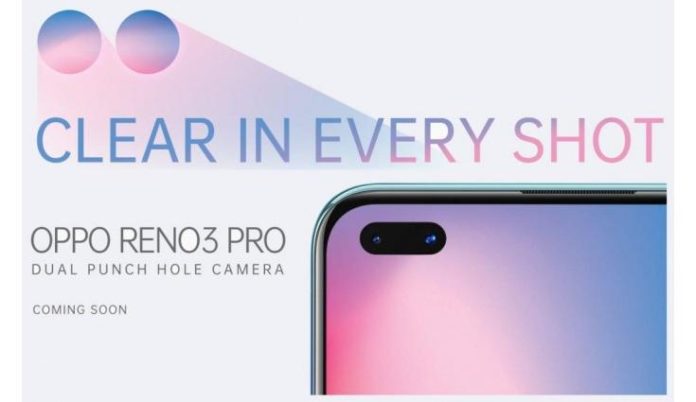 Oppo is launching the next Reno in India on 2nd March and Amazon has started teasing in their website and app. Another premium smartphone is launching in this year. On the other hand, Vivo has also started teasing the launch of its new brand smartphone is Flipkart. Oppo is focusing on its dual punch hole camera setup at the front.
Oppo Reno 3 Pro variant that was launched in China back in December last year only had a single front camera housed in a hole-punch. Another noticeable difference is that the Oppo Reno 3 Pro model launched in China had a curved display, but the version bound to hit the shelves appears to have a flat display, something that is clearly evident in the company's own promotional material. Even the colour scheme of Oppo Reno 3 Pro shown in the company's promos don't match any of the colour options that are available in China.
Another notable difference is that the Oppo Reno 3 Pro's China version offered 5G support-out-of-the-box, thanks to the integrated Snapdragon X52 5G modem on the Snapdragon 765G powering it. Tasleem Arif, Vice President and India R&D Head of Oppo, has earlier said that the Oppo Reno 3 Pro launching in India next month will only offer 4G support. This also raises the question of whether the India-bound Oppo Reno 3 Pro will have a different SoC. So far, there have been no credible leaks regarding the specifications of Oppo Reno 3 Pro's Indian variant, but we expect the company to share more details via teasers as the launch inches closer.
These are the news reports from different agencies and from the brands as well. Tell us how much you liked this information in the comments section below. For the latest Tech & Sports Updates hit the bell icon and Subscribe to our website TechnoSports. For more information visit our website, TechnoSports. And download our app from the Google Play Store for more real-time updates. To download our TechnoSports app click here.
For the latest tech news and reviews, follow TechnoSports on Facebook, Twitter, Instagram. We are also available now on YouTube, Subscribe and press the bell icon in our channel for more Tech and Sports updates.
TechnoSports – Stay UPDATED