The CEO of the gaming brand Nubia has shared a screenshot from their upcoming new device which will support the 144Hz refresh rate of the display. The device will also have options to chose refresh rate from 60Hz to 120Hz with a maximum 144Hz rate. The engineers of the gaming brand are working on this device which will come with the best display of 2020.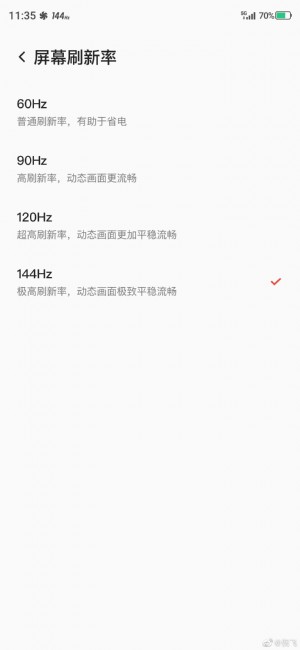 "The executive also called the device "Red Magic 5G phone", confirming it will have next-gen connectivity, something that isn't really a surprise, given that all manufacturers are jumping on the hype train." – GSMArena says. Well, let's wait until another official announcement from the brand itself. Anyway, the next device from the brand will definitely target the gaming freaks all over the world.
According to some reports, earlier this month, Ni Fei, CEO of Nubia, revealed the new flagship will have three cameras on the back and will be powered by a Snapdragon 865 chipset. Since we are talking about 5G, the SoC is going to be coupled with a Snapdragon X55 modem. We will be having 5G connectivity with a gaming-friendly performance packed in the device.
According to all the renders, the next Nubia Red Magic device will pack in the latest Snapdragon chipset, 5000mAh battery, and 5G connectivity in order to face the latest technology revolution.
Tell us how much you liked all the information about the OnePlus Concept One in the comments section below. For the latest Tech & Sports Updates hit the bell icon and Subscribe to our website TechnoSports. For more information visit our website, TechnoSports. And download our app from the Google Play Store for more real-time updates. To download our TechnoSports app click here.
For the latest tech news and reviews, follow TechnoSports on Facebook, Twitter, Instagram. We are also available now on YouTube, Subscribe and press the bell icon in our channel for more Tech and Sports updates.
TechnoSports – Stay UPDATED