AMD made a bold announcement of its 3rd Gen Ryzen 4000 mobile APUs at the CES 2020, this series delivers killer performance both on the CPU front and of its integrated graphics. Being based on the 7nm process, these APUs will be costlier than last-gen and so AMD needs something to compensate its lower-end laptops.
As we previously saw the Ryzen 4000 series to feature a minimum of 4 cores, we expect the lower end ones to feature 2 cores which will this time be dubbed as Athlon 3000 mobile processors. Hopefully AMD this time will discard its older A-series SoCs for the low-end laptops and replace it with these new Athlon processors.
The new Athlon 3000U mobile SoCs pack 2 cores and 2/4 threads and has two variants:
MODEL
CORES/
THREADS
cTDP(Watts)
BOOST /
BASE FREQ.
(GHz)
GPU
CORES
L2 / L3
CACHE
(MB)
AMD Athlon Gold 3150U
2C/4T
15W
Up to 3.3 / 2.4 GHz
3
5
AMD Athlon Silver 3050U
2C/2T
15W
Up to 3.2 / 2.3 GHz
2
5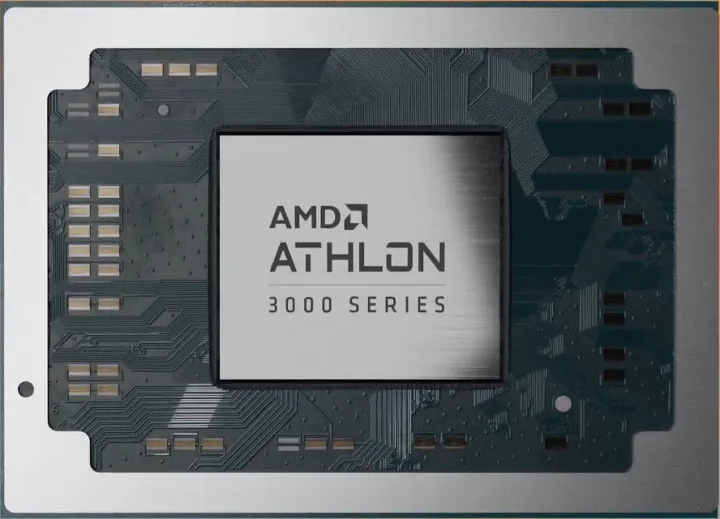 With 2-3 Vega GPU cores, you still get an improved Radeon Vega graphics along with a greater 5MB of total cache. These SoCs will be based on 14nm Zen architecture and will support DDR4-2400 RAM and will have 15W TDP.
The key specs of AMD Athlon Gold 3150U are:
2 cores, 4 threads "Zen" processor @ 2.6 GHz / 3.3 GHz (Boost)
Cache – 384KB L1 Cache, 1MB L2 Cache, 4MB L3 Cache
3-core Radeon Graphics with up to 1000 MHz
Supported System Memory – DDR4-2400
Video Interfaces – DisplayPort and HDMI
TDP – Default: 15W; cTDP: 12-25W
CMOS – 14nm
Package – FP5
Max Temp – 95°C
The Athlon 3000-series mobile processors also support Windows Hello and Cortana, really helpful for everyday work and home use. Even you can enjoy Full HD streaming and 720p gaming up to a certain level.
If this Athlon CPU is compared with Intel Pentium Gold 5405U "Whiskey Lake" dual core/4-thread powered laptop, the new AMD Athlon Gold 3150U offers up to 86% faster graphics in 3DMark11 and up to 51% better productivity performance in Cinebench R15.
These Athlon 3000 mobile processors would be giving you great performance for low-budget laptops or in mini-laptops or portable gaming console. Soon in Q1 or Q2 of 2020, we will get laptops featuring these APUs.
Do check out:
😎TechnoSports-stay UPDATED😎