Realme has changed the way people charge their smartphones – especially their mid-range range devices. This started from its best selling smartphone Realme 3 Pro where they borrowed Oppo's VOOC Flash Charge 3.0 with 20W rating.
This totally changed the game of charging smartphones, forced other competitors to increase their charging speeds in mid-range smartphones. Even though, the fact remains the VOOC Flash Charge is the fastest one in this mid-range smartphone segment.
As we all know Realme is an Oppo separated brand that draws a lot in common with it but it is now making its separate new identity. They will soon shed their dependent on Color OS and bring their own Realme OS and also they are to discard Oppo's VOOC Flash Charge branding.

So, Realme has recently trademarked a new for its fast-charge technology: "DART" and "SUPERDART". The logos used suggests that these names will surely replace their current names of VOOC Flash Charge and Super VOCC Flash Charge.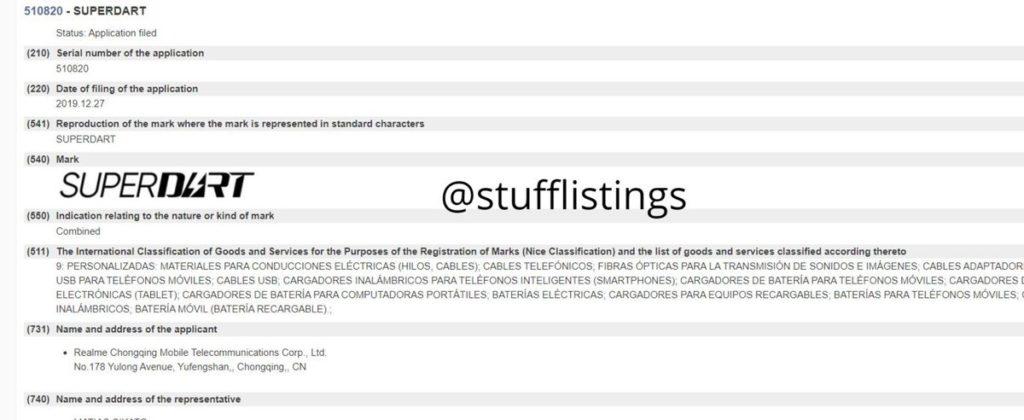 It might be the rebranding of Oppo's flash charge technologies or it might happen that Realme is getting big in the future, planning to implement its own technologies in their smartphones and power banks.
Realme currently uses 30W VOOC 4.0 Flash Charge technology on its recently introduced Realme X2 and uses the insane 50W Super VOOC Flash Charge on its flagship device named the Realme X2 Pro, which charges a 4000mAh battery in just 35 minutes.
It will be interesting to see how Realme implements its new DART and SUPERDART technologies in their upcoming devices and how much improvement they can bring to its current flash charge technologies.
Do check out: