The Ballon d'Or 2019 has been decided by a mere 7 points margin.
Lionel Messi has won his 6th Ballon d'Or on Tuesday. He has surpassed his previous record of 5 Ballon d'Or, a record he jointly held with his long term rival Cristiano Ronaldo. Messi has now the highest no of Ballon d'Or.
France Football declared that Lionel Messi's record 6th Ballon d'Or is one of the narrowest wins in the 63-year history of the prestigious prize. He has beaten Liverpool defender Virgil Van Dijk by just 7 points.
Messi had 686 points while Van Dijk's total was 679 points. Cristiano Ronaldo was far away behind the top 2 on 476 points. And Sadio Mane was on 347 points. These are the only 4 players who crossed the 200 points mark.

A post on the France Football's website: "The history of the award has had tighter scores, but the number of voting journalists – 176 this year – was [in the past] much smaller."
Ballon d'Or 2019 points table:
Lionel Messi (Barcelona) – 686
Virgil van Dijk (Liverpool) – 679
Cristiano Ronaldo (Juventus) – 476
Sadio Mane (Liverpool) – 347
Mohamed Salah (Liverpool) – 178
Kylian Mbappe (Paris Saint-Germain) – 89
Alisson Becker (Liverpool) – 67
Robert Lewandowski (Bayern Munich) – 44
Bernardo Silva (Manchester City) – 41
Riyad Mahrez (Manchester City) – 33
Lionel Messi said while collecting the Ballon d'Or prize: "To the journalists and my colleagues with whom I win and lose, I remember my first Ballon D'Or in Paris, when I arrived with my brothers, now I pick up the sixth, and this was absolutely unthinkable.
I never stopped dreaming and enjoying football like when I was a child. I hope I have more years to enjoy, although I am aware of how old I am, everything happens very quickly and I know that the moment of withdrawal is approaching."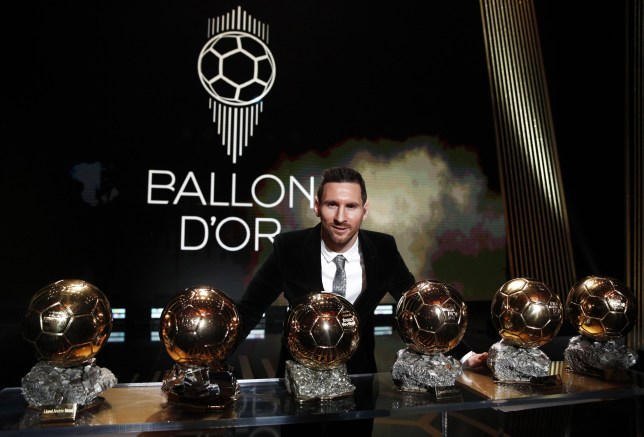 "It was unimaginable to win one, let alone six. It's a joy to get six, it's very nice the recognition from others and it makes me proud."
Messi also commented on whether his record of 6 Ballon d'Or will be broken in the future: "I think so. I don't know who but it's possible. Records are made to be beaten, but I don't know who or when. But at the moment I hold the record and I'm very happy."
Meanwhile, LaLiga players continue to dominate the Ballon d'Or winning chart. In the last 11 years, Messi (Barcelona) has won the award a record 6 times, Cristiano Ronaldo (Real Madrid) won 5 times and Luka Modric (Real Madrid) won the award once in 2018 breaking the Messi-Ronaldo duopoly.
Do check out:
All the latest 2019-20 kits of football teams from all over the world are now available on Tech2Sports. Superior quality kits at the lowest price guaranteed. Show your support for your favourite club and country by wearing their colours.
If you're a Barcelona fan, then check this out:
1. Home Kit
2. Home Kit (Full Sleeve)
3. Away Kit
4. 3rd Kit
5. Mobile Covers
6. Backpacks (Barcelona)
7. Backpacks (Messi)