AMD's monstrous Ryzen 9 3950X is already announced and will be available from November 25th. The 16 core CPU has a lot of PC enthusiasts gone crazy for it already and its leaked performance says it all, this CPU is capable to take on Intel's flagship CPUs including the HEDT ones well.
The leaked benchmarks say that the first pre-built system to feature this monstrous CPU will be Dell's gaming brand Alienware. It seems surprising to me that Alienware, who has been focussed to make gaming PCs clinging on to Intel CPUs shifting to AMD and be the first one to do so. Even its latest gaming PC offering is powered by Intel's 9th Gen Coffee Lake chips.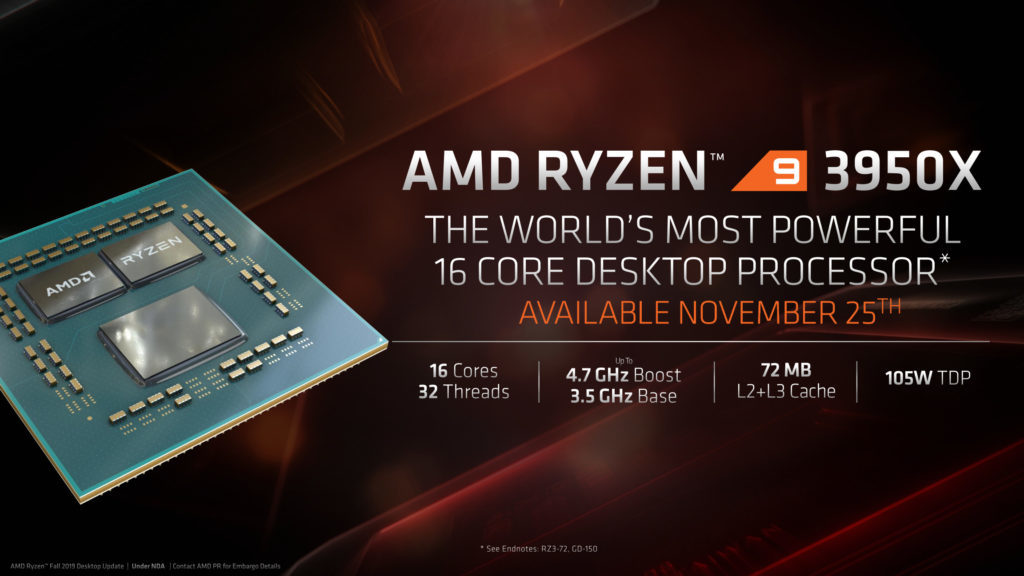 If that so, so be it, one thing is clear that OEMs are more likely changing their path or rather considering AMD CPU for gaming as well. Now according to the leaked Geekbench scores, it seems that Dell's latest Alienware Aurora lineup will feature the Matisse flagship.

As the benchmark suggests that this will be a special Alienware Aurora Ryzen Edition and not just any Ryzen but the flagship one. We can also expect the series to be featuring all the 3rd gen Ryzen chips, making an exclusive Ryzen lineup of gaming PCs, giving the choice to the consumers to choose accordingly.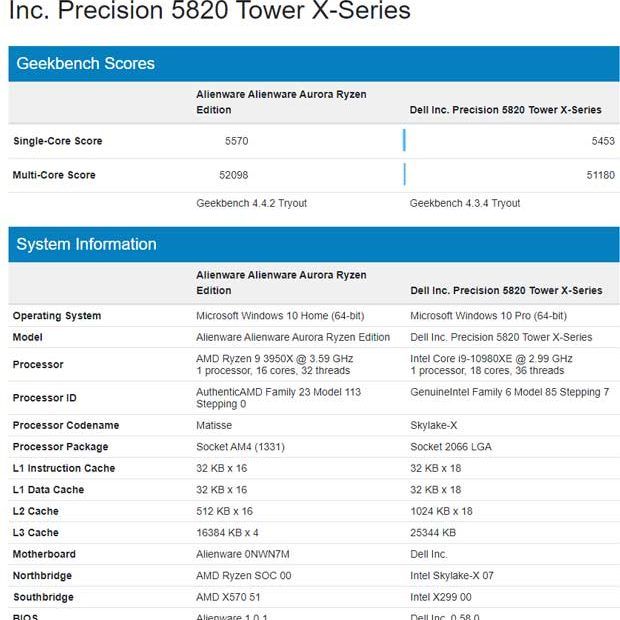 The Ryzen 9 3950X features 16 cores and 32 threads, comes with a base clock speed of 3.5GHz and boost up to 4.7GHz. Also, it features a huge cache memory of 72 MB and a TDP envelope of 105W. And as we see in the benchmarks, the flagship desktop CPU beats the HEDT processor – the 165W Cascade lake Core i9-10980XE in few of the benchmarks and equals it in some of them.
The chip has been paired with an X570 motherboard and is coupled with 32GB of DDR4 memory. Clearly we see how the Ryzen system outperforms the Intel Cascade Lake flagship, the Core i9-10980XE based PC.
Even though costing $749, this CPU is a bang on budget, either in pre-built systems or to be used in custom PCs the Matisse flagship just nails its age-old competition with Intel. The availability of Alienware Aurora Ryzen Edition is still unclear, maybe it can be announced after the market availability of the CPU starts i.e. on November 25 or in CES 2020.
Do check out:
😎TechnoSports-stay UPDATED😎