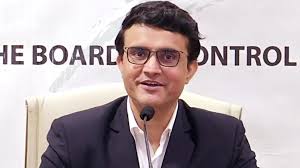 Former India captain Sourav Ganguly has been formally elected unopposed as the new Board of Control for Cricket in India (BCCI) president. Ganguly formally took over as the new boss at the apex body's Annual General Meeting (AGM) in Mumbai on Wednesday.
Union Home Minister Amit Shah's son Jay Shah takes over as new BCCI secretary as Supreme Court-appointed CoA's 33-month tenure comes to an end.
Sourav Ganguly arrived at the BCCI headquarters in Mumbai on Wednesday for the AGM. He filed for the role of BCCI president after eleventh-hour drama earlier this month. He has been elected unopposed as the president of richest body in world cricket.
Sourav Ganguly is only the 2nd India cricketer to become the BCCI president. He was wearing the same blazer that he wore in his first match as a captain in the BCCI press conference.
 Ganguly had played 113 Tests and 311 one-day internationals and led India to 21 Test wins. He has already been an administrator for his home state association, Cricket Association of Bengal (CAB). He took charge of CAB from 2015 after Jagmohan Dalmia left.
Union Home Minister Amit Shah's son, Jay Shah was chosen unanimously as the BCCI secretary. Arun Singh Dhumal, brother of former BCCI president Anurag Thakur was made the new BCCI treasurer and Kerala Cricket Association president Jayesh George was elected as the joint secretary. Mahim Verma of Uttarakhand became the new vice-president.
He was part of the BCCI's technical panel in the past and also part of a three-member Cricket Advisory Committee, alongside Sachin Tendulkar and VVS Laxman.
"My first priority will be to look after first class cricketers. I had requested to the CoA and they have not listened. Ranji Trophy cricket will be the focus. To take care of cricketers' financial interest," he said after he took over as the new BCCI president.
"We will have to get BCCI at the ICC back where we belong. There have been a lot of issues for good four-five years. BCCI is so important to the ICC. It not only generates the funds; which is one part but the popularity of the game matters. India is unbelievable and has a huge role to play in ICC and we need to be respected which at the moment is not happening" Ganguly added.
Ganguly is likely to serve only 9 months as BCCI president as the "Cooling Off" period clause in the new BCCI constitution makes it mandatory for board officials to step down after 6 years in office.
Do check out:https://technosports.co.in/2019/10/22/rohit-breaks-don-bradmans-record/
For more information visit our site, TechnoSports. And download our app from the Google Play Store for more real-time updates. To download the app, click here.