Fed up with your old TV? Want to enjoy a plethora of content on your TV? Does your TV have an HDMI port? Get the Flipkart MarQ Turbostream Media Streaming Device at ₹3,499
LED TVs were on a hype 5-6 years ago in India, when no Smart TV was present if present, were so much costly that it was not at all affordable. We all have LED TVs at home which we bought years ago and now they have become obsolete to the new range of Smart TVs available in the market.
If you do own a great Sony or Samsung or even LG TV, which cost more generally, and short on the budget of buying a new Smart TV then I have a great solution for you. We all know there are a lot of Android TV boxes that make your TV smart but are this Chinese made TV boxes reliable? depends more on luck you see…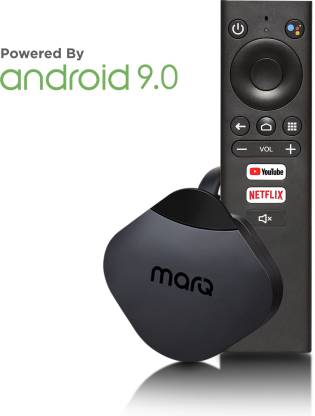 A few weeks ago I saw an interesting thing on Flipkart stating – MarQ by Flipkart Turbostream Media Streaming Device, this made me curious. It called itself to be a media streaming device that turns any TV to Android TV. I was looking for one recently and I somehow felt this one is the right one to invest upon. I was right 😉
So let's discuss more this new device by the Indian e-commerce giant and I will give my review on it as well.
Prerequisites: 1. Your TV must have an HDMI port, 2. You must have a high-speed internet connection.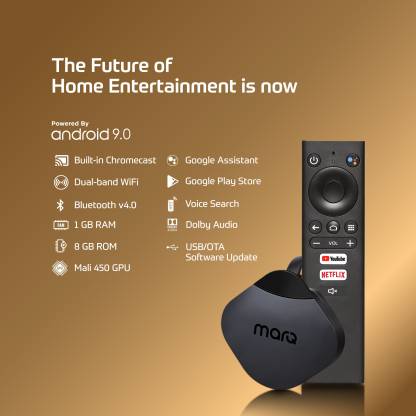 Specs
With MarQ TurboStream Android TV Box, you can now plug it into your non-smart TV and get the smart TV experience. The Turbostream promises you the full entertainment shebang along with Dolby Audio immersive sound, Voice assisted remote, in-built Chromecast and super-fast streaming with Dual-band WiFi.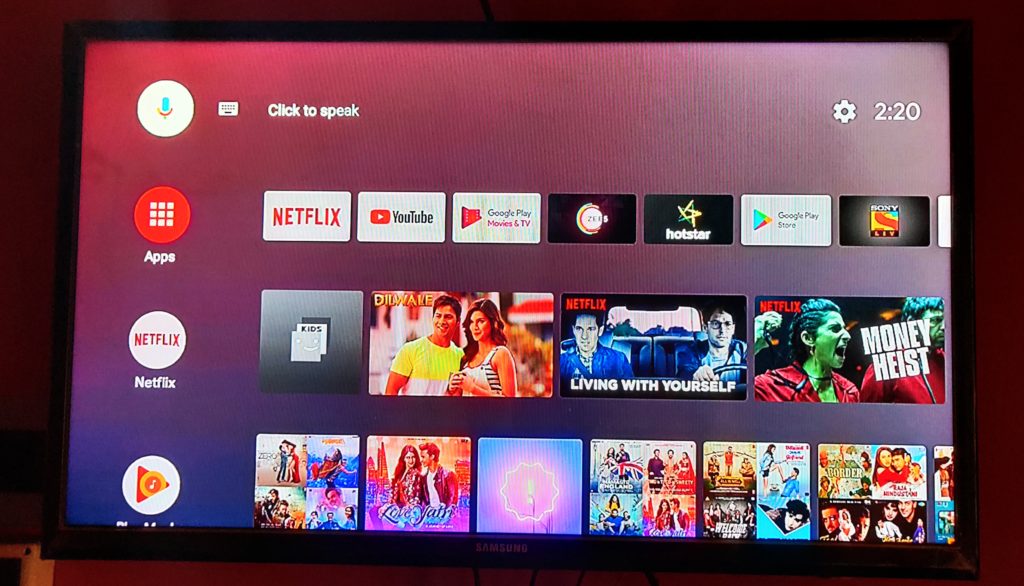 Access over 10,000+ apps with Android TV Play Store
Discover the true entertainment capabilities of the latest Android 9.0
Enjoy your favourites on the big screen with built-in Chromecast
Control your entertainment with just your voice, powered by Google Assistant
Enjoy super-fast streaming with Dual Band WiFi
Type: HDMI Switch
Now that you have an idea about this device let's discuss everything about it: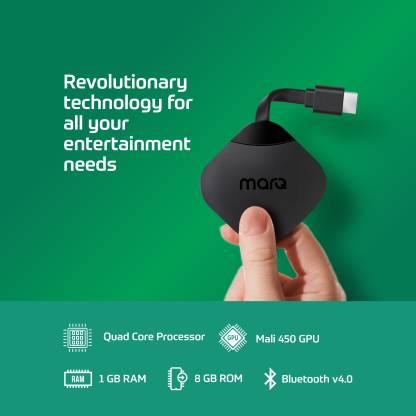 Physical Overview
A small box that doesn't even weigh 500gm, the tiny device looks cool but hides behind the TV as it will be attached to the HDMI port of your TV. Don't worry the IR blaster cable outside helps you to control your TV box even if it's hiding behind the TV.
Not the best-looking box but yes it is a cute one, small and light, easier to carry and handy. The compactness and its amazing performance make it a great device itself.
Remote
A small yet handy remote that doesn't have many keys on it focussing on the main essence of the TV. On/Off button, Google assistant button on top, followed by a soothing yet sturdy up/down, left/right navigation wheel. With the home, back, apps and Volume +/- buttons you get all the necessary buttons to operate your TV.
A dedicated YouTube and Netflix button makes it a lot easier for us to directly go to the apps which we most frequently see on TV. The hand feel of the remote is pleasing and as it fits within your palms using it is much more comfortable.
Setup
I was worried about the setup of the device when I started it for the first time. To my surprise, the Android OS made things a lot easier for me. First I had to pair the remote by pressing volume down and back button together and within seconds the TV was paired with the remote.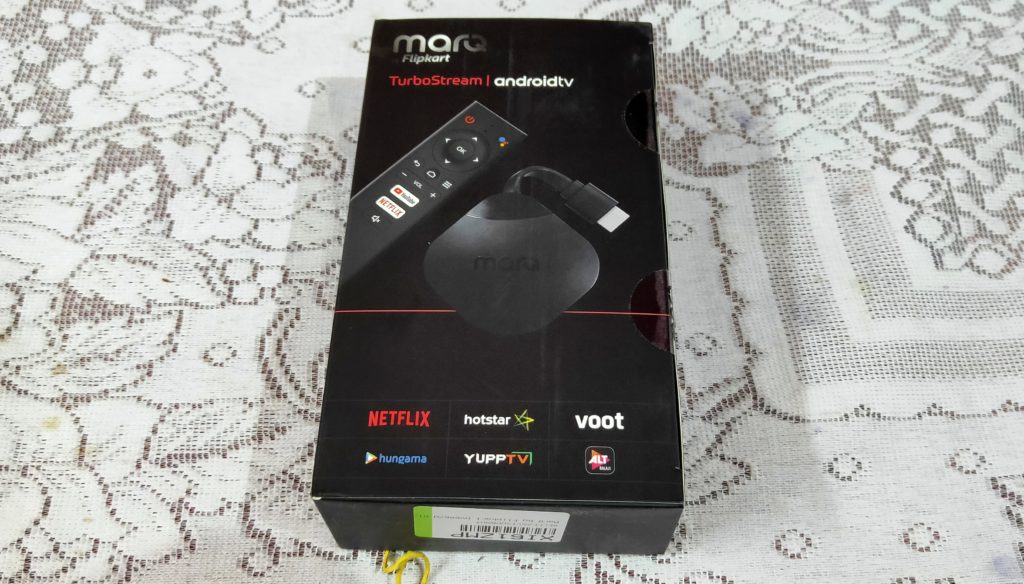 It asked to connect my smartphone which I did and automatically all of my data, Google account, passwords, WiFi settings got imported, making things simpler for me. Now the Android TV OS was ready for me to explore within minutes.
You have to give access to your google account via your smartphone and once added it gets added to the Google environment of yours. Your interests, your YouTube activity and even your Netflix, Hotstar activities get imported.
The Android TV OS
When the TV loaded up with Android logo on it, it looked as if a genuine Android Smart TV and within seconds you see the home screen of the TV with a lot of apps and content. The home of the TV is clean and looks neat, displaying only what is important.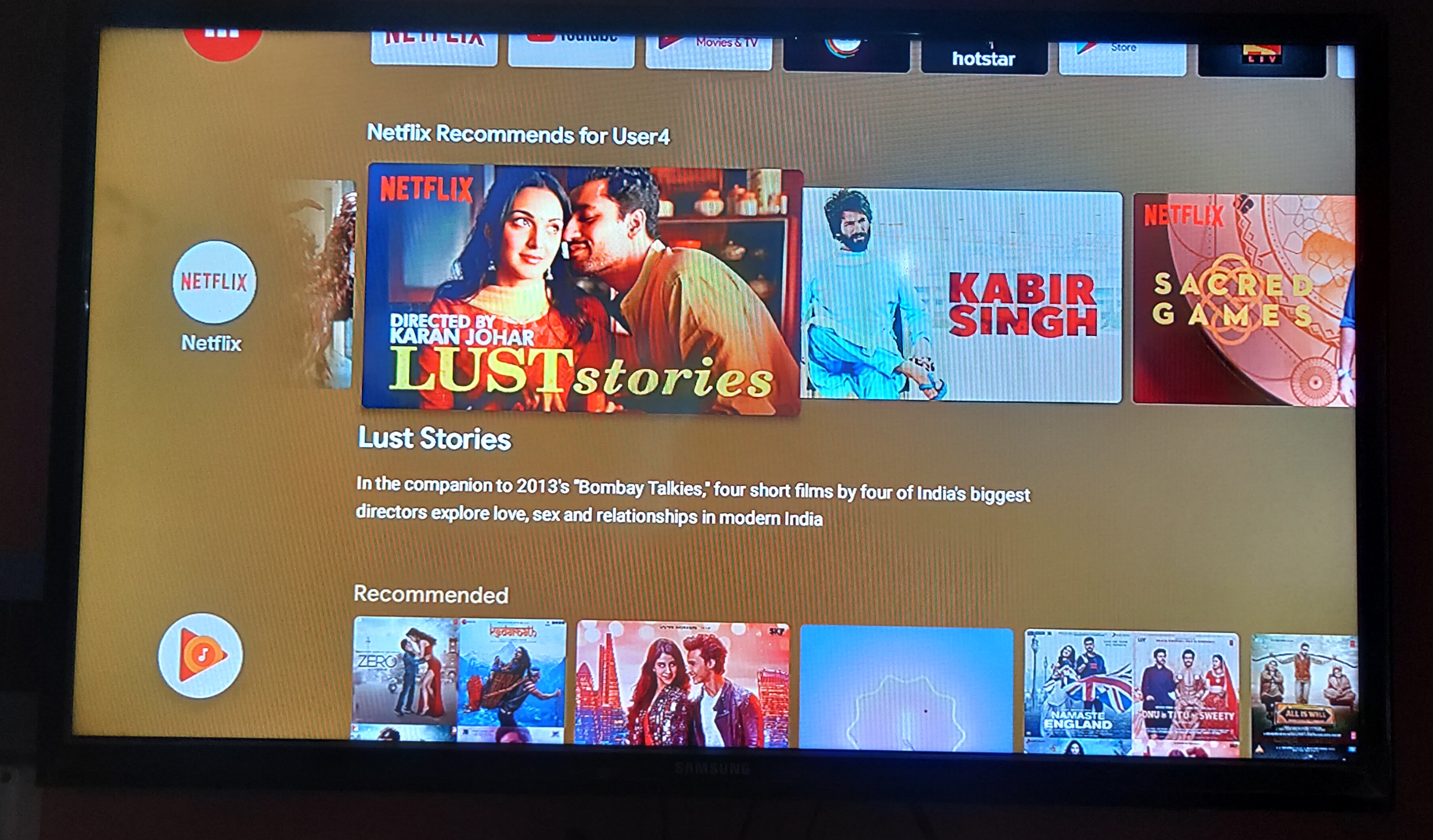 You do have access to a plethora of Android apps via Play Store but limited in another aspect as not all apps support the TV OS. Apps like Netflix, Google Play Movies, Play Music, Play Store, Play Movies and Yupp TV come pre-installed. You can readily add apps like Hotstar, SonyLIV, Alt Balaji, Jio Cinema, MX Player, Facebook Watch without any hassle.
The stock experience of Android 9.0 Pie is just amazing, with such a cheap device you get a full-fledged Android TV OS that too the latest one with the promise of future updates.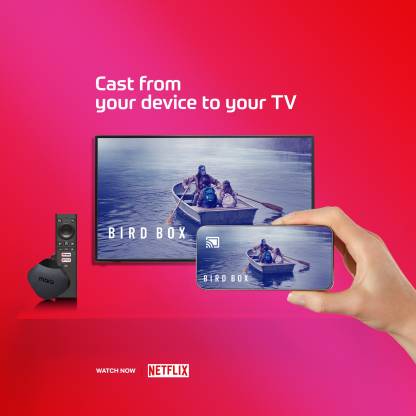 Built-in Chromecast & Google Assistant
Another handy feature of the Flipkart device is the built-in Chromecast that allows any of your smartphone to cast anything going on, on your phone to your TV directly without any lag via your home's WiFi. Showing your travel pictures to watching videos, listening to music, or playing games directly via smartphone, this feature makes things much simpler.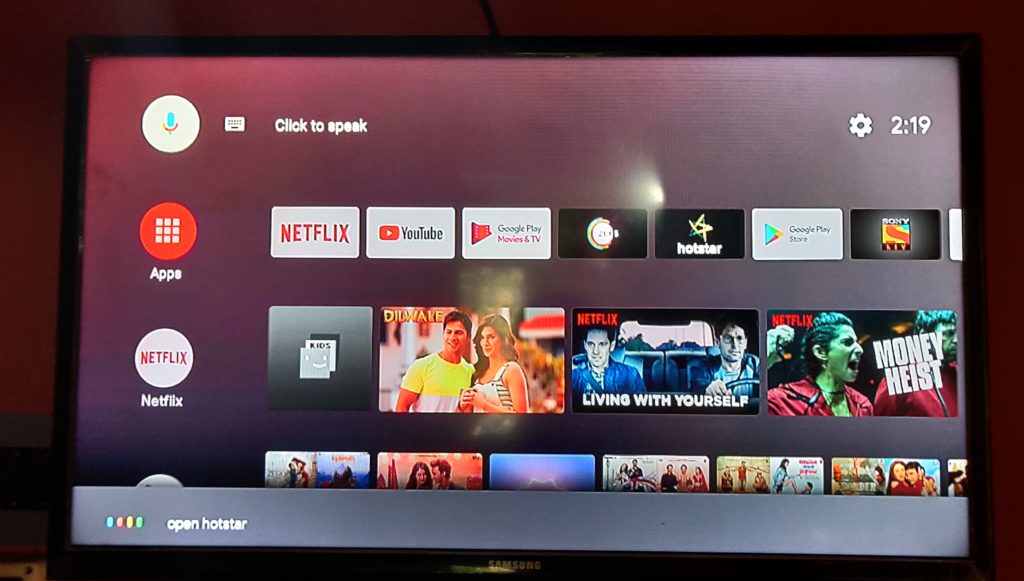 Using the Google Assistant you can directly search for anything or ask anything with your voice commands. It works accurately most of the times and you can open apps, request shows and apparently do everything with it.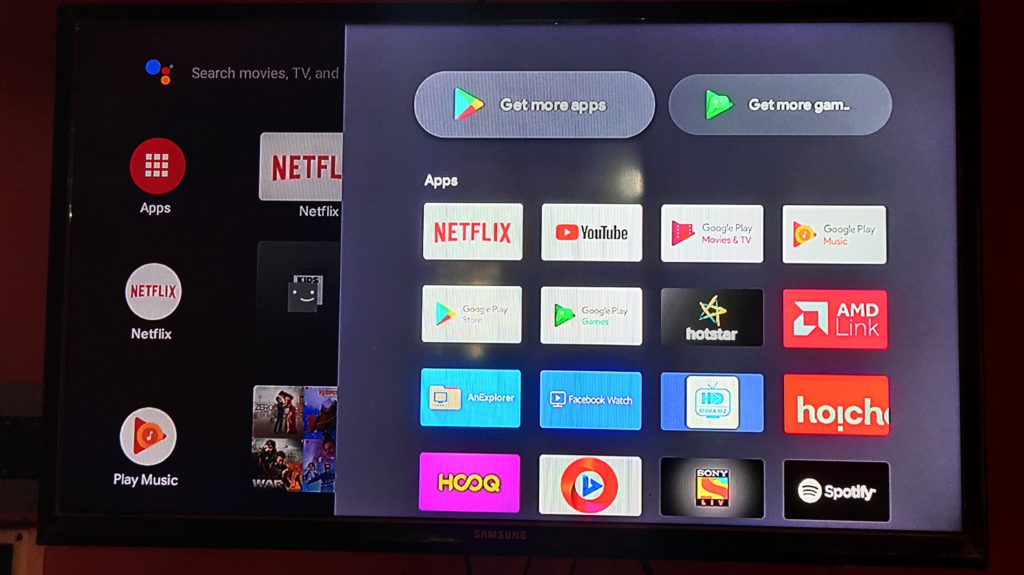 Performance
Though nothing has been mentioned regarding the SoC that has been used the performance seems quite smooth, considering its a budget device the app loading time and transition time is fair enough. It takes around 15-20 seconds to boot up and with its 1GB of RAM, you can access a large number of apps.
But I prefer that do not install more than 10-15 apps otherwise the performance will become sloppy, just keep the main apps and avoid installing games on this device. It has 8GB of internal storage that can be accessed via any file manager app. The Mali 450 GPU works well and produces great graphical clarity.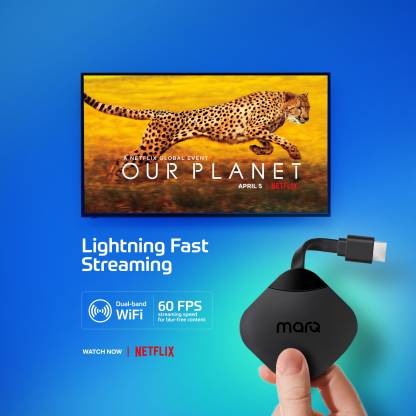 Connectivity
Another small thing which truly is important and unique for this device is the inclusion of dual-band WiFi support. If you have a WiFi that supports 5GHz band then the TV box can easily access it and you can enjoy high-speed streaming without any delay, I personally use it and it works well.
Also, there's the Bluetooth v4.0 that allows you to connect to any speaker or any smartphone or headphone easily. The box needs USB charging and its charger is included and the remote works on battery. Also, it has been mentioned that has Dolby Audio support which enhances your TVs original volume.
Verdict
SonyLIV, Hotstar, Netflix, ZEE5, Hoichoi, Facebook Watch all of these apps work great and there's no lag as such while using. The interface is extremely easy and this Android TV box as a whole is a must-have. Also, you can experience these content the highest quality if your TV supports.
Using apps to watch live TV or other content is extremely easy and one can learn using the software in no time as the OS is identical to smartphones' Android OS. In my next article, I will tell you how to watch live TV for free just by installing a simple app.
To end my review all I can say is that if are looking for a scalable, portable and powerful media streaming device then this is the one. Its nearest competitor is Amazon's Fire Stick TV which first of all lacks Android OS and access to a lot of apps.
It is a lot more flexible to use, has access to a wide range of apps, uses Google's very own stock Android TV OS and has Google Assitant to compete with Alexa. It is a tough call in choosing between Amazon Fire Stick TV and Flipkart MarQ Turbostream Media Streaming Device but I would always go for the Flipkart one just for its simplicity and the versatile Android TV OS.
At ₹3,499 the service it is providing is incredible and with Flipkart's 1-year domestic warranty this is far better than the hefty Chinese Android TV boxes. Buy it from here: http://fkrt.it/a8xv96uuuN
Do check out:
😎TechnoSports-stay UPDATED😎