Get to know about all the new features and changes that MIUI 11 brings to your Xiaomi smartphone
Today Xiaomi launched the new MIUI 11 which was expected to be unveiled alongside the Redmi Note 8 series. It rings loads of new customizations, design improvements and new & upgraded features to the MIUI as a whole. This makes the UI much more modern and brings a bunch of Android 10 features as well.
Let's talk about a bunch of new features:
The optimized UI

The lines and boxes of the new UI seem cleaned and the minimalistic design is great instead of looking old-school.
Also we some colour enhancements in the UI while calling, texting, etc, making it a lot cooler than before.
Xiaomi says that it has optimized the UI for better full-screen experience as these days most the smartphones have larger screen. Also, there's the much-awaited dark mode that will be available natively and all the supported apps will behave accordingly to your preference.
Always on
The feature that was introduced in the Redmi K20 series has been enhanced and is now available for all Xiaomi devices via MIUI 11. Now with more cool designs and looks the always-on display is one of the biggest visual change in the MIUI.
Dynamic Clock
Another interesting visual feature is the Dynamic clock that lets a beautiful clock design prevail on the lock screen, making the screen look gorgeous.
Xiaomi has also introduced an ever-changing kaleidoscope presets for Always-On display, breathing notification can now be shown as an animation when the display is off. The breathing notification also makes the total lock-screen experience magical.
Customize Lock Screen
For the Redmi K20 series users Xiaomi has introduced a new feature that enables users to customize the always-on display by keeping any favourite quotes and phrases. You can even customize the colours and it looks great as well.
Wallpaper Carousel
Like Oppo, Vivo and Realme, Xiaomi also has introduced a Wallpaper Carousel which Xiaomi claims that will feature over 2 billion lock screen images a day.
Dynamic Wallpapers
This concept basically helps your screen to look fancy and the various wallpapers give a different look every time.
Also for the first time, you can even set dynamic video wallpapers, yes you can keep videos as wallpapers for your Xiaomi device.
New File Manager
The new and updated file manager brings some healthy upgrades over the last-gen, you can now view your files as thumbnails & also view them without any additional app support, also be able to perform essential actions on your documents with this addition.
To-Do List
This is a great feature introduced by Xiaomi because mostly this kind of apps is paid ones and with the new Notes App in MIUI11 you get the to-do list feature inbuilt. You can even sync them with your calendar, add any task with a universal entry of the app or even record a task.
The new Mi Calculator
Mi Calculator is a great app which comes pre-loaded with lots of functionalities than Google's own Calculator app cannot provide. But now, it seems Xiaomi is taking it to another level by introducing practical calculations and solutions for daily tasks. It now also comes with a floating screen now for users to multitask better.
Steps Tracker
As the name suggests, this feature allows you to track the number of daily steps taken, see stats, set goals right from your App Vault screen, previously the feature was seen in ColorOS as well.
Women's Health reminders
A great new feature added by Xiaomi helps the woman users of their Xiaomi device to track their menstrual cycles better with the upgraded Mi Calendar app.
Quick Replies
Directly you can now take a call or reply to messages without interrupting your game/video, a feature present in Samsung, Oppo, Vivo devices. Also, you can use the floating tab for replying to messages on the MIUI 11.
Mint Keyboard
A new keyboard designed by Xiaomi and Bobble Keyboard to make a unique keyboard which emphasizes for Indian consumers because the keyboard supports English + 25 languages for a seamless typing experience.
Another great feature of this keyboard is that you get to translate while you transliterate to other languages from English and you will also be able to find relevant emojis for all vernacular words.
Also, the other features include: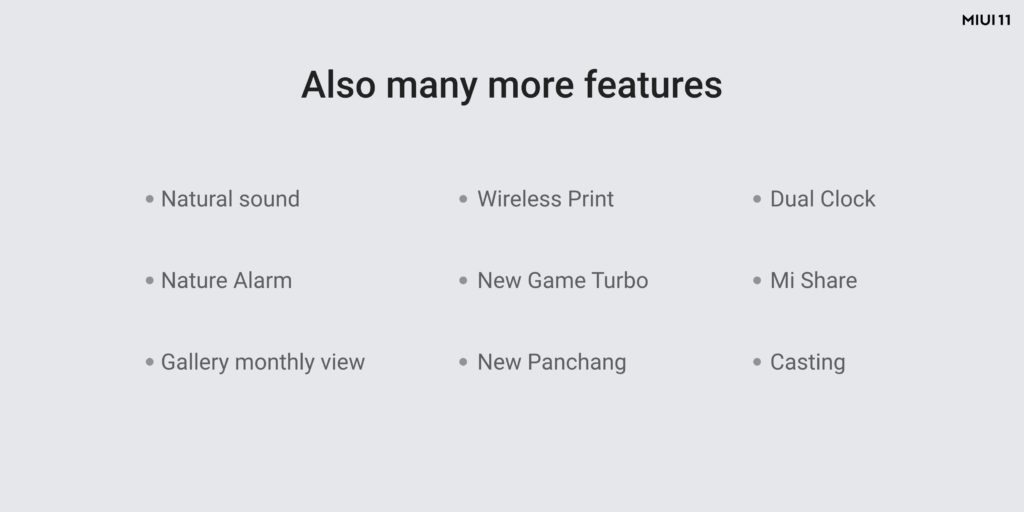 MIUI 11 update Rollout Schedule
The new MIUI 11 will gradually come to all MI smartphone expect the 3 series of Redmi smartphones.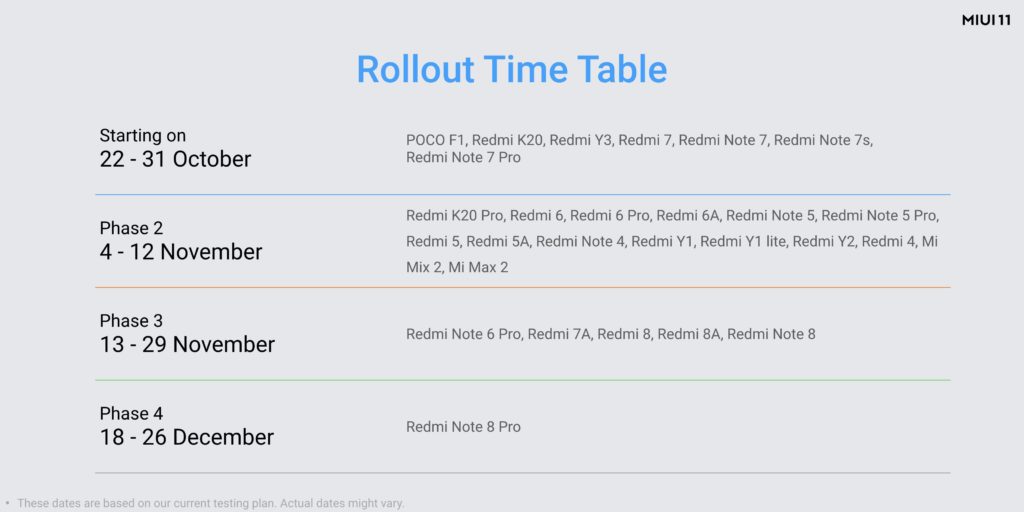 The K20 series and Note 7 series will get the update earlier, followed by the other Redmi or Mi devices. Surprisingly, the Note 8 series will be the last ones to receive the update.
How did you like the new features of the MIUI 11? Tell us in the comments down below. 😊
Do check out:
😎TechnoSports-stay UPDATED😎