Get a special coupon code for EasyAcc 20000mAh 18W Quick Charge Power Bank to get instant 45% discount, making a sweet deal for just $23
If you are looking for a great power bank deal recently then we have good news for you, we have got a special coupon to share with you that will offer an instant 45% discount on your next purchase.
Before that, let's talk about the power bank itself, this a 20000mAh USB C Portable Charger by EasyAcc that has a 5V/3A input and another 5V/2A charging rating that accounts for 25W dual-input charging. This enables to charge such a huge power bank full in just 4.5 hours. 2.5 times faster recharging speed with included cables and compatible adapters.

There are 3 different selections to quick charge your devices, Quick Charge/Smart Charge/USB C Charge. The single green port has multiple power ratings like DC 5-6V/3A, 6-9V/2A, 9-12V/1.5A on the other hand, the Type C or the Smart Port has a single rating of DC 5V/3A (Max).
Let's look at the specs of this power bank:
Multi-port Charging: 4 USB output port, 3 smart USB port one type-c port, available to fast charge 4 devices at the same time. 18W Qualcomm Quick Charge supported (Green Port).
Fast Recharge: Doubin Dual USB inputs, recharge with either USB c or micro USB port. Full recharge in 4.5 hours with dual input. Pass-through charging compatible.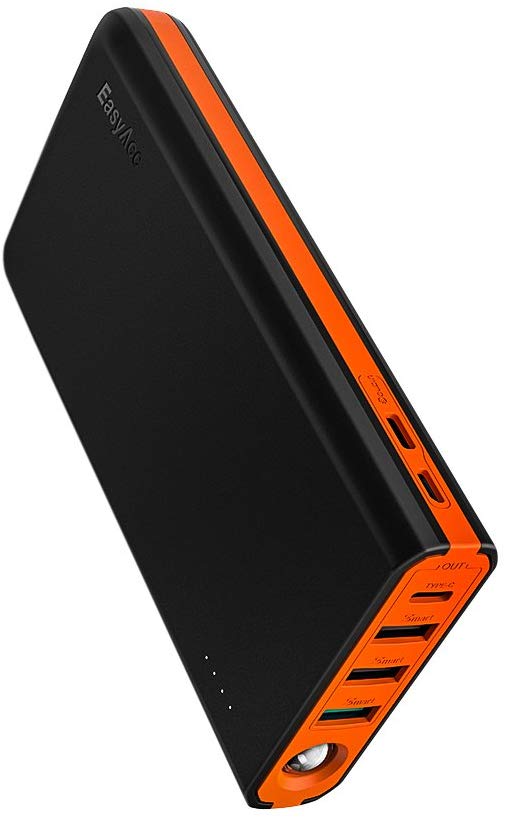 Two Type-C Port: Provide one-way input or output independent, protect your devices from current flow backwards while charging.
Strong & Compact: 20000mAh High Capacity delivers over 7 charges to iPhone 8, 5 charges to Galaxy S8 and iPhone X, or 1.5 charges to iPad Air 2. More convenient as 20% smaller and lighter than other 20000mAh portable power banks.
The power bank has got 4.5 ratings on Amazon and the code that will give you an instant 45% discount is:
FUP6B6I8
This code is valid up to 8th November 2019 and only can be used via Amazon.com. Here's the link of the product: https://amzn.to/2IKxqQr. The original price of the product is $41.99 and with the discount, you can get it only for $23. Go grab the deal now!!!
Do check out:
😎TechnoSports-stay UPDATED😎