UEFA have announced the creation of UEFA Europa Conference League which will start from 2021.
European football's governing body, UEFA have announced that a third Uefa competition will be launched in 2021 which will be known as the UEFA Europa Conference League.
UEFA wrote on their official website: "The name of the third UEFA club competition was approved as UEFA Europa Conference League and its commercial concept was also ratified. The new competition, which will start in 2021, will have matches played on Thursdays with kick-off times at 18:45 CET and 21:00 CET, similar to the UEFA Europa League. The new early kick-off time will also be used for UEFA Champions League matches on Tuesdays and Wednesdays as of 2021 replacing the current 18:55 CET kick-off."
Clubs will qualify for this new competition based on their performance in their national leagues and cup competitions. It will be the third tier of European club football, after the Champions League and the Europa League, after which it takes its name.
The competition is scheduled to run from the 2021–22 season and will serve as the bottom level of the existing UEFA Europa League competition, which is due to be reduced to 32 teams in the group stage. The competition will primarily be contested by teams from lower-ranked UEFA member associations.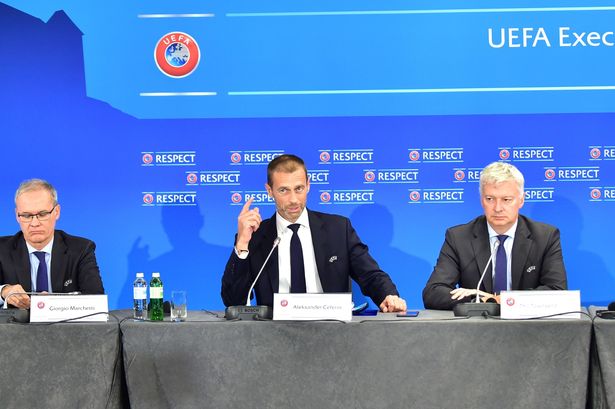 In December 2018, Uefa president Aleksander Ceferin said: "The new Uefa club competition makes Uefa's club competitions more inclusive than ever before. There will be more matches for more clubs, with more associations represented in the group stages. This competition was borne out of ongoing dialogue with clubs through the European Club Association.
There was a widespread demand by all clubs to increase their chances of participating more regularly in European competition. This has been achieved with a strategic approach and in accordance with Uefa's objective of having both more quality and more inclusivity in our club competitions."
So UEFA have now finally decided to start Europe's third-tier club competition UEFA Europa Conference League from 2021.
32 teams from the top 15 ranked leagues will gain entry to the second-tier Europa League And, teams from leagues outside the top 15 would qualify for Europa Conference League. The winner of the tournament would qualify for the following season's Europa League.
Do check out:
All the latest 2019-20 kits of football teams from all over the world are now available on Tech2Sports. Superior quality kits at the lowest price guaranteed. Show your support for your favourite club and country by wearing their colours.