The IFA 2019 was one of the best events in Berlin. Each year product manufacturers showcases their new models, size, range to grab the attention of the viewers. It offers many technology companies to launch their product like laptops, smartphones, headphones and speakers etc.
Some of the new TVs that were launched in IFA 2019 are as follows:
1. Samsung 55-inch 8K QLED TV
Samsung 8K QLED TV won the best TV award in IFA 2019. With its incredibly bright and vivid display it offers a high-end 8K display though maintaining the slimness and ethnicity. It's starting price is only $2,499. Samsung is also bringing the Apple TV Plus app as well as its entire QLED lineup to this TV.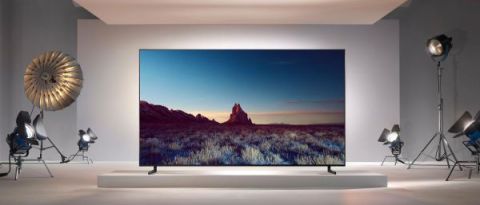 2. Philips OLED+934 / OLED+984
Philips announced its one of its new pair of OLED TVs in IFA 2019, partnering with Bowers & Wilkins. The first Philips OLED+934 will be a 2.1.2 channel television with Dolby Atmos support. On the other hand, Phillips OLED+984 packs in four-sided Ambilight for spectacular lighting as well as soundbar design around the television. The set will launch in Europe and the US.
3. Panasonic MegaCon 4K Dual Panel LCD TV
The Panasonic MegaCon was one of the most fascinating TVs from IFA 2019 – with a 1,000,000:1 contrast ratio. The 'MegaCon' prototype was developed by Panasonic with a dual-layer LCD technology. It holds a full field brightness of 1000 nits whilst and cover 99% of the DCI P3 colour standard. It uses a high-performance 4K outer panel with the help of monochrome inner panel to modulate the direct LED backlight.
4. Hisense UK TV range with Laser and 8K TV models
Hisense celebrated its 50th birthday on the biggest event of IFA 2019 in Berlin. Hisense presented the 100L5 Sonic screen, 100L9 and 75L9 models in IFA 2019. These Laser TVs used in a short-throw projector to beam an image to a thin, lightweight screen that hangs off a wall. The TV also has a sounding 1,694 local dimming zones which are controlled by the AI-derived Hi-View Engine.
5. TCL 75-inch Mini LED 8K TV
In today's world TCL is the most leading players in the TV industry. The premier model is a 75-inch 8K Mini LED TV with a backlight of 25,200 high-performance LEDs and a superior brightness of up to 1200 nits. It also features 900 local dimming zones. A Mini LED display technology support the Dolly version.
To Wrap Things Up
This year was not that great for the TV manufacturers but still, these TVs have set a new benchmark. Some of the new TVs are yet to come in next year but currently but these are the best TVs that were launched in IFA 2019.