Ever since AMD launched its Ryzen 3000 processors, it has seen a huge spike in CPU sales. The 7nm CPUs have become hot cakes in the market and it's really hard to get one of them.
With increasing sales, we also have noticed some huge price hike like up to 10-15% hike in price but that has not bothered people from buying these CPUs. The impact has been most prominent in markets such as Germany, Japan, US, Canada, etc. Here the DIY segment contributes to the major portion of the total CPUs sold.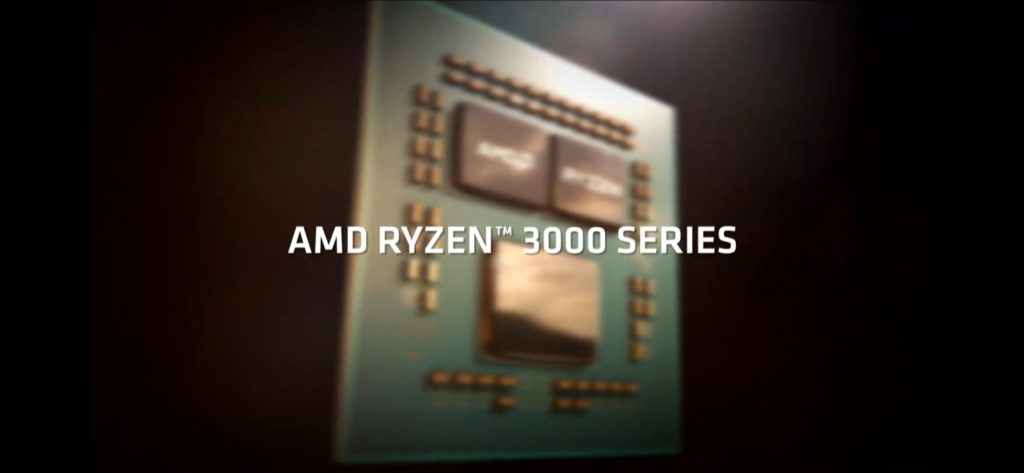 Intel's sales have seen a drastic fall since the Ryzen 3000, now we do not have the exact number of sales for Q3 2019 but Mindfactory, one of the largest retailers in Germany has been sharing its sales stats with the Reddit community.

They have shown this with respect to the percentage of CPUs sold and the corresponding revenue generated. AMD's steady rise in the past 24 months is not just limited to Germany but now it's increasing around the globe.
It seems that last month, the sales of AMD just tripled leaving Intel with less than a quarter of the DIY market. Now here we can see the sales by Mindfactory of AMD CPUs for the last two months: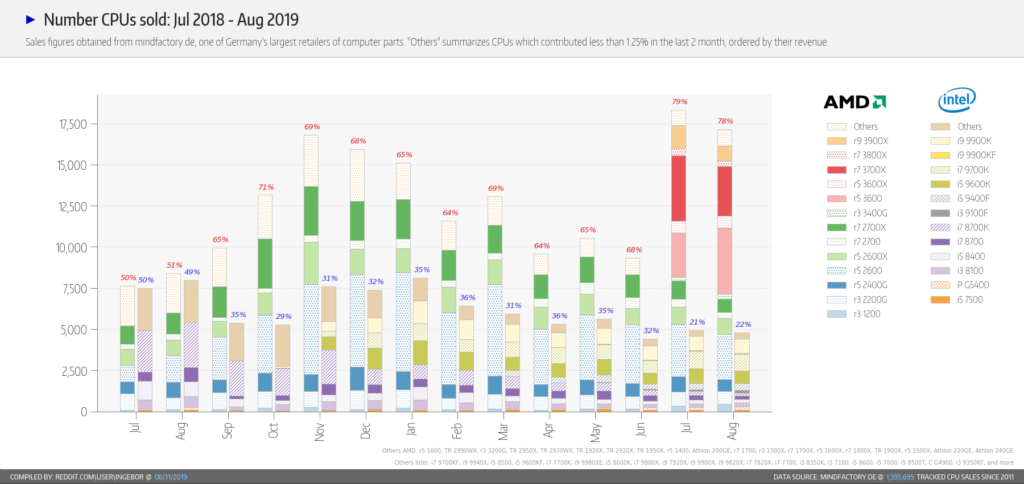 Here we see, AMD gaining a whopping 79% of total sales and Intel acquiring just a 21%, around 12% decrease compared to the month of June. Things did not change much for August as well, AMD with a meaty 78% of the number of CPUs sold.
The 1% decrease might be due to the fact of low stocks for Ryzen 7 and Ryzen 9 CPUs. Also in the revenue count, we see AMD gaining a huge 75% of revenue by failing Intel with a mammoth margin of 50% for the month of July.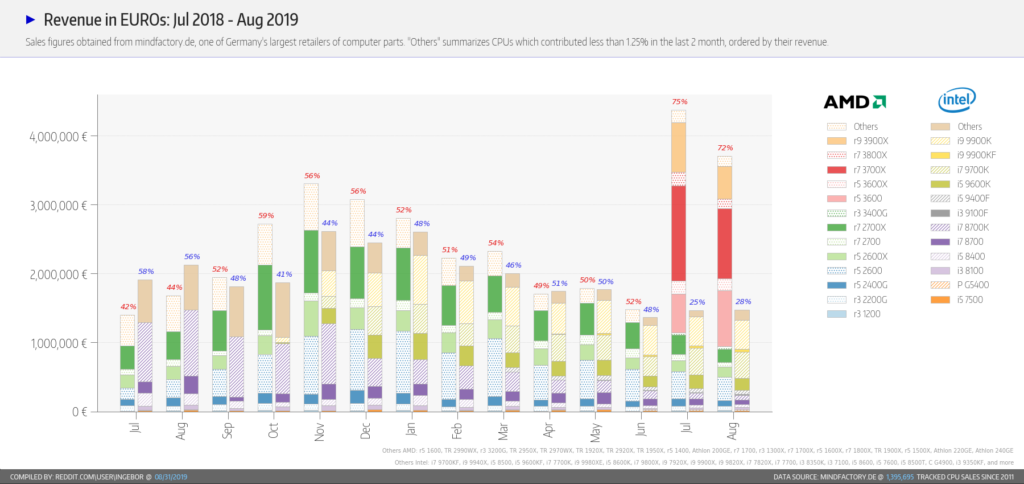 Things remained pretty same for August with AMD just losing 3% much due to the fact of silicon shortage. This is much due to the 1% decrease in sales of higher-end products like Ryzen 9 3900X or Ryzen 7 3700X and Ryzen 7 3800X.
Things look very positive for AMD this time in Germany and we expect the same status in other countries as well. AMD has seen record sales, gaining chunks of revenue and Intel facing the lowest ever revenue percentage of below 30%.
Intel did really made huge revenue with its high priced i7 and i9 CPUs which favoured gamers the most. Now, with Zen 2 CPUs the IPC gains and multithreading performance, gamers are loving the power and efficiency of 7nm Ryzen CPUs.
Also with high-end CPUs like Ryzen 9 and Ryzen 7 with has lots of variation, AMD did really out throw Intel. We can expect this trend to grow even more because this month Ryzen 9 3950X will be available worldwide as well as the rumoured Ryzen 5 3500 can make its way for budget gamers.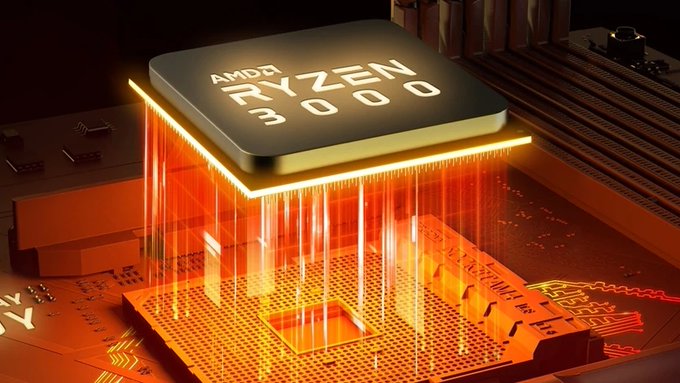 The Ryzen 7 3700X and the Ryzen 5 3600 were the best sellers with the Ryzen 9 just shortly behind. The two of these CPUs are getting more revenue rather than Intel's entire lineup combined. On the other hand, for the blue team the Core i9-9900K, the 9900KF and the 9700K are accounting for the sales.
The situation looks pretty bad for Intel not only in Germany but in other counties as well. The desktop range is suffering a huge blow due to Intel's same old 14nm Skylake core processors that users are feeling hard to digest.
Though Intel is trying to convince its fanbase with its 10nm Ice Lake CPUs and the 14nm Comet Lake SKUs, in the desktop end they are really in trouble. Until and unless Intel brings 10nm to the desktop lineup or reduce the price of its CPU considerably, which they will not, Intel will surely be in this state for quite some time now.
Do check out:
😎TechnoSports-stay UPDATED😎