Indian para-badminton star Manasi Joshi clinched her first gold at the BWF Para World Championships in Basel, Switzerland on 25th August.
Indian shuttler PV Sindhu created history by winning the gold medal in BWF World Championships on Sunday. She was in the limelight for all the right reasons. She deserved every bit of praise as she has made the whole nation proud.
But, very few of us know that a day before PV Sindhu won gold, another Indian shuttler Manasi Joshi also won gold for India. It may be in the BWF para-badminton World Championships but it doesn't matter. She too deserves all the limelight and accolades for her incredible achievement.
Manasi Joshi won her first gold on Saturday. She defeated three-time SL3 (SL3 is a para-badminton category in which players are impaired in one or both lower limbs and have poor walking or running balance) world champion Parul Parmer with a score of 21-12, 21-7, although she opened slow with 2-7.
Joshi had faced Parmer three times this year, and each time, she'd lost. Naturally, the odds weren't in her favour. Nevertheless, Joshi kept her calm and unleashed a few fast strokes to emerge victorious in what can only be described as a nail-biting finish.
Manasi said to the Paralympic Committee of India: "I have trained extremely hard, training three sessions a day. The focus was on my fitness, so I also lost some weight and gained more muscle. I spent more time in the gym, working six sessions a week. I also put a lot of effort to improve my strokes and played practice matches every day at the Academy. I believe the improvements are already showing.
I've been playing para-badminton since 2015. Winning medal at the worlds is always a dream come true."
Manasi Joshi completed her graduation in Electronics Engineering from K. J. Somaiya College of Engineering, University of Mumbai in 2010.
In 2011, Manasi Joshi lost her left leg in an accident when she was hit by a truck at a busy junction. She also broke her arms and sustained multiple other injuries. After the operation, she ended up with an amputated left leg due to gangrene.
Manasi further added that she now has a new walking prosthesis socket. She said: "The old one which I was using for the last five years was making me slow during workouts."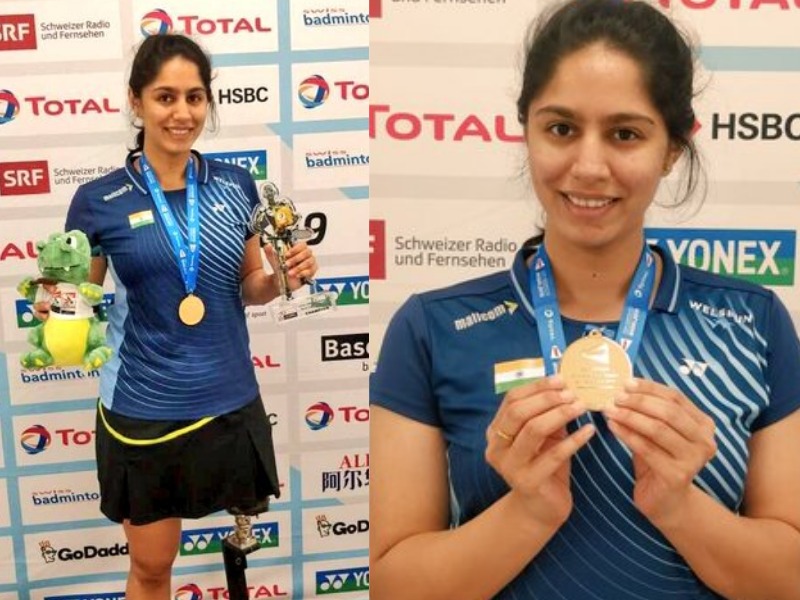 In September 2015, she won silver in mixed doubles at the Para-Badminton World Championship held in Stoke Mandeville, England. In October 2018, Manasi won a bronze medal at the Asian Para Games held in Jakarta, Indonesia.
She looked up to German tennis legend Steffi Graf while growing up. And now she wants to "play more singles matches at other events." She said: "I hope our event is included as para-sports in the next edition of Paralympic Games."
Manasi Joshi also congratulated PV Sindhu on her win. She is the epitome of sportsmanship.
Not just Joshi, India claimed a total of 12 medals in the Para-Badminton World Championships this year. But there hasn't been many hues and cries about it! Isn't it? But why is it so?
Indian para-badminton player, Sukant Kadam finished with bronze at the championship. He was very disappointed with the current state of the players like him. He has gone to the extent of tweeting to the Prime Minister Narendra Modi, who had earlier posted photos with PV Sindhu to congratulate her.
Let's hope that all these players who are making India proud and holding the Indian flag high above the others, get their due share of respect. They also deserve the same limelight like the Dhoni's, Kohli's, Chhetri's, Sindhu's and Das's.
Do check out:
All the latest 2019-20 kits of football teams from all over the world are now available on Tech2Sports. Superior quality kits at the lowest price guaranteed. Show your support for your favourite club by wearing the club colours.