After a lot of speculations and already introducing us with the 10nm Ice Lake CPUs, Intel has also launched 14nm based 10th gen mobile CPUs. Though the product line might seem confusing Intel seems to be launching the Comet Lake CPUs for the masses, restricting the 10nm based Ice Lake CPUs for few selected flagship laptops.
Being dubbed as Comet Lake, these are sub-15W processors based on Intel's existing Skylake CPU architecture and 14nm process. These new 10th Gen Comet Lake CPUs offer up to 6 cores for the U series parts and 4 cores for the Y series.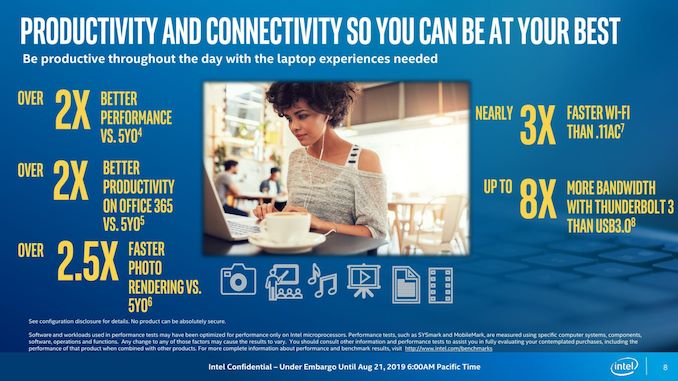 With this launch, Intel has made a tactical move to hide its failure in producing 10nm chips in bulk with the Comet Lake CPUs. Intel is already unsure to shift its mass 14nm production to 10nm and in the meantime to meet the customer demands and keep up the 10th Gen hype, 14nm Comet Lake parts will be filling in the gaps that Ice Lake alone can't meet.

Intel 10th Gen's main focus will always be the Ice Lake CPUs leveraging Intel's new Sunny Cove CPU architecture. Comet Lake will be for performance seekers, gamers and those who need productive laptops, also the Comet Lake will borrow some features from its brother Ice Lake CPUs.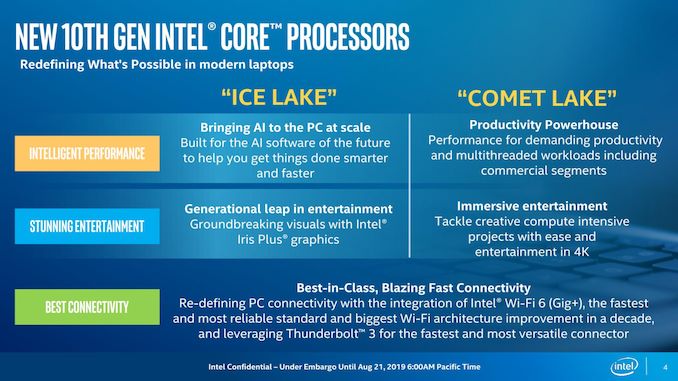 The Comet Lake-U parts will now come with 6 CPU cores in a 15W package – a step up from 4 cores on the last-generation Whiskey Lake-U as well as the newer Ice Lake-U while the Comet Lake-Y series is getting bumped from 2 CPU cores to 4.
Comet Lake U
Cores

Base GHz
1C Turbo
GHz
AC Turbo
GHz
L3
Cache
TDP
PL1
IGP
UHD
IGP
MHz
DDR4
LPDDR4X
Cost
i7-10710U
6C/12T
1.1
4.7
3.9
12 MB
15W
620
1150
2666
2933
$443
i7-10510U
4C/8T
1.8
4.9
4.3
8 MB
15W
620
1150
2666
2933
$409
i5-10210U
4C/8T
1.6
4.2
3.9
6 MB
15W
620
1100
2666
2933
$297
i3-10110U
2C/4T
2.1
4.1
3.7
4 MB
15W
620
1000
2666
2933
$281
Comet Lake U series
The series contains i3, i5, and i7 CPUs ranging from 2 cores to all the way up to 6 cores. All of these mobile CPUs have hyperthreading, making the i7-10710U to be the first 6 core/12 thread laptop CPU ever which we previously knew from the leaks.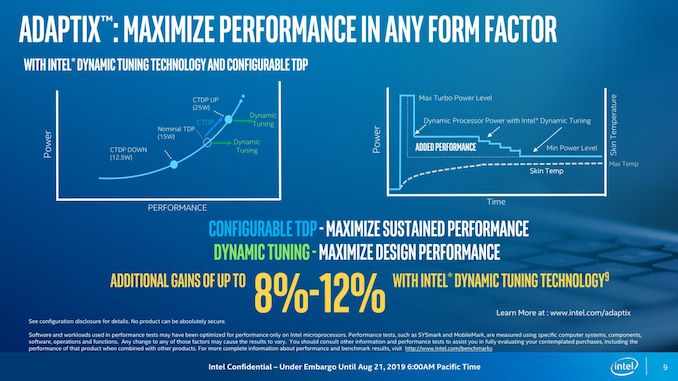 The base TDP of 15W is quite low considering the product line has up to 6 cores. Well, all the 4 parts have a 25W cTDP Up mode, allowing OEMs to configure their laptops for higher performance if desired.
When compared to the last-generation Whiskey Lake-U parts, there are improvements in the clock speeds with the fastest U series CPU now turboing to 4.9GHz, and even the slowest Core i3 turboing to 4.1GHz.
The best 6 core i7-10710U CPU actually has the weakest base clock speed of only 1.1GHz gets the highest turbo clock, 4.9GHz for the single-core which is incredibly high for a 15W part.
The Comet Lake-U is based on the new silicon from Intel and the company has finally updated their memory controller on their way old 14nm architecture. Intel has added support for LPDDR4X RAM at up to 2933 MT/s, while also the LPDDR3 and DDR4 are supported.
Also, the Comet Lake-U CPU comes with Intel's new well-tread Gen 9.5 graphics which was first introduced in Kaby Lake in 2017. The 10th Gen Core i3 comes with 23 EUs, while all of the other SKUs come with 24 EUs, running at Intel Gen 9.5's typical clock speeds of 1.0 to 1.15GHz depending on the specific chip SKU.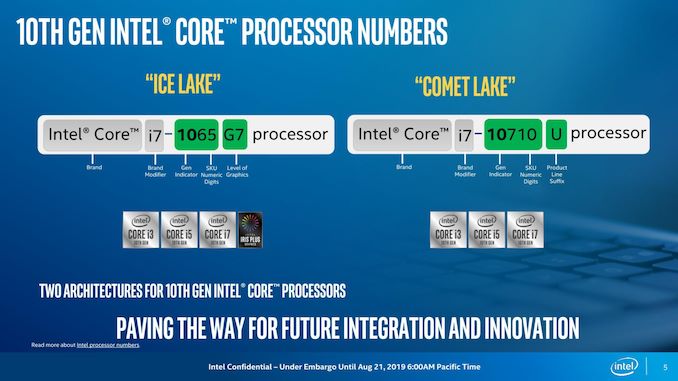 Adding support for Intel's latest-generation PCH into the Comet Lake-U CPUs helps to integrate Wi-Fi 6 (802.11ax) support via the company's CNVi program. 
Comet Lake Y
Cores

Base GHz
1C Turbo
GHz
AC Turbo
GHz
L3
Cache
TDP
PL1
IGP
UHD
IGP
MHz
LPDDR3
Cost
i7-10510Y
4C/8T
1.2
4.5
3.2
8 MB
7W
620
1150
2133
N/A
i5-10310Y
4C/8T
1.1
4.1
2.8
6 MB
7W
620
1050
2133
$292
i5-10210Y
4C/8T
1.0
4.0
2.7
6 MB
7W
620
1050
2133
$292
i3-10110Y
2C/4T
1.0
4.0
3.7
4 MB
7W
620
1000
2133
$287
Comet Lake Y series
On the other hand, the fanless Comet Lake Y series has 4 variants as well which will help power portable notebooks and ultrabooks. You get a 2 core i3-10110Y as the lowest variant, and at the top, there is the 4 core i7-10510Y CPU.
Having 4 cores and 8 threads, these laptop CPUs are powerful and the increase in clock speeds help the CPUs to perform well though increasing the TDP to 7W. The best CPU i7-10510Y has a low base clock of 1.2GHz – down from 1.5GHz on Amber Lake-Y.
The highest clock speed has been attained with Comet Lake Y series, now with up to peak single-core turbo clocks of 4.5GHz. The RAM support here still remains the same sticking to LPDDR3, rather than the better LPDDR4X.
All Y SKUs come with a 24 EU of Intel Gen 9.5 GPU with higher GPU turbo speeds, thanks to the higher TDPs. The GPU speed starts at 1.0GHz, all the way up to 1.15GHz, a significant 100MHz improvement over the previous generation.
The Comet Lake powered laptops are going to be available from October or by Q4 of 2019 and the Ice Lake powered laptops also will show its presence in the coming months.
😎TechnoSports-stay UPDATED😎