The women's 100m was a three-way race, the 200m had just two competitors and shot put had Paramjot Kaur as the lone competitor.
Indian sprinter Dutee Chand clocked 11.42 seconds to clinch the 100 metre gold at the Indian Grand Prix V. At the Netaji Subhas National Institute of Sports (NIS) on Friday.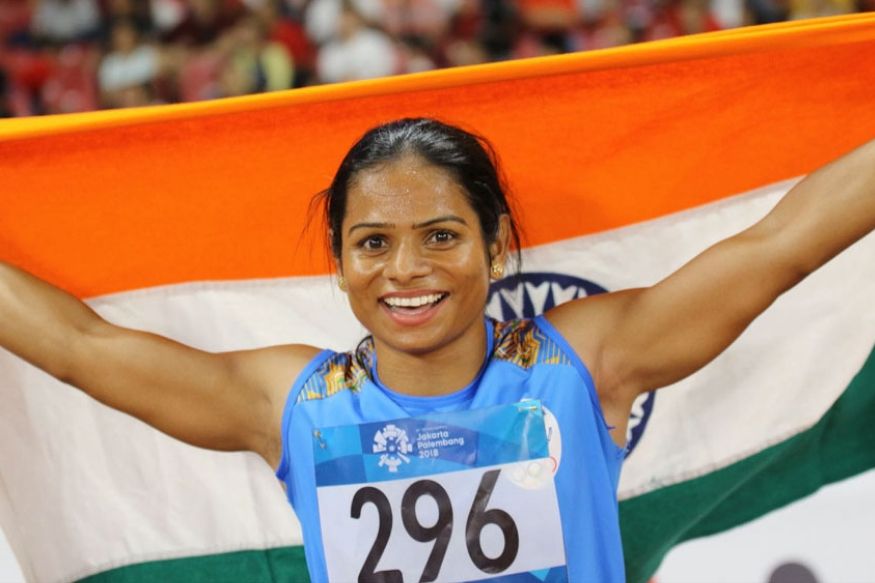 Dutee Chand was the only high-profile name in the field and expectedly won the 100m. In the fifh Indian Grand Prix at Patiala on Friday but for the rest of the events, it was a largely forgettable affair.
Tamil Nadu's Archana Suseentran gave a stiff competition to Dutee, before taking the silver with a time of 11.53 while Punjab sprinter Manvir Kaur settled for the bronze with a timing of 12.28 seconds.
The event had been advanced by the Athletics Federation of India (earlier scheduled for September 1 in Chennai) to give participants a chance to improve their performances ahead of the Inter-state championships. It will also provide an additional chance to qualify for World Championships. But with the entry standards set low and top names missing, there was little hope of doing either.

Archana gave the 200m sprint her best and won the two-woman race in a career best time of 23.18 seconds but could not meet the World Championship qualification standard (23.02 seconds). Having finished second behind Dutee in the 100m, she returned to the track determined to make the half-lapper one to remember.
AFI secretary CK Valson said while the turnout of athletes was not surprising, as rescheduling the meet (from Chennai on September 1) was done keeping in mind that it was just after the inter-state, giving athletes virtually no time for IGP 5. He added the event wasn't a failure as it was a preparatory event for the Inter-states ahead.
Do check out:https://technosports.co.in/2019/07/25/lieutenant-colonel-ms-dhoni-deployed-in-kashmir-valley-as-part-of-victor-force/
For more information visit our site, TechnoSports. And download our app from the Google Play Store for more real-time updates. To download the app, click here.