To counter AMD's monstrous 64 core EPYC Rome CPUs, Intel has just announced the 56-core Cooper Lake-processor
AMD already announced its 64 core 7nm server CPUs earlier and to finally reply to it Intel has launched the Cooper Lake family based on the same 14nm architecture ranging from 32 to 56 cores.
Yes, Intel has managed to stuff 56 cores to a single server end CPU to at least compete with its rival. These CPUs will be using the LGA 4189 socket which is said to be supporting 10nm Ice Lake-based SP processors which will be available in Q2 or Q3 of 2020.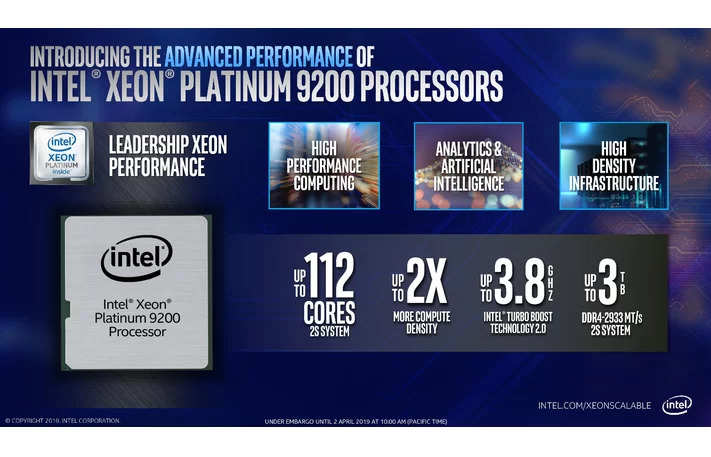 Until now we had up to 28 core Xeon processors based on Cascade Lake architecture but these new Cooper Lake CPUs will be carrying the same two dies of 28 core Xeon Gold chips. But unlike the older gen, CPX will be limited to 2S configurations with 8 memory channels per chip and 16 per machine.
Leaks have already suggested that the AMD Rome chips have crushed the previous-gen Intel Xeon chips within the same price range.


The Intel Xeon Platinum 9221 has a base clock of 2.1GHz and a boost of 3.7GHz with the flagship Xeon Platinum 9282 having a base clock speed of 2.6GHz and a boost of 3.8GHz. Also, these CPUs have up to 77MB cache memory.
Now when you look into the TDP ratings, you'll see these CPUs consuming lot more power, from 250W all the way up to 400W. These TDP ratings are a lot more than the 64 core Rome CPU consuming as low as 225W along with a huge 256MB cache memory, thanks to the 7nm architecture.
These Xeon Platinum 9000-series chips will offer up to 56 cores and 112 threads in a dual-die Multi-Chip Module design. The Cooper Lake CPUs support 12 channels of DDR4-2933 memory, providing up to 24 memory channels and 3TB of DDR4 memory in a two-socket server.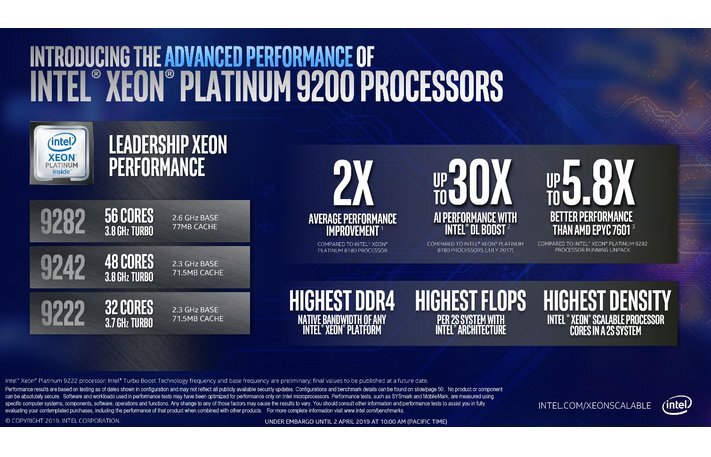 The dual-socket combo provides up to 407 GB/s of memory throughput for the 56-core models. The 9200-series chips also expose up to 40 PCIe 3.0 lanes per chip, for a total of 80 lanes in a dual-socket server.
Though the Cooper Lake CPUs will be notably faster yet they will cost around 3-4 times more than the last-gen. On the other hand, AMD is supposed to charge around $10K for the 64 core flagship which will make them much more affordable and usable.
Do check out:
😎TechnoSports-stay UPDATED😎