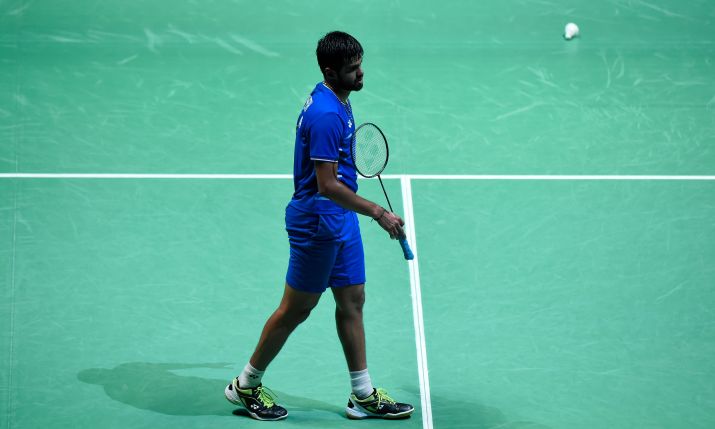 India's challenge at the Japan Open ended with Sai Praneeth's loss to top seed Kento Momota in the semifinals.
Praneeth lost 18-21, 12-21 in a semifinal lasting 45 minutes.Momota had also beaten Sai at the Singapore Open earlier this year.
The world No.1 Japanese shuttler Kento Momota was too good as he outsmarted the Indian in straight games 21-18, 21-12 in the semifinals of the Japan Open BWF Super-750 Tournament in Tokyo on Saturday.
Praneeth's plan was to be aggressive and cut short the rallies and confuse the world champion. He did well and it appeared things were going according to plan. Praneeth executed some breathtaking smashes, packed cross court drives with a lot of power and earned some early points. But once Momota got a measure of what was happening on the court he turned the tables and things became tougher for the Indian to handle.
Despite failing to retrieve some cross court smashes, Momota was not at all rattled, he upped the ante, displayed a lot of aggression and by retrieving almost everything he made Praneeth push hard for points. The ploy worked as Praneeth began making mistakes.
The Indian played well but was not able to match the speed of Momota. The Japanese superstar was all over the court from the 11th point in the first game. Though Praneeth worked hard he was not able to stop Momota.
Praneeth said that he tried hard but it is difficult to beat Momota. "When I am attacking and getting points I played good. But once he started doing well I was always in a hurry to finish rallies, made a couple of mistakes and some judgement errors. My game plan was working. But it is not easy to beat Momota, he is always ready to play any game, if he wants to play defence he will play defence, he wants to play rally he can play and if he wants to play attack he can attack. Whatever plan I prepared it is not easy to beat him…his game in these types of court is very good," Praneeth told BWF website, adding that he is satisfied with his performance.
"But still I can take some positives from this tournament. Hopefully, I can carry forward this confidence and do well in the forthcoming tournaments," Sai added.
In the final, Momota will face Jonatan of Indonesia, who downed Jan O Jorgensen of Denmark 21-14, 21-14 in the other last four clash.
Do check out:https://technosports.co.in/2019/07/30/yuvraj-singh-vintage-form/

For more information visit our site, TechnoSports. And download our app from the Google Play Store for more real-time updates. To download the app, click here.