The 19-years-old Indian sprinter, Hima Das has won 5 gold medals in just 19 days.
Hima Das was born on 9th January 2000. She is nicknamed as the Dhing Express. She is an Indian sprinter from the state of Assam. She holds the current Indian national record in 400 meters with a timing of 50.79s that she clocked at the 2018 Asian Games in Jakarta, Indonesia. She is also the first Indian athlete to win a gold medal in a track event at the IAAF World U20 Championships.
Hima Das has set the internet on fire with the golden run that lasted for 19 days – 2nd July 2019 to 20th July 2019. During this period, she did everything right and won five Gold medals in the process. It is a feat which is almost unheard in track and field history of India. And deservingly perhaps, she is the Golden Girl of India.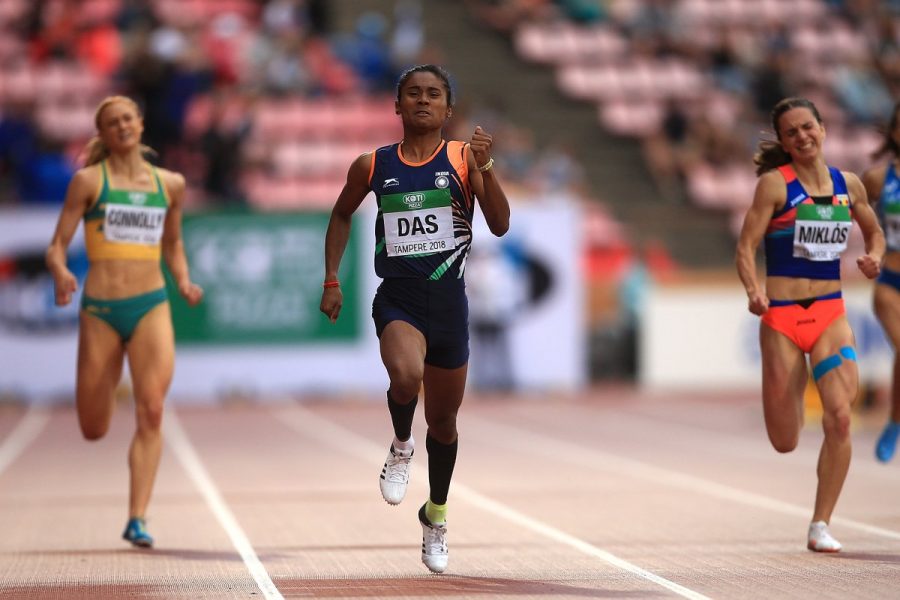 Hima Das created history by winning her first gold in this season at the Poznan Athletics Grand Prix in Poland on 2nd July.
Then it was followed by a second gold in 200m at the Kutno Athletics Meet in Poland.
Hima won her third gold in 200m at the Kladno Athletics Meet in the Czech Republic with a timing of 23.43 seconds.
Her fourth gold came in 200m at the Tabor Athletics Meet on 17th July.
She then claimed her fifth gold medal, in 400m at the Nove Mesto Athletics Meet in Czech Republic on 20th July. Hima Das finished first with a last-minute spurt of speed with a season-best time of 52.09 seconds. But her personal best time is 50.79 seconds, which she had clocked during the 2018 Asian Games.

Hima Das with her incredible achievement received praise from not only the Prime Minister but also the President and top Bollywood and sports personalities. She replied to every tweet thanking them for the good wishes with a promise to work even harder.
Hima Das still needs to make the cut for World Championships, and from there on, work harder than ever before in order to claim a prestigious ticket for the Tokyo Olympics 2020 to carve out a reputation for herself as one of the world's top athletes.
When Yuvraj Singh scored 6 sixes off Stuart Broad's bowling during ICC T20I World Cup 2007, the left-handed batsman was rewarded 1 crore for his flamboyant batting. Likewise, Hima Das won five gold medals on the trot and she too deserves a big reward for her achievement. Cricket isn't the only sport in India.
Do check out:
Also check out some cheap wireless headphones on Amazon:
1. https://amzn.to/2msH7aD
2. https://amzn.to/2muMKVZ
3. https://amzn.to/2zPDPYI
4. https://amzn.to/2JBCxQs
For more information visit our site, TechnoSports. And download our app from the Google Play Store for more real-time updates. To download the app, click here.