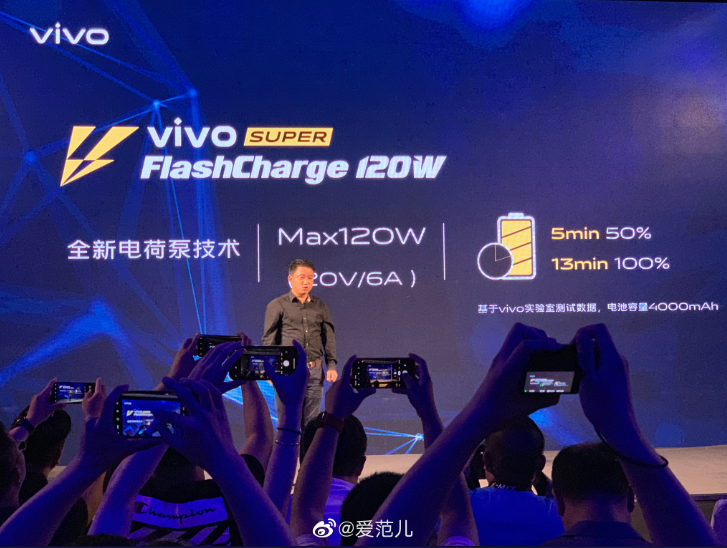 Charge your phone from 0 to 100% in just 13 minutes.
Fast charging technology is fast becoming a critical area of focus for all smartphone companies, given that not much has progressed in terms of improving battery life. We still rely on Lithium-ion batteries and there's only so much of it that can be packed into smartphones that seek to get thinner and thinner. Hence, the solution has been to be able o recharge the batteries as fast as possible.
Vivo's 120W Fast Charger and charging technologies.
Vivo, on 20th June, had shown off its 120W fast charging technology called Super FlashCharge. It says it can charge a smartphone in just 13 minutes.
The new 120 watt Super FlashCharge technology from Vivo can charge a 4000mAh battery in about 13 minutes, which is blazing fast. The demo showed the battery reaches 50 percent capacity in 5 minutes. Earlier this year, Vivo had launched the IQOO, their gaming phone which shipped with 44-watt fast charging, topping up the battery completely in 45 minutes.
Vivo has not disclosed how they achieved the 120W charging rate, or when this technology would be introduced into a commercially available smartphone.
Xiaomi's 100W Fast charger and charging technologies.
Xiaomi had also showcased their 100W Super Charge TURBO technology where it can charge a smartphone from 0 to 100% in just 17 minutes.
The video shows the Xiaomi phone hitting 100 percent capacity in just 17 minutes, while the Oppo device finishes the test at the 65 percent mark. It's a pretty impressive result, especially when Oppo's phone boasts arguably the fastest commercially available charging solution right now.
It wouldn't be the first time the company offers fast charging tech either, as evident by the Mi 9. Its 2019 flagship delivers 27W wired charging, as well as 20W wireless charging via an optional charging pad. But when could we see 100-watt charging on a Xiaomi device?
Tell us how much you liked the 120W & 100W chargers of Vivo & Xiaomi respectively in the comments section below. For latest Tech & Sports Updates hit the bell icon and Subscribe to our website TechnoSports. For more information visit our website, TechnoSports. And download our app from the Google Play Store for more real-time updates. To download our TechnoSports app click here.
For the latest tech news and reviews, follow TechnoSports on Facebook, Twitter, Instagram. We are also available now on YouTube, Subscribe and press the bell icon in our channel for more Tech and Sports updates.
TechnoSports – Stay UPDATED