New AMD EPYC CPUs to feature 8 cores to 64 cores, the best model to cost $8K, while 56 Core Intel Xeon costs $25K-50K
Finally after a year of wait, AMD EPYC CPUs are going to be launched in the next quarter and we have got potential leaks regarding the upcoming server and data-centric based CPUs.
AMD at the Computex 2019 mentioned their 64-core EPYC CPUs to the press and showed how these CPUs ripped off Intel at incredibly lower prices. But the Red team never stated their lower core – even the 8 core EPYC Rome CPU.
Yes, an 8 core EPYC 7nm CPU exists and you get a lot of choice regarding core count: 8 core, 12 core, 16 core, 24 core, 32 core, 48 core and obviously the monstrous 64 core version.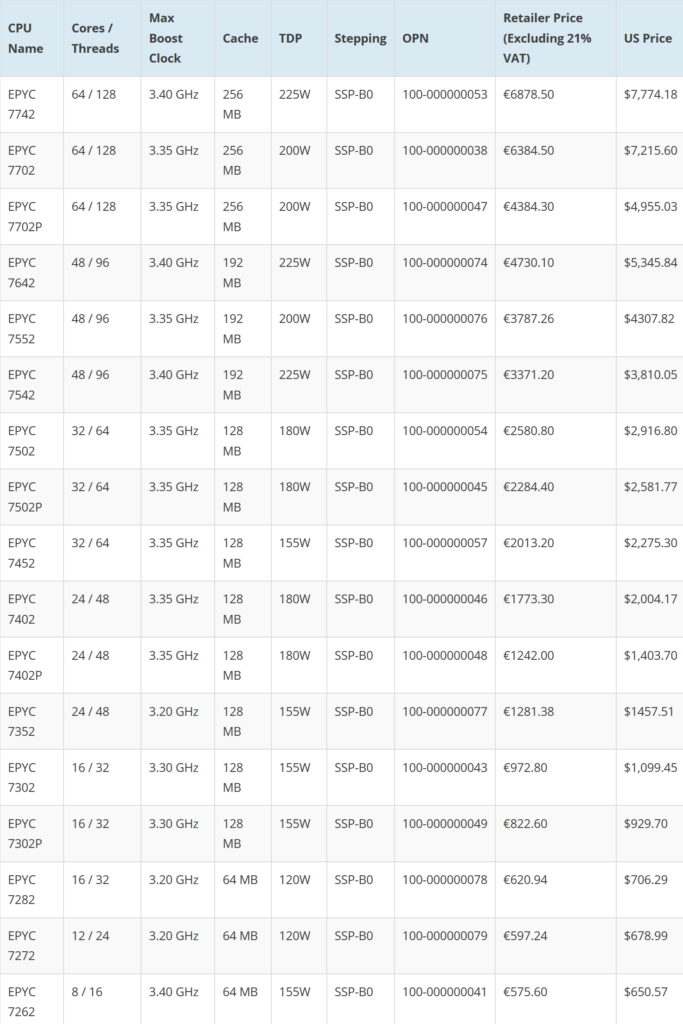 The pricing of all these CPUs have been surfaced online and it seems these modern CPUs will be a lot cheaper than Intel's counterparts. Also, there's are many single socket version of these new CPUs abbreviated with a 'P' in the model name.
The top of the line EPYC 7742 has a TDP of 225W (64 cores/128 threads with a max clock speed of 3.4GHz) is likely to cost slightly under $8K.
On the other hand, the 7702P and 7702 EPYC 64-core CPUs have a lower 200W TDP and has been priced just at $7,215 and $4,955 respectively.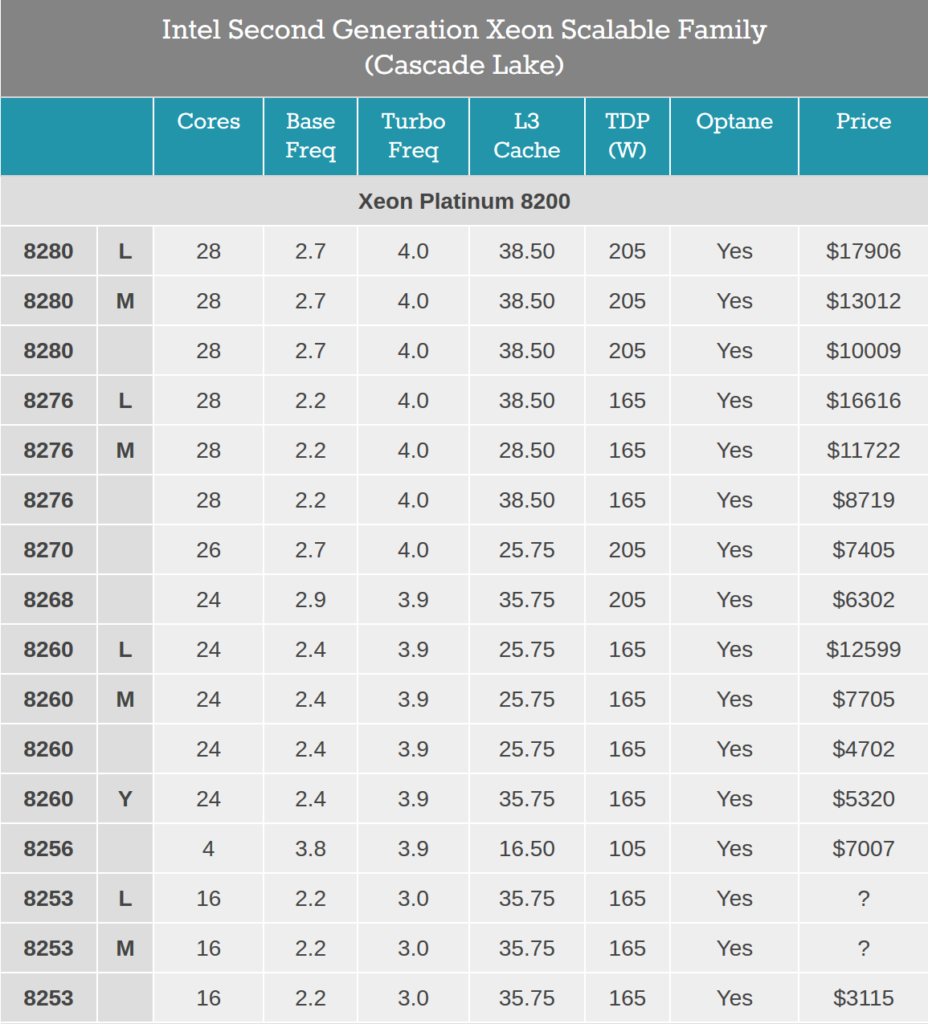 The power draw decreases with the number of cores and the max clock speeds ranges from 3.2 to 3.4 GHz. Also, each of these new EPYC Zen 2 CPUs is accompanied by a huge amount of cache memory.
This is amazing, especially when you get 64 Zen 2 cores for just $5,000! The competitor Intel's 28-core Xeon Platinum 8280 costs a whopping $18K even though being half as powerful.

The recently announced Intel's Xeon 9200 lineup with up to 56 cores is expected to cost you around $25K to $50K. The highest variant of the lineup – 14nm based 56-core Xeon Platinum 9282 has a pretty impressive boost clock of 3.8GHz but at the cost of 400W TDP which is almost double to that of AMD's 64-core monster.
Another advantage that AMD's Zen 2 architecture enjoys is the PCIe Gen 4.0 support that means these CPUs an enjoy higher bandwidth and increased transfer speeds and faster memory support.
The Xeon 9200 family comes with L3 cache of just 70-80 MB while the EPYC CPUs comes paired with up to 256 MB of huge cache memory.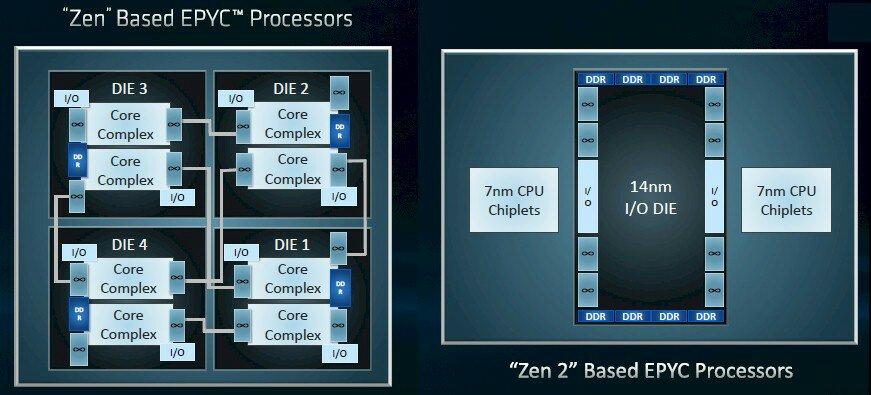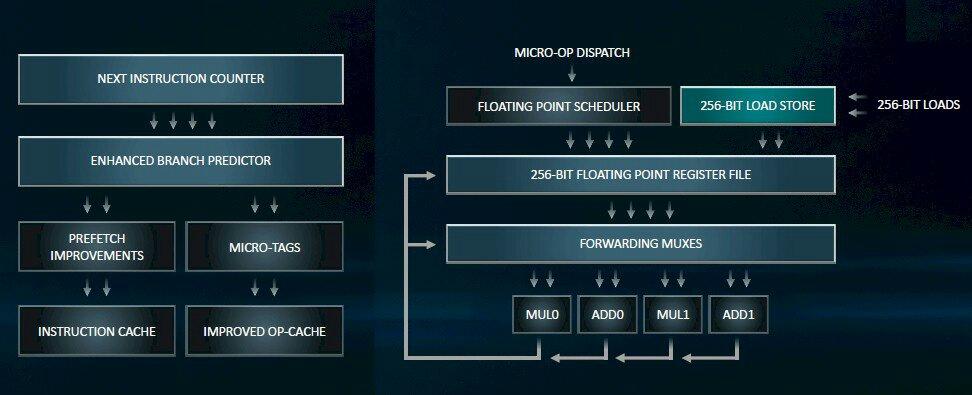 Even the 32-core and 48-core EPYC Zen 2 variants will cost just $2.5K to $5K while Intel's nearest competitor Intel Xeon Platinum 9221 with higher TDP of 250W will cost around $20K. Though the Intel one might just be a faster one at almost four times or eight times the price of AMD.
The lower end variants of 8/16/24 core EPYC Zen 2 CPUs start with price tag of just $650 and the 24-core 7402P costs just $1400. The older Xeon Platinum 8200 series with lower clock speeds and cache memory on the other hand starts with a hefty price tag of $3K.



So, if everything goes accordingly then the upcoming EPYC Zen 2 CPUs will destroy the server-end CPU market with its disruptive pricing and with its latest power efficient micro-architecture.
It will not be surprising to see a lot of companies shifting their servers to AMD to save a lot of bucks. Already AMD is building world's fastest Super Computer with EYPC Zen 2 CPUs.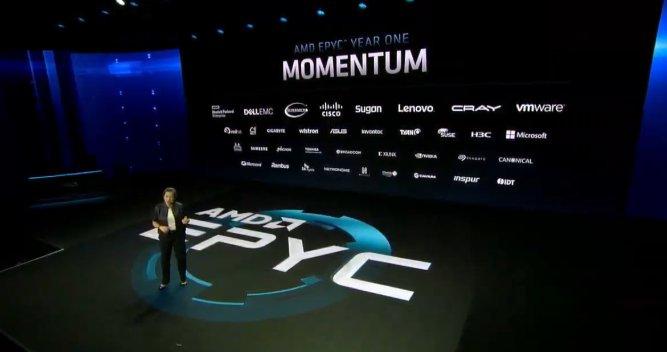 Companies and OEMs like Amazon, Microsoft, Dell, Lenovo, ASUS, Cisco and others are tying their hands with AMD to reform their servers with modern EPYC CPUs.
This is will be a great opportunity for AMD to snatch the Intel-dominated data-centric market by a good percentage to soar its already increasing stock.
Do check out:
😎TechnoSports-stay UPDATED😎