A Cristiano Ronaldo hat-trick sent the host nation into Sunday's Nations League final with a 3-1 victory over Switzerland in Porto on Wednesday.
Portugal made it to the first ever Nations League final, but it was Cristiano Ronaldo who stole the show. The five-times Ballon d'Or winner netted a hat-trick as Fernando Santos' men took one step further to continental glory. It took the 34-year-old's tally to 88 international goals and marked his 53rd career hat-trick.
Portugal head coach Fernando Santos described Cristiano Ronaldo as a "football genius". He said: "In terms of adjectives to describe Ronaldo's game – I've used many. I was his coach in 2003 and I could see where he'd go. He's a genius. There's genius paintings and sculptures and he's a football genius.
When someone scores three goals, they are the difference maker. It was tough game, it was well played – two sides who are very strong, playing to win. They're strategically well organised, changing their formation. Their players know what they have to do on the pitch, limiting some of the gaps we'd thought about."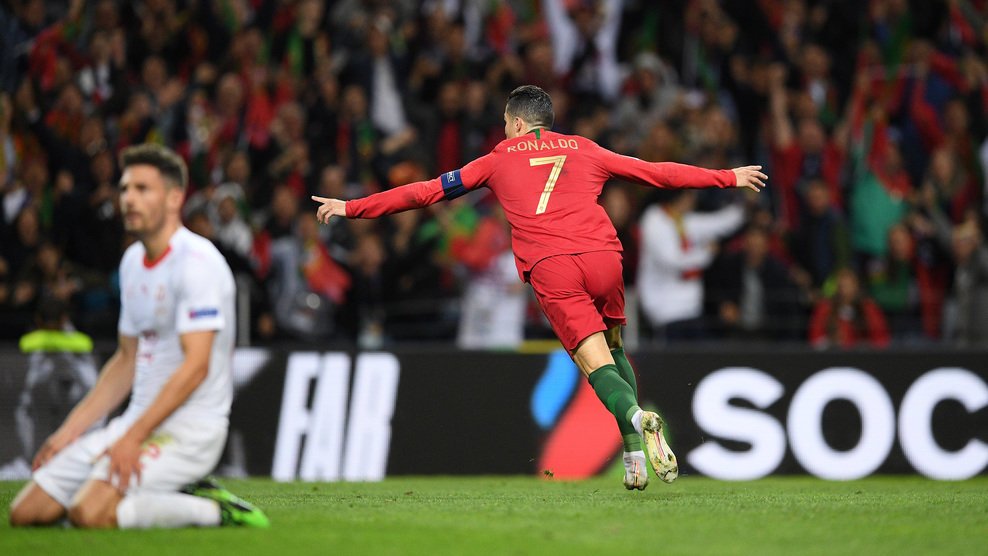 Switzerland coach Vladimir Petkovic said: "Congratulations to Portugal. They had street smarts, they had the cherry on top of the cake and that made the difference. Four shots, three goals.
On the one hand, we were up against a very strong opponent, but over 90 minutes we showed we're a strong team and that we can make life for a top side difficult, too. We were trying to keep the score; we had the chance to get a second but didn't take it. We got outnumbered at the back and conceded. Their top player made the difference."
Xherdan Shaqiri felt that they were the better team, for sure, but Ronaldo decided the game and this is football sometimes.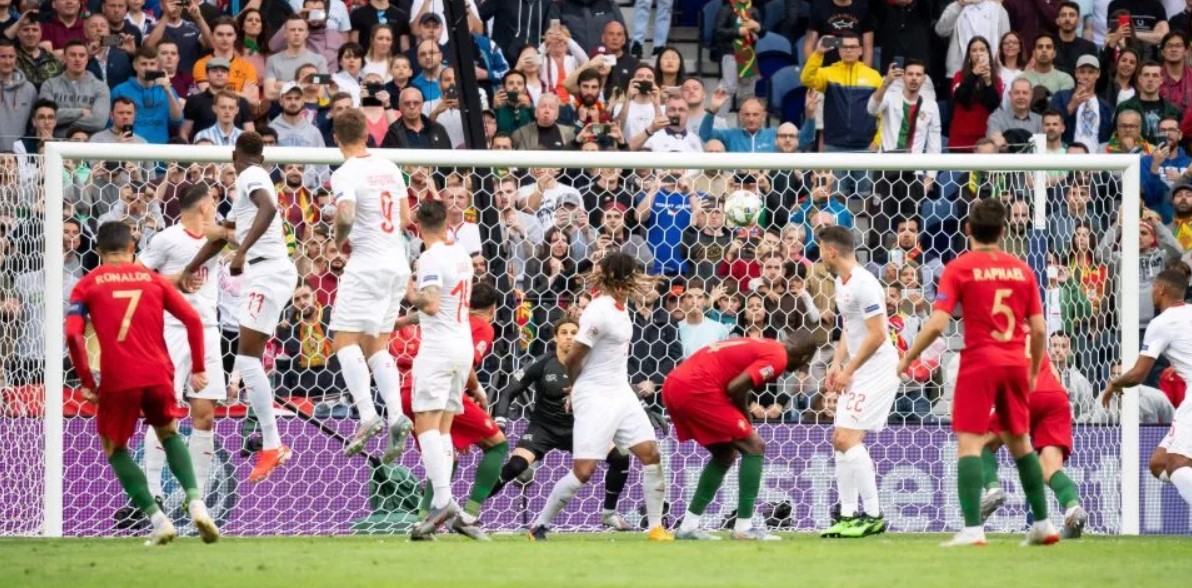 The main talking point of the match was the stunning freekick from Cristiano Ronaldo in the 25th minute. Once again, on the biggest stage, when the pressure is on, Cristiano Ronaldo came up trumps for Portugal. His free kick was right out of the top drawer and got Fernando Santos' men off to the best possible start.
It looked to the naked eye as if it had taken a wicked deflection and left Yann Sommer wrong-footed. Instead, it was Ronaldo's unique technique that made the ball swerve as it had popped on one side.
And then, with the clock running down and timing running out, there he was to net a brilliant hat-trick. Indeed Cristiano Ronaldo is a football genius.
The international stage with so much pressure and honour at stake looked like a step too far for the teenager, Joao Felix. He's been widely touted as one of the most promising strikers in Europe, with the likes of Manchester City and Juventus thought to be keen on signing him. But with a nation watching and expectation at an all-time high, the Benfica starlet didn't turn up. That's not to denigrate what looks to be a brilliant player, but a warning for all those who place too much expectation on someone so young. The much-hyped 19-year-old struggled badly to make an impact on his international debut, sending his only half-chance wildly over the bar.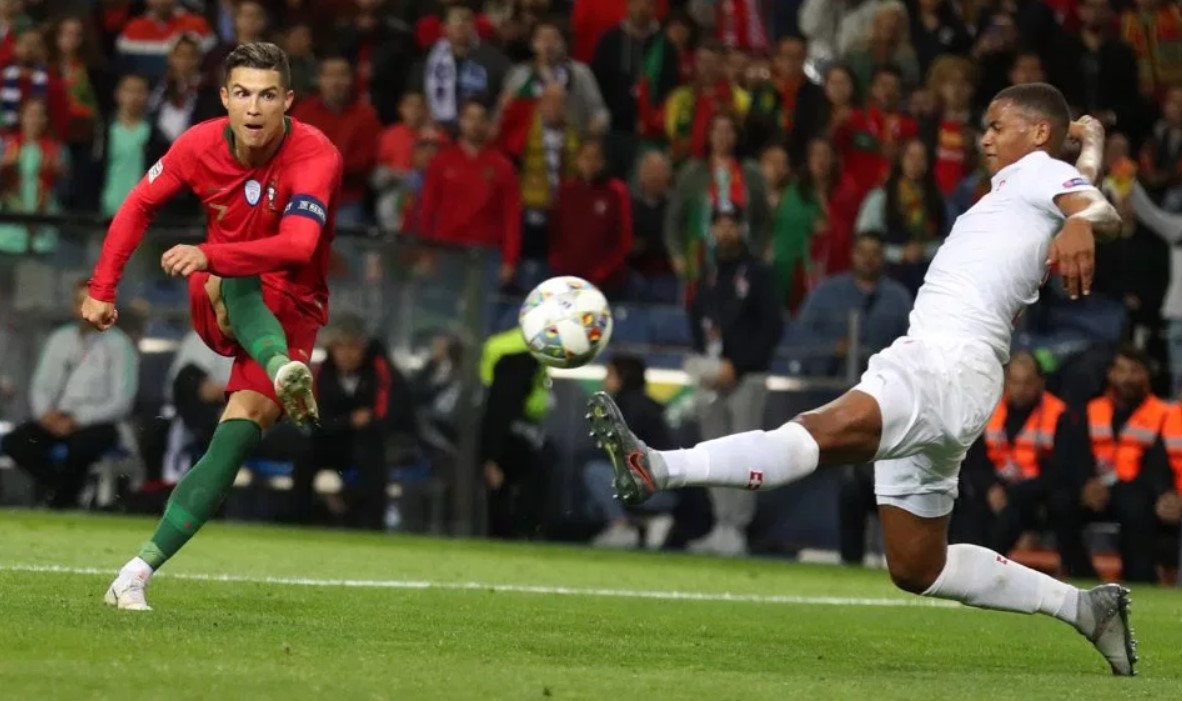 Portugal were outperformed at times by Switzerland but, with Ronaldo in this sort of mood, they are the favourites to win almost any match. The Juventus star might find things tougher against the English or Dutch defences, but there is little reason to bet against him making his mark in the final.
From Ruben Neves' searching pass to Bernardo Silva's silken first touch, there were many positives for Portugal in that match. Neves and Silva will shine for Portugal when the 34-year-old Ronaldo finally leaves the centre stage that he adores so much. As will Joao Felix, who was looking on from the bench by the time the trademark stepover came out and a solo effort was thrashed into Sommer's bottom corner. Portugal's next generation will get much better. And time is on their side because the main man, Ronaldo is going absolutely nowhere just yet.
Portugal will be back in their homeland, Porto for the first ever Nations League final on Sunday.
Do check out:
Also check out some cheap wireless headphones on Amazon:
1. https://amzn.to/2msH7aD
2. https://amzn.to/2muMKVZ
3. https://amzn.to/2zPDPYI
4. https://amzn.to/2JBCxQs
For more information visit our site, TechnoSports. And download our app from the Google Play Store for more real-time updates. To download the app, click here.