Franck Ribery and Arjen Robben scored on their final league appearances for Bayern Munich as they wrapped up their 7th consecutive Bundesliga title with a 5-1 win over Eintracht Frankfurt.
Franck Ribery signed off from the Allianz Arena in his trademark fashion in the 72nd minute, jinking between two defenders and clipping superbly over Trapp for an emotional fourth. Not to be outdone, though, Arjen Robben tapped in from Alaba's cross 12 minutes from time to kick-start the celebrations.
Ribery and Robben will leave Bayern Munich at the end of this season on free transfers as their contracts are due to expire and Saturday's 7th consecutive Bundesliga title-sealing victory over Eintracht Frankfurt provided the perfect home finale for the two legends of Bayern Munich, rather legends of football.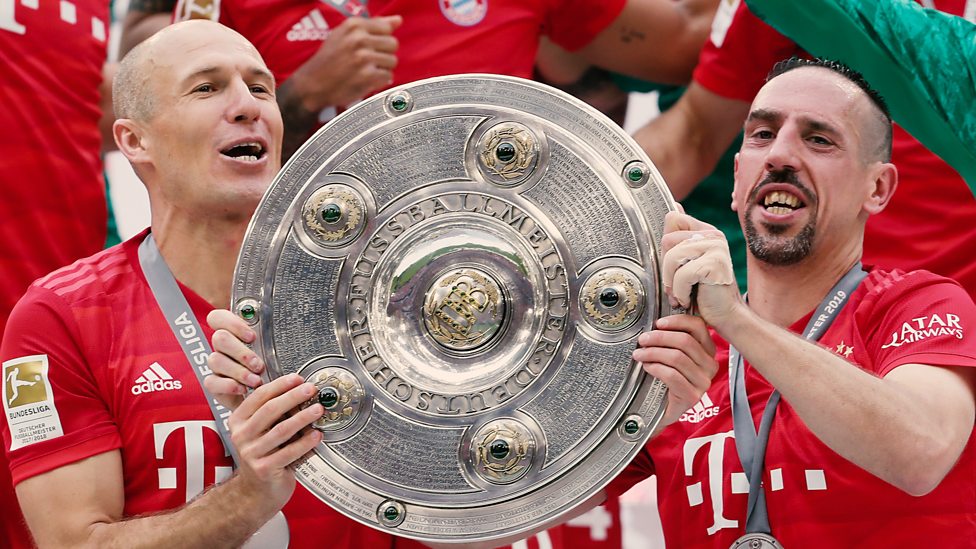 Ribery played 12 years for Bayern Munich after his €25 million transfer from Marseille in 2007. He won nine Bundesliga trophies. The Frenchman savoured his final Allianz Arena appearance ahead of next week's DFB-Pokal decider against RB Leipzig in Berlin. Ribery said: "My whole family, my kids, my wife, my parents, my wife's parents and my cousins have come from France for this special moment. It was hard but the main thing is we're champions. It's my last great moment here at the Allianz Arena, with my colleagues and the fans.
It's not as if I've been here two or three years, I've been a Bayern player for 12 years. I've had many great moments here but my best season was 2013. What we achieved then was incredible."
Arjen Robben arrived at Bayern Munich a couple of years later after Franck Ribery. Louis van Gaal insisted on balance which saw Robben arrive from Real Madrid for around the same price. Robben also enjoyed a memorable home farewell. The 35-year-old came as a substitute and scored in the second half to add to the title celebrations. The former Netherlands international won 8 Bundesliga titles with Bayern Munich. He added: "Many emotions run through your body after a match like this, you can't put it into words. It's something you have to experience yourself. But the best thing is that many lads who played with me during my time at Bayern were here today. I fought for my comeback for five months, and today was the reward."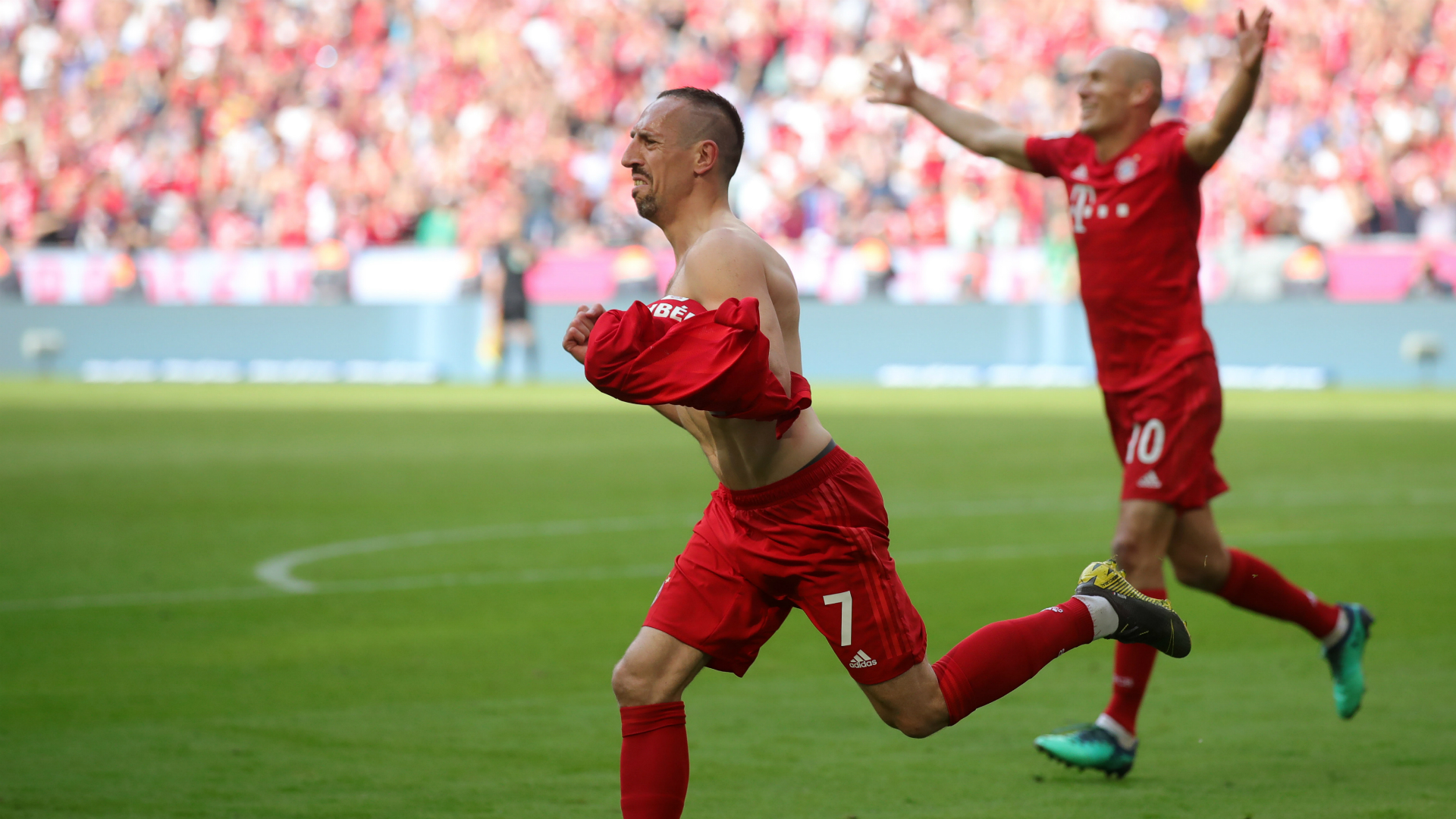 Franck Ribery was overcome with emotions and broke down in tears in front of the Sudkurve stand. While Arjen Robben bemoaned not finding the net for the second time in a TV interview – it would have been his 100th Bundesliga goal – and admitted that he had done everything to get one last run-out before his farewell. "It was important to me to play one more time, I was totally up for the game," said the 35-year-old, who had missed most of the campaign with a series of injuries. They didn't call him "ego shooter" for nothing in the local tabloids.
Their place in the club's pantheon of superstar icons is indeed assured. The duo did not just magically combine to produce the most crucial goal in Bayern's recent history – the 2-1 winner over Borussia Dortmund in the Champions League final in 2013 – they were also instrumental in lifting the Bundesliga giants back to the group of the European elites after a few years in the second-rank doldrums.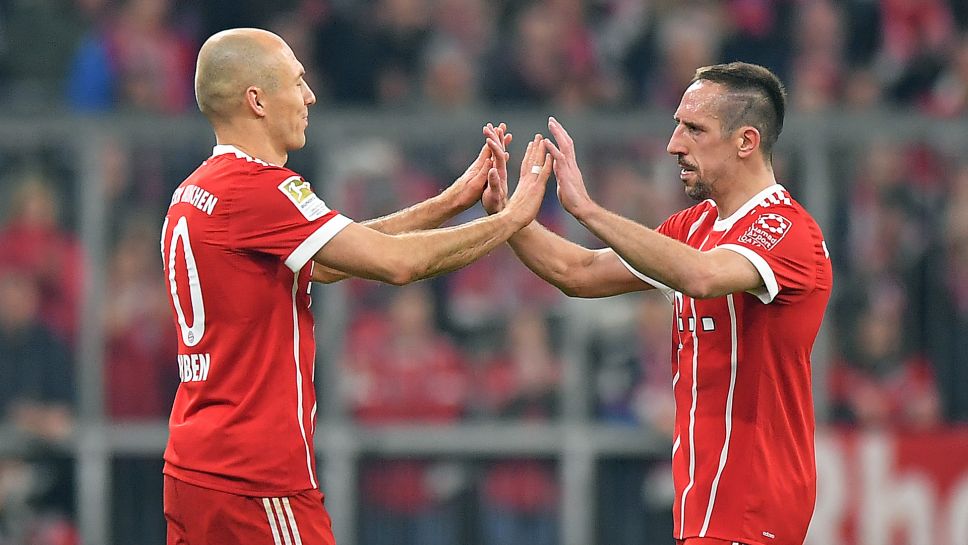 Ribery and Robben's combined tally of 185 league goals have gone some way to help Bayern Munich win 8 Bundesliga titles in 10 seasons. But their deepest impact, however, was on the team's identity. Germany's most successful side had traditionally relied on dominant players in the centre: sweepers, all-action box-to-box specialists and powerful centre-forwards. Robben and Ribery made Bayern's game lateral. Thanks to "Robbery"'s domineering influence, the team's all-important metamorphosis into a position-possession team was both smooth and inevitable.
Niko Kovac said Franck Ribery and Arjen Robben shaped Bayern Munich and the Bundesliga as the head coach heaped praise on the departing duo. He said: "I made two notes today in the meeting. One was that we want to become champions, of course. But we wanted to go one better and give the two [Robben and Ribery] a nice farewell. That they do it the way Alex Meier did last year… They come in and scored both. You cannot plan that better. And that shows with what passion the two and Alex in the last year have played. That pleases me very much. Because they have shaped the Bundesliga for 10 years. They shaped this club. It was clear they would come in.
It was hard to tell them that they did not play from the beginning because we footballers have all been in this situation before. But I had to make a sporting decision. And the two who started [Kingsley Coman and Serge Gnabry] have done well. Especially in the second half of the season. It would also have been unjust if I had left these two out."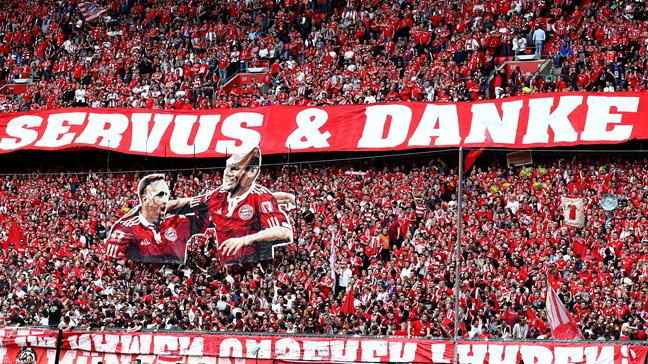 On the day when Robben and Ribery's glittering Bayern careers came to an end, Coman and Gnabry showed why the club do not need to spend big to replace them. The pair were dazzling in the wide areas and can surely expect to play as vital roles for Bayern in the coming years as their predecessors have over the past decade.
Do check out:
Also check out some cheap wireless headphones on Amazon:
1. https://amzn.to/2msH7aD
2. https://amzn.to/2muMKVZ
3. https://amzn.to/2zPDPYI
4. https://amzn.to/2JBCxQs
For more information visit our site, TechnoSports. And download our app from the Google Play Store for more real-time updates. To download the app, click here.