Cristiano Ronaldo playing for the 1st time after his injury during the international break, scored via a diving header to take his Champions League goal's tally to a record 125 goals!
Cristiano Ronaldo is undoubtedly made for the Champions League. Doesn't matter if you hate him or love him, you must admit he is a different player when it comes to the Champions League. Juventus bought him from Real Madrid to help them win the ultimate prize, and he's going some way to doing that this season. He scored a hattrick in the Round of 16 and helped Juventus make a comeback against Atletico Madrid. And he has done it again on Wednesday. He scored a diving header for the Old Lady in the 45th-minute but David Neres curled home his third Champions League goal of the campaign to make it a 1-1 draw. Ronaldo is now just two goals away from reaching 600 career goals.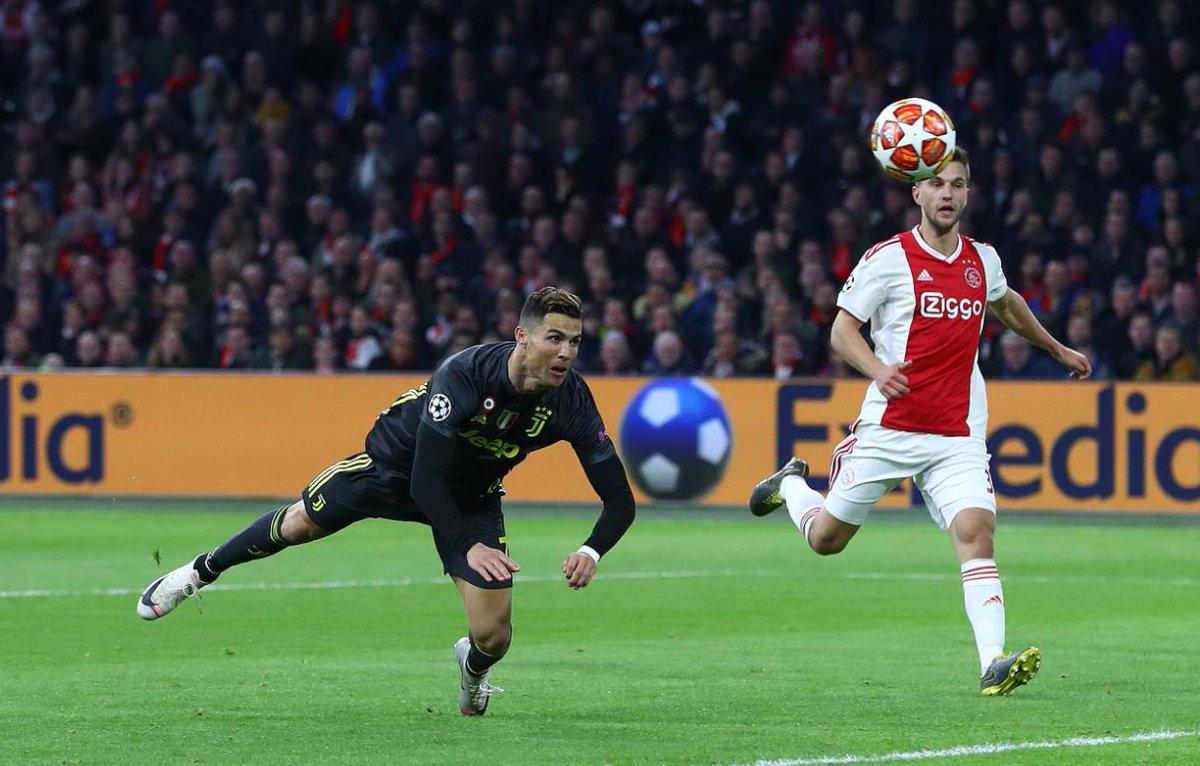 Juventus were well off the pace and Ajax will be hoping that their missed chances in the first half do not come back to haunt them in the 2nd leg. It is very unlikely that Massimiliano Allegri's side will be so generous at the Allianz Stadium, so it is hard to shake the feeling that Ten Hag's men might live to regret not taking a lead to Italy for the 2nd leg.
After the match, Ajax's captain De Ligt told the reporters: "It was a fiery atmosphere from the start and we had a few early chances, but unfortunately conceded just before half-time.
Ronaldo's greatest quality, apart from his talent, is that he is a predator in the box. He sees an opportunity, just a tiny gap, and he goes for it incredibly quickly. He sprints into the area between two players. We know that you can't leave gaps at the back for Juventus, as that's what they prepare for. We passed it around and tried to find holes in their defence.
I think we've done pretty well. We have a team with a lot of potential and that tends to emerge to its fullest in Champions League matches. We work so hard for each other. We proved today that Ajax are not in the Champions League quarter-finals because they are a fluke.
Of course, Juventus are strong at home, everyone knows that, so it'll be difficult in the second leg."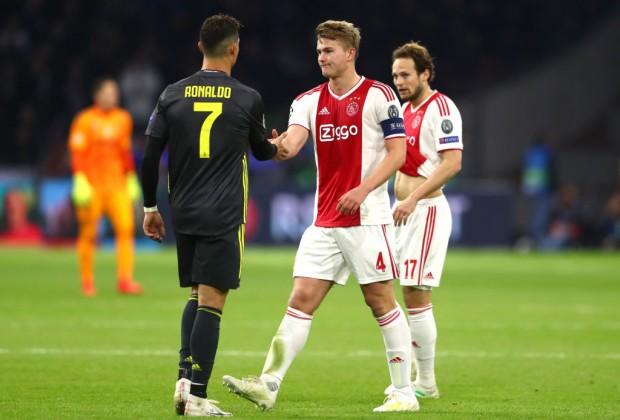 Ajax star Frenkie De Jong who has already agreed to join Barcelona produced another impressive performance in the Champions League and believes that Ajax can go through to the semi-finals. He told UEFA: "We're disappointed about conceding a goal right before half-time, but in the second half we began very strongly with our equaliser. In the end, 1-1 is not so bad. I think we have enough of a chance in the away game.
It's a pity that Nico [Tagliafico] is suspended [for the return match], but we have very good players on the bench who can do it over there. If we play the way we did in Madrid, with a lot of courage, then we have a big chance of winning. We've done well so far in the Champions League, and we're not done yet."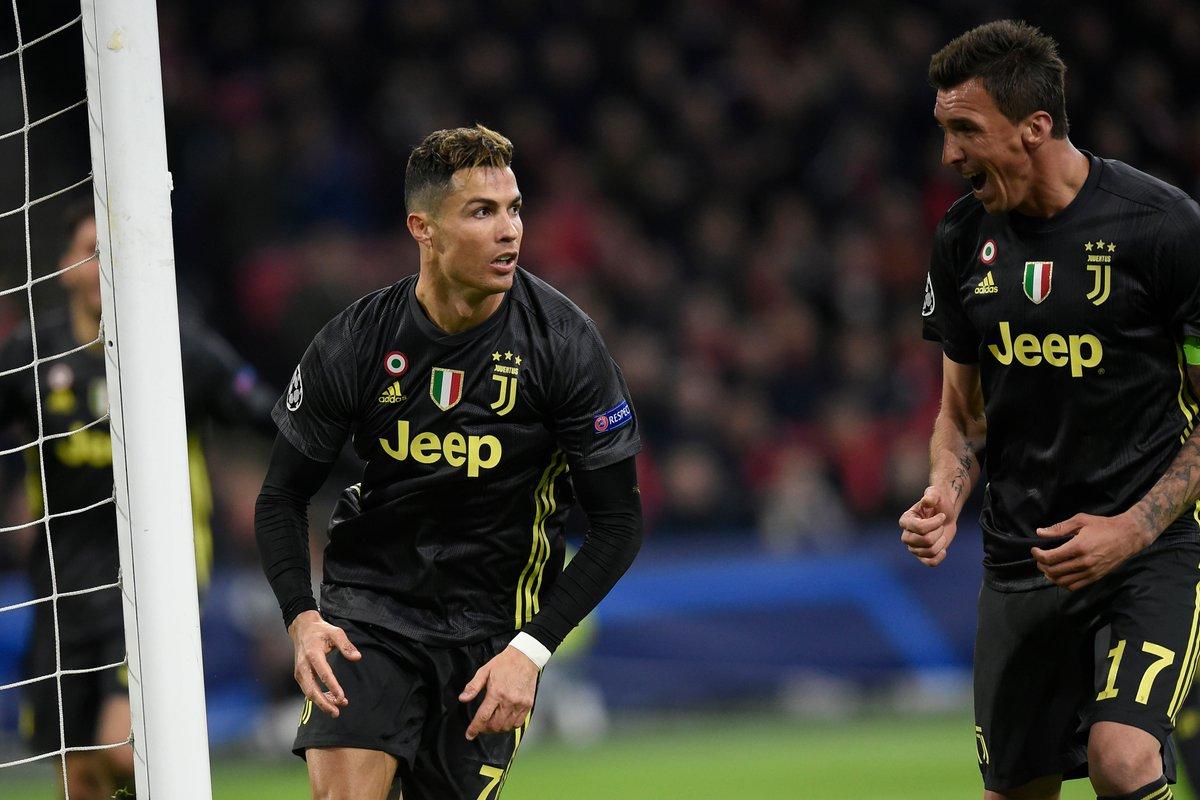 Juventus head coach Allegri told reporters: "He was just coming back, he ran a lot and he played a good game. He started the action and he wrapped it up [with the goal]. This is Ronaldo. But I would add that in the second leg we have to do better as a team and most of all when have possession of the ball and they are pressing us.
A team that is capable to eliminate Real Madrid and to win 4-1 at Bernabeu, they are not simply a young, quality team, they're a team that defeated Real Madrid in the round of 16 and play in the quarters. We knew that at home they would have played a game like this. In Turin, it will be different, but they have the personality to come to our stadium and play with their technical qualities.
We have to be much better because when you manage to escape from their pressure, you find a desert between you and the goal, which is something that happened in the first half, that happened in the second half, and that's where we have to be much better."
Cristiano Ronaldo always comes alive in the Champions League. He is the top scorer of the Champions League with a record 125 goals. So, do you think that the young guns of Ajax have a chance against the mighty Ronaldo? Comment your views.
Do check out:
Also check out some cheap wireless headphones on Amazon:
1. https://amzn.to/2msH7aD
2. https://amzn.to/2muMKVZ
3. https://amzn.to/2zPDPYI
4. https://amzn.to/2JBCxQs
For more information visit our site, TechnoSports. And download our app from the Google Play Store for more real-time updates. To download the app, click here.