Need a CPU cooler to cool your processor? Low on a budget? Here are the Top 5 CPU Air Coolers under Rs.5000
Every day we are getting to know that more and number of heavy CPU processors getting launched in the market every now and then. To keep them cool and to make them much more efficient stock coolers are just not enough.
If you own an overclockable CPU, then it can be difficult at times to achieve a desirable clock speed if you are using a stock cooler. So, using a CPU cooler from the market would be a better choice to keep your CPU cool.

In India, most of the good CPU Air coolers are priced under Rs.5000, so to help you buy the right one according to your budget, we have written this post.
On basis of user reviews, product benchmarks and comparisons here are our top 5 picks:
5. Cooler Master Hyper H410R 
Price: Rs.1,685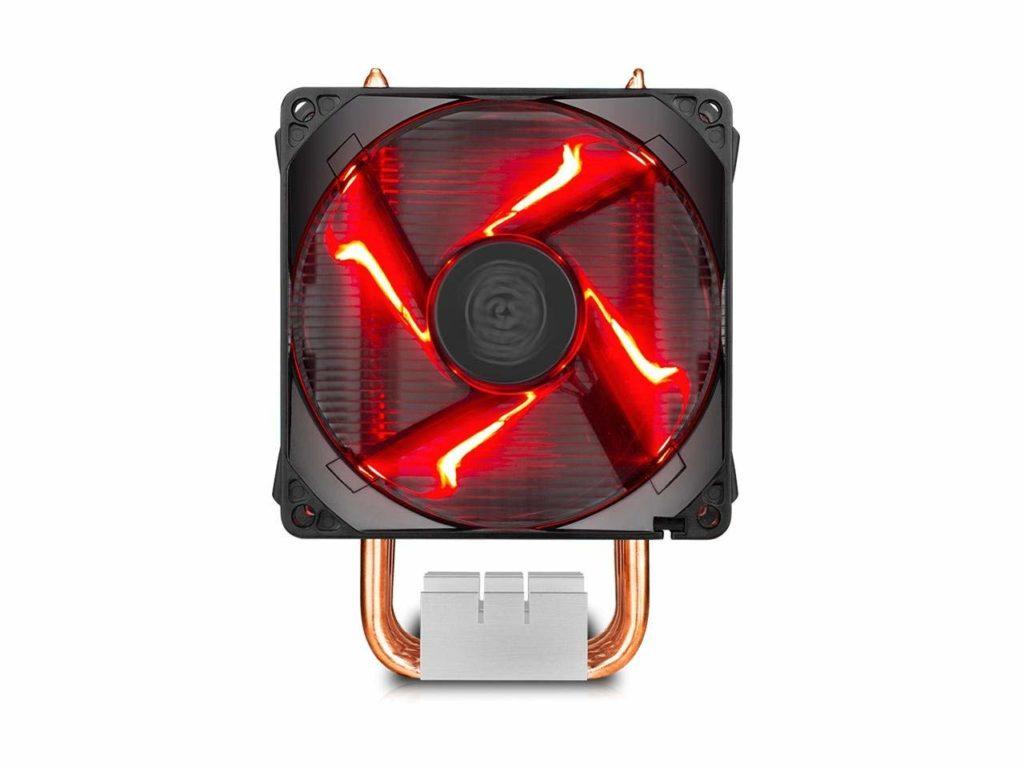 Four direct contact heat pipes between cpu and cooler
92mm fans with quick snap fan bracket, power connector 4 pin
All-in-one mounting solution for intel and amd sockets, heatsink dimensions 136 x 90 x 55 mm (5.3 x 3.5 x 2.1″)
Compatibility: Intel LGA 1156 / 1155 / 1151 / 1150 / 775 socket, AMD AM4 / AM3+ / AM3 / AM2+ / FM2+ / FM2 / FM1 socket
Rpm 600 – 2000 rpm +/- 10 percent, air flow 34.13 cfm +/- 10 percent, noise level 29.4 dba (max)
If you are very limited on budget and want a good Air Cooler and with some RGB on it, then this one is the perfect one out there.
Buy from here: https://amzn.to/2S9A98V
4. CHIPTRONEX Diffuser X500 RGB CPU Cooler
Price: Rs.1,997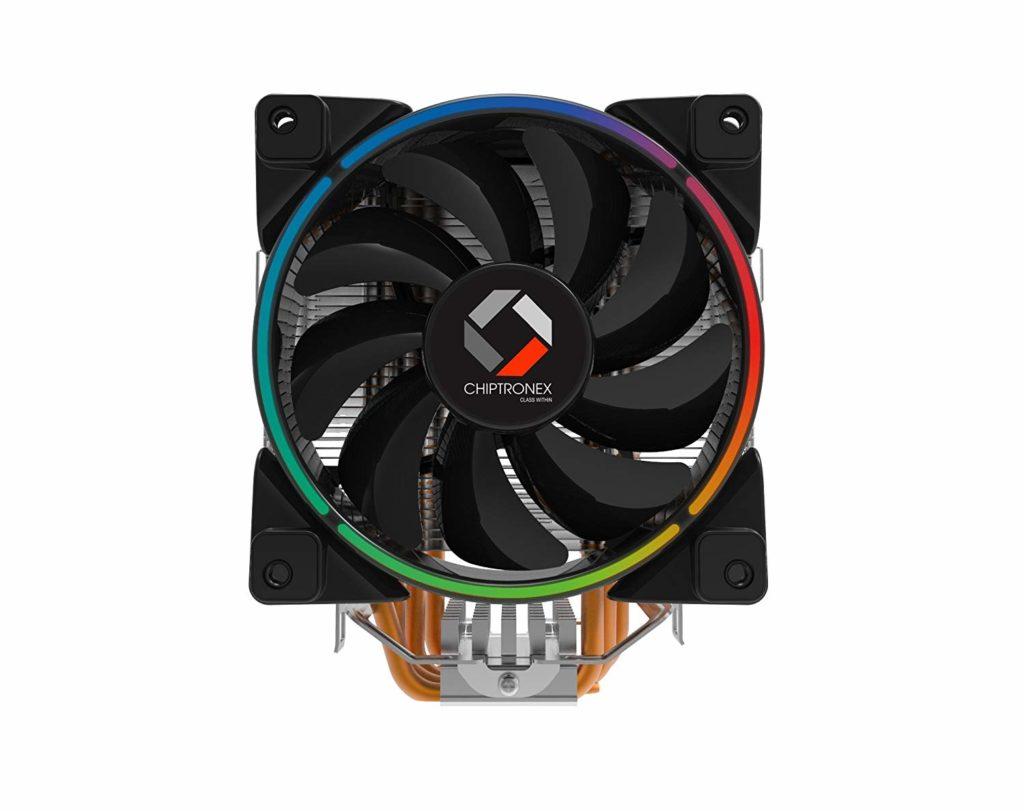 RGB Air Cooler
Support Intel/AMD TDP 187W CPU: LGA775/LGA1155/LGA1150/LGA1156/LGA1151/LGA115X
AMD Socket: 754/939/940/AM2/AM2+/AM3/AM3+/FM1/FM2/AM4/Ryzen series
Fan dimension :120x120x25 mm
Includes 5 copper heat pipes
If your motherboard supports RGB Light Control, you may control the lighting on this RGB Air Cooler
This CPU cooler is an amazing one at this price range and not being a great brand like Cooler Master, the price is quiet affordable. Also, having RGB light support at this price, this is a thing with which you can show off.
 Buy from here: https://amzn.to/2BlvglU
3. DEEPCOOL GAMMAXX 400 CPU Air Cooler
Price: Rs.2,700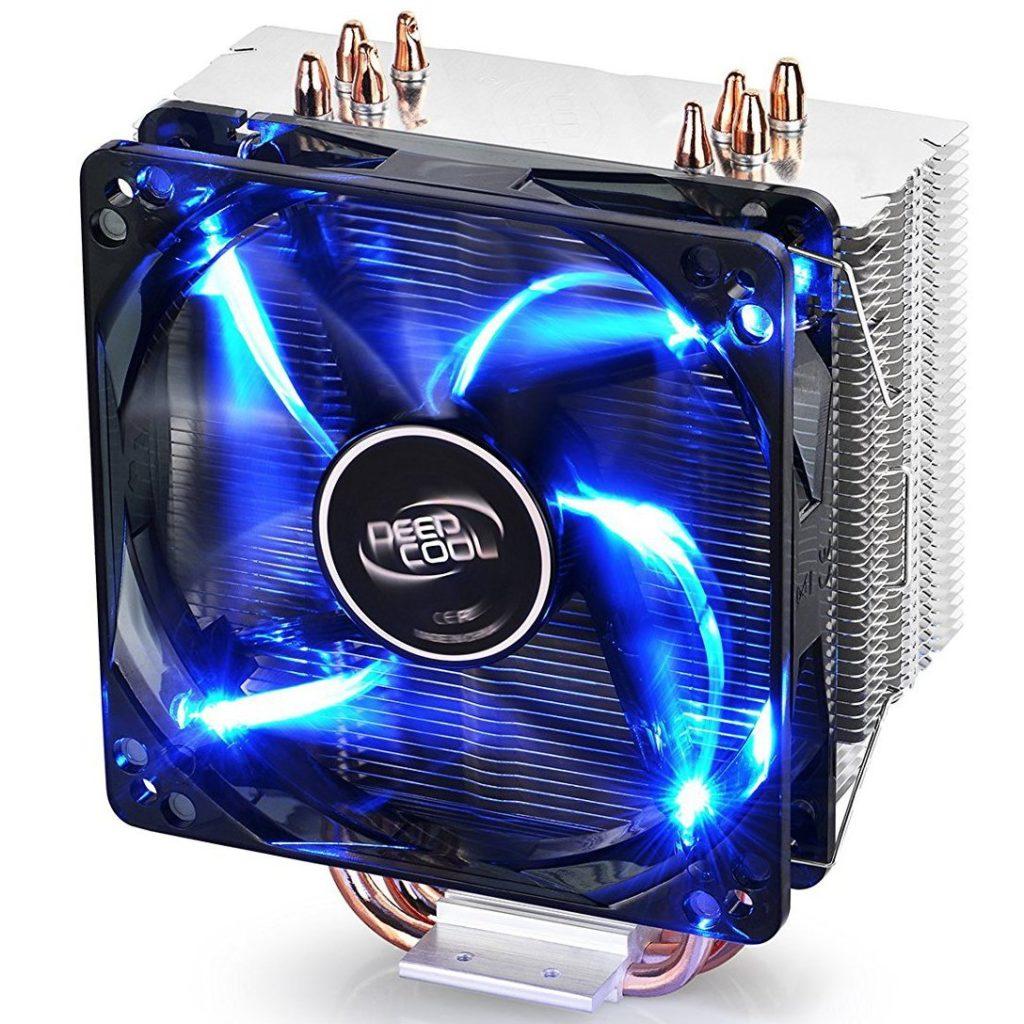 Supports Intel Socket 130W LGA20XX/LGA1366/LGA115X
AMD Socket 125W AM4/AM3+/AM3/AM2+/AM2/FM2+
120x120x25mm PWM fan with blue LED
4 sintered powder heat pipes directly touch the CPU surface
Extra fan clips provided allow adding a second fan
Can be easily installed without moving the motherboard
Though this one has 4 heat pipes, this one is much more silent and efficient than the previous one. If you want more TDP rating at this price range and have no problem with sound, then the previous one will be a better option for you.
Buy from here: https://amzn.to/2Ch08pe
2. DEEPCOOL Neptwin V2 CPU Cooler
Price: Rs.4,399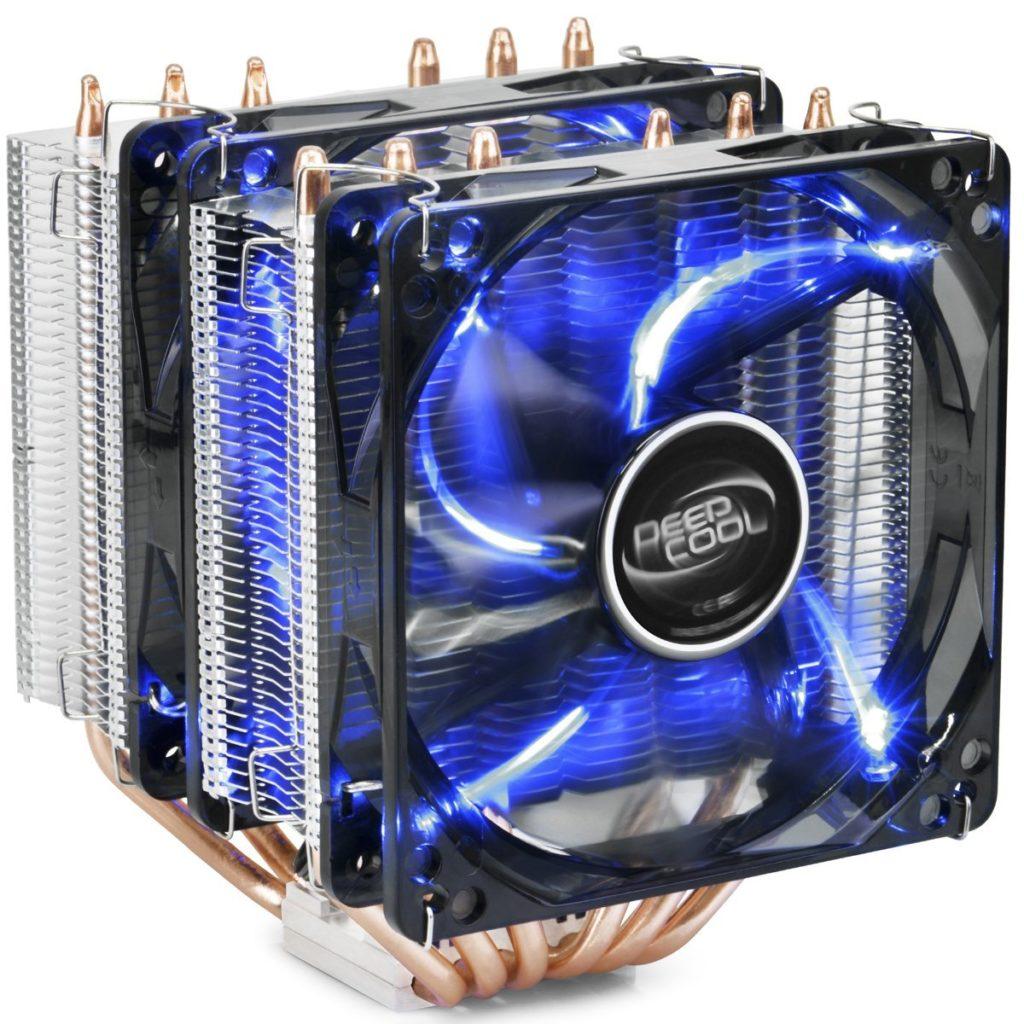 6 U-shape sintered powder heat pipes conduct heat from the processor quickly
Twin-tower heatsinks give superb cooling performance
Equipped with two super silent 120mm Blue LED fans, one with PWM function
Dimension: 5.0″ X 5.4″ X 6.3″ ( L x W x H ) Net weight: 2.4 LB
AM4 Bracket is not in the package. Please contact us for free AM4 bracket if needed
Those who have a heavy processor like Ryzen 5 and Ryzen 7 or Core i5 and Core i7, this CPU Air cooler with 6 heat pipes is perfect to cool your processor quite efficiently.
Buy from here: https://amzn.to/2RZtKwB
1. Cooler Master Hyper 612 Ver.2 – Silent CPU Air Cooler
Price: Rs.4,661.55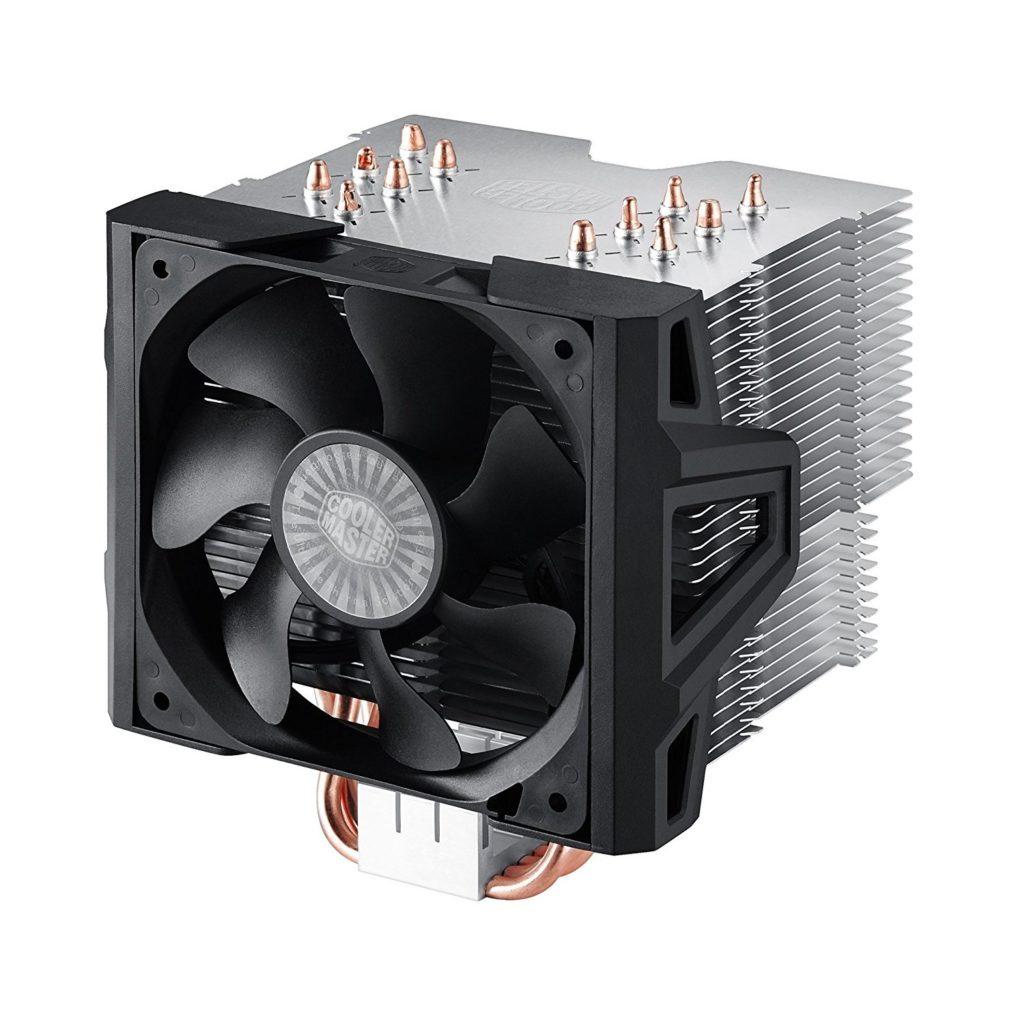 Six Direct Contact Heat pipes for the accelerated surface to surface thermal transfer
Folding Fin Structure for the best air guiding and increased efficiency and heat dissipation
One Intelligent 120mm PWM Fan for high airflow with an incredibly low noise output
45-Degrees Angled Vents Around Each Heat pipe,Heatsink Dimensions (LxWxH):139 x 102 x 160.4 mm (5.5 x 4 x 6.3 inch), Fan Dimensions (LxWxH):120 x 120 x 25 mm (4.7 x 4.7 x 1 inch)
Easy Installation for Quick Mounting and Dismounting
This is the most efficient and quite CPU Air cooler in the market under Rs.5,000. If you want to keep your processor cool and want to overclock it efficiently, then this is a perfect choice out there.
Buy from here: https://amzn.to/2S2E8E3
So, here were are top 5 picks in CPU Air coolers in India… Which one are you going to buy to cool or overclock your processor? Tell us in the comments below… 🙂
Do check out: BEST AORUS BUILT CUSTOM RYZEN GAMING PC WITH RTX 2080
😎TechnoSports-stay UPDATED😎