Chipmaker MediaTek unfolds new Helio P90 chipset to provide flagship-level performance on mid-range smartphones
It's been a month or so that MediaTek has announced the Helio P70 chipset which was seen in the new Realme U1, MediaTek has announced the new Helio P90 chipset for mid-range smartphones.
A mid-range smartphone with kind of like flagship performance is increasingly getting popular. In that segment, new phones are every day getting launched. Recently the Nokia 8.1 got unveiled, and in past smartphones like Honor Play, Poco F1 are providing some flagship level "performance".
These smartphones are making a blast in the market and people who are attracted to playing games like PUBG are hunting them down. All of these are Snapdragon Socs or Huawei's own Kirin Chipset.

Chipsets like Snapdragon 710 or Snapdragon 845 or Kirin 970, are powering these mid-range power-houses. So, to pave a way between all these, MediaTek directly jumps to Helio P90 chipset that is said to deliver a "flagship-like" performance.
So here are the key specs of the new MediaTek Helio P90:
The 12nm MediaTek Helio P90 is an octa-core processor
Supports a maximum display resolution of 2520 x 1080 pixels (full HD+) with 21:9 aspect ratio
Embedded with a pair of ARM Cortex A75 CPUs clocked at 2.2 GHz & six ARM Cortex A55 CPUs clocked at 2.0 GHz
PowerVR GM 9946 GPU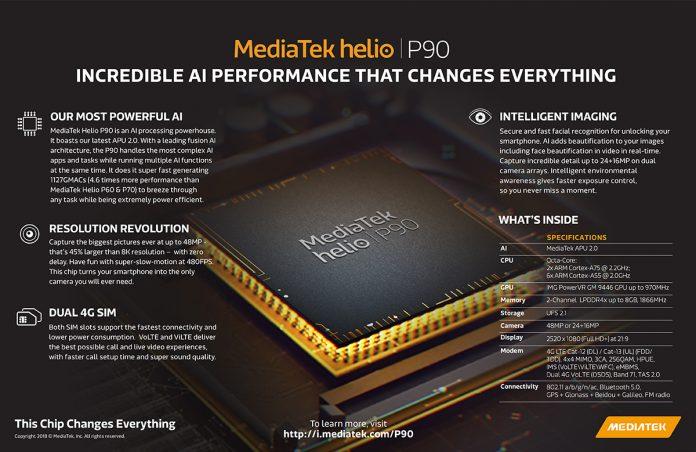 Supports up to 8 GB of LPDDRX RAM and UFS 2.1 storage
Supports up to 48-megapixel single camera or 24-megapixel + 16-megapixel dual camera setup
Embedded with APU 2.0 that can intelligently allocate AI tasks to the APU AI Accelerator or to the triple Image Processing Unit (IPU)
Connectivity features include Wi-Fi 802.11ac, Bluetooth 5.0, GPS, GLONASS, Beidou, Galileo and FM Radio.
Supports 4G Cat. 12 / 13 LTE modem, dual 4G VoLTE, ViLTE, 4×4 MIMO and 3CA.
The features are quite impressive overall and this makes this chipset a direct competitor to the flagship Snapdragon 845 processor. Well, if this chipset is embedded on to mid-range devices, then surely people will get more inclined to buying smartphones with Helio P90.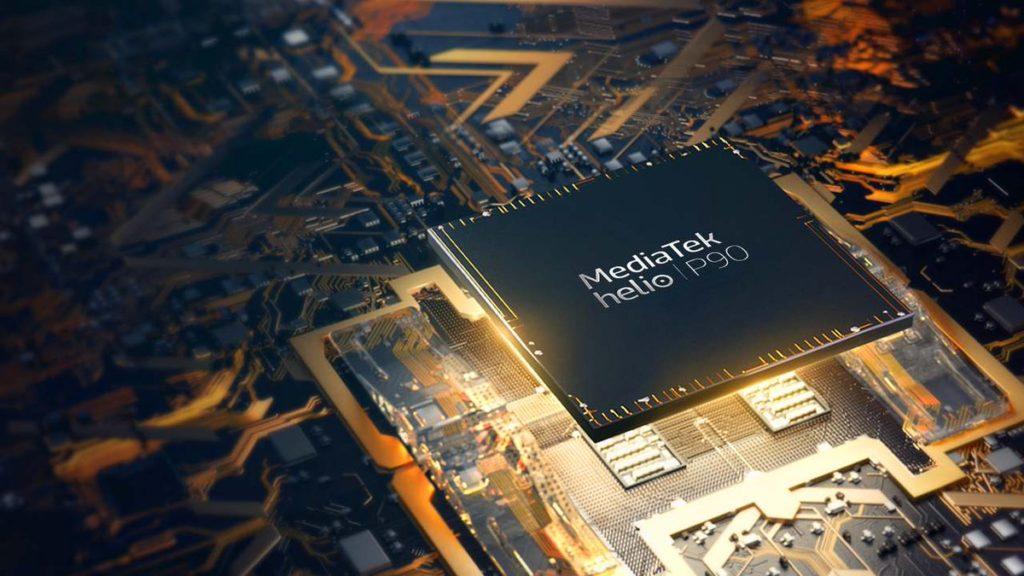 The APU on the Helio P90 can recognize the type of content that is being displayed on the screen such as movies, sports or games and optimize the display performance accordingly. The APU also brings real-time AI driven stabilization in a video call.
Benchmark tests carried out by MediaTek reveals that the AI performance of the Helio P90 is superior to Qualcomm's Snapdragon 845 and slightly lower than the newer 7nm Snapdragon 855 mobile platform. If this is true, then this chipset will be a great one.
MediaTek has confirmed that the Helio P90 chipset is already reached devices makers and the first devices running on it will likely to hit the market by Q1 2019.
So what do you think about this new chipset? Tell us in the comments below… 🙂
TechnoSports-stay UPDATED 😎